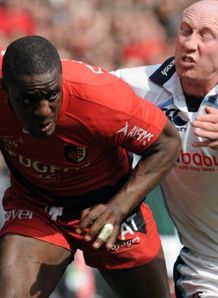 Toulouse secured an unprecedented eighth appearance in the semi-finals of the Heineken Cup courtesy of a fine 41-17 victory over Cardiff Blues in France on Saturday, thereby booking a date with London Irish at Twickenham.
The heroics of the Six Nations led many to believe that two Welsh regions could make the last four of Europe's flagship tournament. Alas, it was not to be - the Final in Cardiff will be a wholly foreign affair.
The Ospreys were ambushed by Saracens in the first act of 'Bloody Sunday' and the Blues duly followed, withering on the vine as Toulouse turned up the heat in the last quarter of the game at the Stade Municipal.
The French giants scored four tries while Jean-Baptiste Elissalde, basking in the unfamiliar position of fly-half, kicked 18 points to keep the tricolore flying on Europe's greatest stage.
Jason Spice and Ben Blair both crossed for the Blues but they did not have the firepower to maintain their hopes of reaching the Millennium Stadium.
Toulouse boss Guy Novès, showing no ill effects after being knocked off his bicycle on Friday, spent the entire game prowling the touchline in the manner of an artist directing the construction of a massive public installation.
And that, essentially, is what this side is: a masterpiece in red and black.
Despite Cardiff's best efforts, the tournament favourites had far too much class and far too much in reserve when it came to the business of the game.
The locals got off to the perfect start when Maxime Medard ran onto Maleli Kunavore's kick for the opening try inside a minute.
Medard blocked Tom Shanklin's grubber as Cardiff ran their first possession and Kunavore scooped up the ball and hacked ahead for the wing to score with ease.
Elissalde stroked over the conversion and then added a long-range penalty from close to the halfway line four minutes later to open a 10-point deficit that Blair failed to reduce when he pulled his first shot at goal wide.
However Cardiff were back in the game after 17 minutes when Spice squeezed over for the Blues' first score after Tom James beat two defenders to put Shanklin within touching distance of the try line. Elissalde's tackle was enough to stop Shanklin, but scrum-half Spice picked up and dived over from close range.
Blair converted the try as well as a second penalty, either side of Elissalde's successful effort, to cut the lead to 13-10 after Cédric Heymans was shown the yellow card.
The Toulouse fullback deliberately infringed at a ruck after his blunder with a quickly taken line-out almost put Jamie Roberts under the posts.
Elissalde made sure Toulouse emerged unscathed from the reduction to 14 men with a snap drop-goal moments later before opposite number Spice followed Heymans into the sin-bin for a similar offence.
The scrum-half dived in after his blocked clearance, by Patricio Albacete, almost put Yannick Nyanga over on 31 minutes. However Elissalde missed the penalty from out wide on the right-hand touchline and Dai Flanagan scraped the post with a speculative drop-goal to leave Toulouse 16-10 ahead at half-time.
Before kick-off, Toulouse wing Clerc was presented with an ERC award for becoming only the second player in Heineken Cup history to score more than 25 tries but he was denied stretching that record in the 57th minute when the ball struck the corner flag before he touched down.
However the pin-point accuracy of his boot set up the second French try as the growing pressure finally told in the shape of massive French scrum just outside Cardiff's 22. Elissalde then caught the visitors off guard when he switched the direction of attack from left to right, Heymans added the speed before delivering the scoring pass to Kunavore on 62 minutes.
Cardiff's never-say-day attitude paid dividends when Jamie Robinson stepped off the bench and through the Toulouse defence for Blair to score as the Blues threatened to challenge their hosts all the way.
But Toulouse possessed a gear in their motor that Cardiff could not respond to as the weight of possession took its toll with two tries in the final nine minutes.
Clerc finally got his 27th Heineken Cup try with one of the easiest finishes in his career. Lock Patricio Albacete galloped up field and Toulouse had men queuing to finish.
Replacement Jean Bouilhou then followed from close range, three minutes from time, following Yannick Jauzion's delivery and though Valentin Courrent missed the conversion.
Although Toulouse were home and hosed, Heymans decided to add the coup de grâce by dropping for goal from just inside Cardiff's half, and the 40-point mark was duly broken.
But the last word went to Toulouse's livewire scrum-half, Byron Kelleher.
"For those back home who reckon that North Hemisphere rugby is a bit boring, think again," said the All Black in the aftermath of battle. Quite.
Man of the match: As always, Martyn Williams was magnificent for Cardiff. Indeed, Toulouse could have notched up a record result had it not been for constant interventions of the 'Ginger Rash'. Plenty of sterling individual performances from the locals, but it was Jean-Baptiste Elissalde who stole the show in the unfamiliar position of fly-half. Identified by a host of so-called experts as Toulouse's weak link, the France star made a mockery of that view with a masterly showing full of verve, vision and unearthly confidence. How could we have doubted the little prince?
Moment of the match: Vincent Clerc's try - born deep inside his own half - summed up all that is good about the serial champions, but it was the scrum midway through the second half that turned the tide decisively in favour of the locals. Toulouse held a precarious 16-10 lead as the two sets of forwards packed down in the shadow of Cardiff's sticks. What followed was a titanic shove that simply broke Welsh resolve, and a shower of points duly followed.
Villain of the match: Two yellow cards were waved, but not too much to bother mummy about. Cédric Heymans's outrageous drop-goal on no-time could fall under the simply-rubbing-their-nose-in-it category of mean stunts, but you can't help but admire the man's nerve! No award.
The scorers:
For Toulouse:
Tries: Medard, Kunavore, Clerc, Bouilhou
Cons: Elissalde 3
Pens: Elissalde 3
Drop: Elissalde, Heymans
For Cardiff Blues:
Tries: Spice, Blair
Cons: Blair 2
Pen: Blair
Drops:
Yellow card(s): Heymans (Toulouse) - killing the ball, 27; Spice (Blues) - killing the ball, 30.
The teams:
Toulouse: 15 Cédric Heymans, 14 Vincent Clerc, 13 Maleli Kunavore, 12 Yannick Jauzion, 11 Maxime Medard, 10 Jean-Baptiste Elissalde, 9 Byron Kelleher, 8 Shaun Sowerby, 7 Thierry Dusautoir, 6 Yannick Nyanga, 5 Patricio Albacete, 4 Fabien Pelous (c), 3 Salvatore Perugini, 2 William Servat, 1 Daan Human.
Replacements: 16 Alberto Vernet Basualdo, 17 Jean-Baptiste Poux, 18 Romain Millo-Chlusky, 19 Jean Bouilhou, 20 Valentin Courrent, 21 Manu Ahotaeiloa, 22 Grégory Lamboley.
Cardiff Blues: 15 Ben Blair, 14 Jamie Roberts, 13 Tom Shanklin, 12 Gareth Thomas, 11 Tom James, 10 Dai Flanagan, 9 Jason Spice, 8 Xavier Rush, 7 Martyn Williams, 6 Mamma Molitika, 5 Paul Tito, 4 Deiniol Jones, 3 Taufa'ao Filise, 2 Gareth Williams, 1 Gethin Jenkins.
Replacements: 16 John Yapp, 17 T Rhys Thomas, 18 Scott Morgan, 19 Ben White, 20 Richie Rees, 21 Nicky Robinson, 22 Jamie Robinson.
Referee: Wayne Barnes (England)
Touch judges: Chris White (England), Paul Dix (England)
Television match official: Geoff Warren (England)