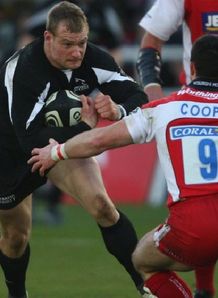 Both Mathew Tait and Jamie Noon passed fitness tests on Friday and will line-up for Newcastle in their European Challenge Cup quarter-final against Castres on Saturday.
Tait is included having passed a cognitive test, while Noon is named in the team pending a second later fitness test as Newcastle look to book a semi-final at either Worcester or Montpellier.
Speaking about the fitness situation for both Tait and Noon, acting director of rugby Steve Bates said that the delay on Noon's final selection was merely precautionary.
"We're very positive about both players and, in fact, Mathew will definitely start because he has already passed his cog test and is feeling fine," he said.
"Noony had a good run around this morning and will probably start, he feels in good shape but obviously we will have a look at him on Saturday morning just to double check that there are no lingering problems surrounding his injury."
Having studied Castres' last few games Bates is well aware of just what the sixth-placed French side will throw at his team.
"I'm expecting Castres to come here and be very physical," he said.
"They are an excellent scrummaging side, and although they lost last week at home to Montpellier they are a team in an excellent run of recent form having progressed well up the French league.
"I've watched their last three games against Montpellier, Montauban and Auch, and while they do have a tendency to change their team selection from week to week, they still look a very robust side.
"If the snow and wind comes in, as expected, that may disrupt them a little, but we'll have to wait and see because you never know what this north-east weather is going to do from one minute to the next."
Robust Castres may be, but the team they have named is decidedly under-strength, with France captain Lionel Nallet the most notable absentee. It seems that next week's match against Perpignan in the Top 14 has higher priority.
The teams:
Newcastle: 15 Mathew Tait, 14 Tom May, 13 Jamie Noon, 12 Toby Flood, 11 John Rudd, 10 Jonny Wilkinson, 9 James Grindal, 8 Phil Dowson (c), 7 Ben Woods, 6 Andy Buist, 5 Mark Sorensen, 4 Andy Perry, 3 Carl Hayman, 2 Matt Thompson, 1 Micky Ward.
Replacements: 16 Andy Long, 17 Jon Golding, 18 Brent Wilson, 19 Russell Winter, 20 Hall Charlton, 21 Tom Dillon, 22 Tim Visser.
Castres: 15 Romain Teulet, 14 Laloaoa Milford, 13 Lionel Mazars, 12 Laurent Marticorena, 11 Matthieu Bourret, 10 Cameron McIntyre, 9 Kevin Senio, 8 Florian Faure, 7 Patrick Tabacco, 6 Gerhard Vooslo, 5 Joe Tekori, 4 Rodrigo Capo Ortega, 3 Luc Ducalcon, 2 Mathieu Bonello, 1 Kees Meeuws.
Replacements: 16 Romain Terrain, 17 Daniel Saayman, 18 Gambo Adamou, 19 Lei Tomiki, 20 Vincent Jaca, 21 Olivier Benassis, 22 Anthony Lagardere.
Date: Saturday, 5 April
Venue: Kingston Park
Kick-off: 20:00 BST (19:00 GMT)
Referee: Peter Allan (Scotland)
Touch Judges: Rob Dickson, Ronnie Dumma (Scotland)
TMO: Andy Ireland (Scotland)