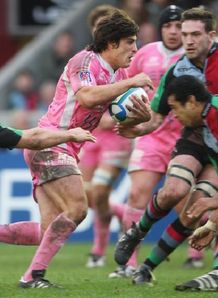 Stade Franšais recorded an emphatic 31-10 victory over Harlequins at the Stoop on Sunday, but it was not enough. Cardiff's win up road at Bristol sends the Parisians tumbling out of the tournament.
Runners-up to Leicester in 2001 and Toulouse three years ago, the star-studded French side have paid the price for their earlier defeats at Bristol and Cardiff.
Needing a bonus-point win to have any chance, the visitors knew even that would not be enough if Cardiff won at Bristol. The two runners-up places in the last eight had already been taken by Perpignan and Ospreys.
For Harlequins it completed a miserable campaign in which their only points came from a home draw with Cardiff in November.
They have now lost eight of their last nine games in all competitions and won just one of their last twelve.
Dean Richards's side are lying sixth in the Guinness Premiership, however, and the fact that they play Sale on Friday surely had plenty to do with their selection for the final pool match.
Harlequins wasted little time taking the lead, stand-off Adrian Jarvis kicking a third-minute penalty, and held their own in the first quarter.
But, despite the visitors' problems away from home in the competition this season, there was always a sense that once one score came others might quickly follow.
So it proved. Two forward surges from line-outs close to the line ended with hooker and captain Dimitri Szarzewski going over by the posts after 24 minutes.
Stand-off David Skrela had no trouble adding the conversion, six minutes later landed a penalty and then converted again in the 33rd minute after he had twice been involved in a breakaway before passing on to Argentina full-back Juan Martin HernÓndez, who put wing Julien Arias clean through.
Quins did lay siege to the Stade Franšais line for the final seven minutes of the half, but were met by a pink wall.
As that was happening, though, Cardiff were scoring two converted tries in Bristol and that was the worst possible news for Stade.
The home team began the second period in similarly spirited fashion, but once more came out of the spell of pressure with nothing and were fortunate not to fall further behind when Arias, going for his second try, lost control after a brilliant run by replacement back Ignacio Corleto.
It was not until the 70th minute that Stade Franšais stretched their advantage, even though they were down to 14 at the time with prop David Attoub yellow-carded.
Skrela had moved out to centre by then and when the ball dropped loose he picked up and spotted the gap.
His conversion made it 24-3 and took his own tally to 14 points, but events elsewhere were still dictating the mood. There were no wild celebrations.
Two minutes later the speedy Corleto raced away for a fourth try that could have meant so much if Bristol had beaten Cardiff.
Skrela converted again before Harlequins wing Simon Keogh went over in the corner as the game went into stoppage time.
Jarvis's conversion still could not prevent it from going down as a big win for the visitors, but in the bigger picture it was one that counted for nothing.
The scorers:
For Harlequins:
Try: Keogh
Con: Jarvis
Pen: Jarvis
For Stade Franšais:
Tries: Szarzewski, Arias, Skrela Corleto
Cons: Skrela 4
Pen: Skrela
Harlequins: 15 Mike Brown, 14 Tom Williams, 13 Hal Luscombe, 12 Tosh Masson, 11 Simon Keogh, 10 Adrian Jarvis, 9 Danny Care, 8 Tom Guest, 7 Paul Volley (c), 6 Chris Hala'ufia, 5 Nicolas Spanghero, 4 James Percival, 3 Ricky Nebbett, 2 Tani Fuga, 1 Aston Croall.
Replacements: 16 Gary Botha, 17 John Brooks, 18 Ollie Kohn, 19 Will Skinner, 20 Nick Easter, 21 Steven So'oialo, 22 De Wet Barry.
Stade Franšais: 15 Juan MartÝn HernÓndez, 14 Julien Arias, 13 StÚphane Glas, 12 Brian Liebenberg, 11 Christophe Dominici (capt), 10 David Skrela, 9 JÚr˘me Fillol, 8 Sergio Parisse, 7 RÚmy Martin, 6 Pierre Rabadan, 5 Pascal Pape, 4 Arnaud Marchois, 3 Rodrigo Roncero, 2 Dimitri Szarzewski, 1 David Attoub.
Replacements: 16 Damien Weber, 17 Pedro Ledesma, 18 Boela Du Plooy, 19 Mauro Bergamasco, 20 Alexandre Albouy, 21 Mirco Bergamasco, 22 Ignacio Corleto.
Referee: Tim Hayes (Wales)
Touch judges: Phil Fear (Wales), Jonathan Mason (Wales)
Television match official: Tony Rowlands (Wales)