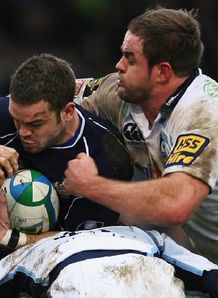 Cardiff pocketed the remaining ticket for the Heineken Cup play-offs after punctuating their pool campaign with a tidy 0-17 win over Bristol at the Memorial Ground on Sunday, but the Welsh region failed to secure a home quarter-final and must travel now to Toulouse.
By sealed the remaining play-off spot, the Blues join the last eight. Saracens, London Irish, Gloucester and Toulouse will now play host to the Ospreys, Perpignan, Munster and Cardiff respectively.
At half-time it looked good for Cardiff. They were up 14-0 after scoring two tries. They had the weather with them. One more try in the half would have been enough to play Toulouse in Cardiff instead of in Toulouse. They did not get the try. In fact all the second half produced was a solitary penalty goal by Ben Blair.
But, it was hard. That corner of England across the Severn from Wales was wet - soggy, slushy wet - and the weather against Cardiff was insistent rain that came in at an angle. But on the field were two teams playing with all the skill and the intensity they could muster to overcome the conditions - the Blues in search of a enough to win a home quarter-final, Bristol for pride after a pleasing Heineken campaign, determined not to end scoreless. Neither side got the score they sought.
There should be much credit to the ground staff that the tacky ground was in as good a condition as it was. They had blown hot air over it from Wednesday and the playing area was free of standing water. There was a fringe of mud and water around the ground to advertise how much worse the playing conditions could have been.
Credit, too, to the players who had much to play for but did it in an honourable way. One one occasion the referee found cause to talk to Mark Regan: "I'll referee this on my own today." And on another occasion he asked Matt Salter to talk to his men after a bit of silliness by Tom Arscott at a penalty.
There were also performances and moments of individual brilliance.
No player was as brilliant as Martyn Williams. What a wonderful footballer! It is no wonder that Warren Gatland took scissors to his giro. His skill in the tackle, on the ground, in tackling, in catching, passing and even kicking put him high above all others.
Then there were great performances by Luke Arscott, Tom Shanklin, Gareth Thomas and Ma'ama Molitika. There was even an appearance by super-veteran Gareth Llewellyn who turns 39 next month.
Early in the match, when conditions were drier, there were two excellent "tries". The second would possibly have qualified for the try of the Heineken thus far. Alas, both were cancelled out by tiny forward passes. The passes were, indeed, forward.
The first happened after seven minutes when Bristol went right from a post-penalty line-out near the Cardiff 22. Anthony Elliott ran on an angle and Luke Arscott cut in on him and straight through the defence to surf over for the try, but the short pass from Elliott to Arscott was forward.
Great hands in close quarters had the Blues attacking down the right. Jamie Roberts handled twice, Gareth Thomas was clever and then Tom Shanklin passed inside to Roberts who went gleefully over, but the pass from Shanklin to Roberts was forward.
Cardiff had the better of the first half, regardless of playing into the wind. They battered at the Bristol line but lost the ball. Martyn Williams was over in the corner but, in Salter's tackle, his knee nicked the touch-line.
The half went on scoreless until Blair had a straightforward kick at goal. The easy kick flew high, hit the upright and bounced out as Gareth Thomas put pressure on the Bristol defenders. Shanklin broke form a line-out.
From a line-out far out, Martyn Williams chipped to his right. Gareth Thomas got possession but lost the ball in a tackle. Bristol had a scrum five metres from their line near their left corner. Their scrum, a strong point in their game this season, creaked and leaked the ball out on their right, Molitika picked up and plunged over for a try confirmed by the TMO. It was a difficult kick but Blair made it look easy. 7-0 after 37 minutes.
Daffodils appeared amongst the crowd which eventually would prove a Welsh presence by singing Bread of Heaven and Hymns and Arias as victory became inevitable.
Somewhere near the half-way line England hooker, stocky MarkRegan, got the ball. Martyn Williams grabbed him, got him off his feet and turned him over so that the ball was on the Cardiff side of the tackle. Regan held on and the referee penalised him. From the subsequent line-out Cardiff went right and great handling put Gareth Thomas over in the corner. Into the wind and the rain Blair kicked the difficult conversion. 14-0 after 42 minutes.
That burst of scoring would end the Cardiff seven-year absence from Heineken knock-outs.
The rain increased, the Blues became increasingly frantic and Bristol increasingly tried to break the strangling hand at their throat to get out of deep defence to score some points.
The only score of the half came after 53 minutes when Bristol were penalised and Tom Arscott knocked the ball out of Jason Spice's hands as the lively scrum-half looked to take a tap. This marched the kick on 10 metres and Blair goaled it.
Bristol had two good moments - one when Luke Arscott countered from a kick, beating four defender when he seemed dead but his grubber ahead went into touch, and one when Graeme Beveridge scampered ahead from a scrum but his grubber was blocked by Blair who fly-kicked the ball downfield.
For the Blues Nick Macleod kicked a high diagonal which Jamie Roberts caught. He was certain to score but the referee had seen that he had been ahead of the kicker. That would have changed a quarter-final venue from Toulouse to Cardiff.
With two minutes to go, Bristol were penalised but Macleod's touch kick went into touch-in-goal.
In the end a Cardiff knock-on ended the match. It was something of an anticlimax as both sides strove manfully to get score - for ambition on one account, for pride on the other.
The scorers:
For Cardiff Blues:
Tries: Molitika, G Thomas
Cons: Blair 2
Pen: Blair
Bristol: 15 Luke Arscott, 14 Tom Arscott, 13 Rob Higgitt, 12 Neil Brew, 11 Anthony Elliott, 10 Jason Strange, 9 Brian O'Riordan, 8 Andrew Blowers, 7 Alfie To'oala, 6 Matt Salter (c), 5 Sean Hohneck, 4 Roy Winters, 3 Jason Hobson, 2 Mark Regan, 1 Alex Clarke.
Replacements: 16 Scott Linklater, 17 Darren Crompton, 18 Gareth Llewellyn, 19 Joe El Abd, 20 Graeme Beveridge, 21 David Hill, 22 Sam Cox.
Cardiff Blues: 15 Ben Blair, 14 Jamie Roberts, 13 Tom Shanklin, 12 Gareth Thomas, 11 Jamie Robinson, 10 Nick Macleod, 9 Jason Spice, 8 Xavier Rush (c), 7 Martyn Williams, 6 Maama Molitika, 5 Paul Tito, 4 Deiniol Jones, 3 Taufa'o Filise, 2 Gareth Williams, 1 Gethin Jenkins.
Replacements: 16 Gary Powell, 17 T. Rhys Thomas, 18 Scott Morgan, 19 Mark Lewis, 20 Richie Rees, 21 Rhys Jones, 22 Tal Selley.
Referee: Alain Rolland (Ireland)
Touch judges: Colin Stanley (Ireland), Trevor Collins (Ireland)
Television match official: John Sheehan (Ireland)