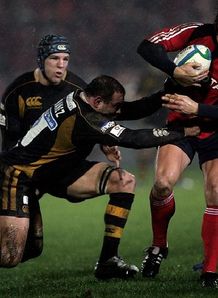 Munster, as is their wont, secured their tenth appearance in the Heineken Cup quarter-finals in dramatic fashion. London Wasps, the reigning European champions, came to Thomond Park as leaders of Pool Five but left on the back of tournament-ending 19-3 defeat.
For the majority of the game it was fractious at best, but Munster exerted a strangle-like grip on the game when they had the ball. Ronan O'Gara directed play with superb tactical astuteness, and ultimately Wasps did not have an answer.
Such has been the nature of this intriguing pool that until Denis Leamy crashed over late on Wasps were always still in it, knowing a try would take them through in defeat with a losing bonus-point. It was still a possibility after Leamy scored, that was until O'Gara slotted his fifth kick of the game, each as good as the other.
With little to pick between the two teams in a tense battle, it was the line-out where the game was won and lost. Wasps literally crumbled in the face of extreme pressure from Munster, and in particular Donncha O'Callaghan, who was quite majestic in his work. The stats don't lie, the spring-heeled immovable Ireland lock stole seven line-outs from Raphaël Ibañez and company. A quite tremendous effort.
On the back of O'Callaghan's exploits, O'Gara was able to pull the strings from fly-half, turning in a masterful kicking display. So much has been said of Danny Cipriani but it was O'Gara's vastly superior experience that came to the fore in the lashing rain. Every time Wasps appeared to have made some headway they were sent back whence they came by O'Gara's cultured boot.
It was billed as the game of the season for so long, and yet the rain put pay to any hope of a repeat of the classic semi-final of 2004. Yet for those who know their rugby they will have appreciated this was, indeed, a vintage performance from Munster, as good as any they have mustered before.
Wasps came out firing, full of muscle and purpose and they took an early lead from Cipriani's boot, only to spend the next 75 minutes trying in vain to build upon that bright start. It was Munster however who gradually built their lead, the forward pack laying the foundation for O'Gara to slowly pull them clear.
Munster did it the hard way in the first half, down to fourteen men with Leamy in the sin-bin, but managing to repel concerted periods of Wasps pressure in that period. And then when Simon Shaw was sent to cool his heels, O'Gara slotted six points to send his side into the break with what, in these conditions, was a healthy six point lead.
With the conditions worsening after the break O'Gara simply stepped up his game, never allowing Wasps a chance to breath as he sent them backwards time and again. The frustration was brewing and eventually boiled over as Lawrence Dallaglio was given a ten-minute break for hands in the ruck. Again O'Gara made the visitors pay for their indiscretions, although it was his running game that would ultimately seal Wasps' fate.
Having seen his forwards rack up 22 phases of tight play, O'Gara took the ball down the blindside and dummied a kick before ghosting through the defence to send Leamy over for the vital score. His touchline conversion was superb and sent the home crowd into full voice, the Munster revival was complete and Wasps were adrift.
Munster will look back to that losing bonus-point at the Rioch Arena in the opening round, as it was then that they knew it would take a miracle of sorts to emerge from the 'Pool of Death'. That they have done so is testament to the spirit and belief in the side, and now you would be a fool to bet against them making it back to Cardiff, the scene of their 2006 triumph.
Man of the Match: Ronan O'Gara was superb, his kicking allowed Munster to build a platform from which they own this game. But without the supreme efforts of Donncha O'Callaghan he would have not been afforded the glut of possession he enjoyed so much. O'Callaghan destroyed the Wasps line-out and in doing so destroyed their Heineken cup title defence.
The scorers:
For Munster:
Try: Leamy
Con: O'Gara
Pens: O'Gara 4
For London Wasps:
Pen: Cipriani
Yellow card(s): Leamy (Munster) - killing the ball, 22; Shaw (Wasps) - off-side, 35; Dallaglio (Wasps) - killing the ball, 53
Munster: 15 Shaun Payne, 14 Brian Carney, 13 Rua Tipoki, 12 Lifeimi Mafi, 11 Doug Howlett, 10 Ronan O'Gara, 9 Peter Stringer (c), 8 Anthony Foley, 7 David Wallace, 6 Denis Leamy, 5 Mick O'Driscoll, 4 Donncha O'Callaghan, 3 John Hayes, 2 Jerry Flannery, 1 Marcus Horan.
Replacements: 16 Frank Sheahan, 17 Tony Buckley, 18 Donncha Ryan, 19 Alan Quinlan, 20 Tomas O'Leary, 21 Paul Warwick, 22 Kieran Lewis.
London Wasps: 15 Josh Lewsey, 14 David Doherty, 13 Fraser Waters, 12 Rob Hoadley, 11 Dominic Waldouck, 10 Danny Cipriani, 9 Eoin Reddan, 8 Lawrence Dallaglio (c), 7 Tom Rees, 6 James Haskell, 5 George Skivington, 4 Simon Shaw, 3 Phil Vickery, 2 Raphaël Ibañez, 1 Tim Payne.
Replacements: 16 Joe Ward, 17 Tom French, 18 Tom Palmer, 19 John Hart, 20 Mark McMillan, 22 Rob Webber.
Referee: Nigel Owens (Wales)
Touch judges: Nigel Whitehouse (Wales), Hugh Watkins (Wales)
Television match official: Derek Bevan (Wales)