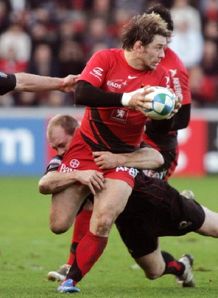 Toulouse underlined their status as Heineken Cup favourites by sweeping into the quarter-finals on the back of an emphatic five-try 34-10 victory over Edinburgh at Stade Ernest-Wallon on Saturday.
The writing was on Edinburgh's wall as early as the second minute when scrum-half Jean-Baptiste Elissalde edged the Frenchmen in front with a penalty.
From the first line-out of the contest Edinburgh were guilty of entering the maul illegally from side-on.
It was another line-out that paved the way for the opening Toulouse touchdown in the 10th minute by Vincent Clerc.
Elissalde followed up with the conversion to open up an ominous 10-point gap.
Undaunted, Edinburgh continued to throw the ball around but all too often the good work was spoiled by basic handling errors.
Their enterprise was rewarded in the build up to the interval when Phil Godman eased the jitters with a penalty.
But their hopes of narrowing the leeway further were dashed in the 35th minute, with Clerc again delivering the painful blow.
The alert winger was in the right place at the right time to latch on to a clever grubber kick into the danger zone by Elissalde.
Even worse was to come in stoppage time when Florian Fritz burst through for try number three, Elissalde supplying the conversion.
It was the same pattern after the restart, with Edinburgh earning plenty of possession and territory - but being unable to match their opponents when it came to turning pressure into points.
But they did finish with something of a flourish.
Toulouse stretched their lead with a score by Yves Donguy, goaled by Gaffie du Toit, before Salvatore Perugini went over.
But the Gunners refused to buckle and they were rewarded when lock Ben Gissing ploughed through. Substitute David Blair converted to take them into double figures.
The scorers:
For Toulouse:
Tries: Clerc 2, Fritz, Donguy, Perugini
Con: Elissalde 2, Du Toit
Pen: Elissalde
For Edinburgh:
Try: Gissing
Con: Blair
Pen: Godman
Toulouse: 15 Cédric Heymans, 14 Vincent Clerc, 13 Florian Fritz, 12 Clément Poitrenaud, 11 Yves Donguy, 10 Gaffie du Toit, 9 Jean-Baptiste Elissalde, 8 Shaun Sowerby, 7 Thierry Dusatoir, 6 Jean Bouilhou (capt), 5 Romain Millo-Chlusky, 4 Fabien Pelous, 3 Salvatore Perugini, 2 William Servat, 1 Daan Human.
Replacements: 16 Alberto Vernet Basualdo, 17 Jean-Baptiste Poux, 18 Grégory Lamboley, 19 Yannick Nyanga, 20 Byron Kelleher, 21 Valentin Courrent, 22 Finau Maka.
Edinburgh: 15 Hugo Southwell, 14 Ben Cairns, 13 Calum MacRae, 12 John Houston, 11 Simon Webster, 10 Phil Godman, 9 Ben Meyer, 8 Allister Hogg (c), 7 Ross Rennie, 6 Alan MacDonald, 5 Ben Gissing, 4 Matt Mustchin, 3 Gavin Kerr, 2 Andrew Kelly, 1 Augusto Allori.
Replacements: 16 Steven Lawrie, 17 Craig Smith, 18 Craig Hamilton, 19 Roland Reid, 20 Greig Laidlaw, 21 David Blair, 22 Matt Dey.
Referee: Dave Pearson (England)
Touch judges: David Rose (England), Peter Huckle (England)
Television match official: Graham Hughes (England)