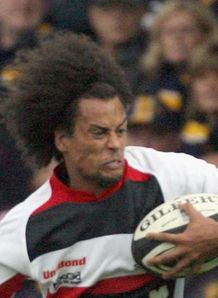 Saracens made history at Firhill on Friday by securing their first ever appearance in the Heineken Cup quarter-finals - and it will be a home one at that. but Glasgow take their leave with a proud bow having made the visitors work all the way for the 21-17 victory.
Both teams had so much to play for and both teams had willingness to play but the conditions were not ideal - heavy underfoot after Glasgow's recent weather attack and buffetted by an unpredictable wind.
Glasgow seemed less at ease with the conditions, committing many more handling errors (12-5) than Saracens, partly because, ignoring the wind, the Warriors stood far apart.
Saracens' backs acted more sharply and the forwards won the scrums and mauls. They were stronger. But the Glasgow Warriors, spurred on by an enthusiastic crowd and the skirl of the bagpipes were brave and could well have won the match.
They had their chance to make history by getting into the quarter-finals for the first time; Saracens took theirs and are in the quarter-finals for the first time - a home quarter-final to boot. But Saracens needed good fortune for both of their tries.
Oh, no, O'Hare! An error of judgement led to Saracens' first try which even so looked a dicey decision. From just inside his half and in the middle of the field, Glen Jackson booted a long ball down to his right. The ball rolled into the Glasgow 22 and seemed to heading for touch-in-goal as Hefin O'Hare had the ball well and truly covered. He was at the ball, greedy for it to roll dead to get the scrum at the place of the kick,.as slender Richard Haughton sped after the ball. Ball, touch-in-goal, O'Hare and Houghton converged. O'Hare stayed standing but Haughton dived.
The referee referred the matter to the television match official who, surprisingly, advised that a try had been scored. 5-0 after 5 minutes.
Before that Glasgow had looked likely to score as tall scrum-half Sam Pinder kicked ahead. O'Hare gathered at the touch-line and raced unimpeded for the goal-line, but, as he gathered the ball, his foot struck the touch-line.
After O'Hare had had an attempted grubber knocked back, Saracens attacked and Neil de Kock had a sharp break.
Glasgow had their best moment of the early match when Dan Parks kicked an up-and-under. Brent Russell took the ball but Scott Barrow took him in a strong tackle and Glasgow were on the attack. The Warriors were fierce for a while.
There were 15 penalties in the match, 14 at the tackle. Dan Parks goaled one, Jackson another, Glasgow a third and Saracens the fourth and then Glasgow another.
Just when it seemed that 11-9 would be the half-time score, Saracens got their second jammy try. Near half-way, Glasgow won a scrum. John Beattie picked up and gave to Pinder who passed inside to Parks. It did not reach him as Jackson nipped in, intercepted the pass and ran some 50 metres to score at the post. He converted his try and Saracens led 18-9 at half time.
The Warriors attacked early in the second half. They went left, right, left and Russell sent Haughton darting for the line. He would certainly have scored but for a brilliant tackle. It was Parks who grabbed the runaway wing and rolled him upwards. The TMO confirmed that the ball had been held up. It had been brilliant defence by Parks.
This produced a five-metre scrum for the Saracens who pushed ahead but the Warriors wheeled. Saracens stayed attacking but a sharp, definitive tackle by the brilliant Johnnie Barclay on Jackson saved the Warriors.
Jackson then broke and sent Andy Farrell on a short route to the posts. A try looked certain but somehow Pinder felled the big man. Still Saracens attacked going wide to the left. Russell gathered a difficult ball but then lost it on a two-man overlap.
Glasgow broke out and from a line-out with short passes, they went left. Speedster Thom Evans came over from the right wing and gave to fullback Bernardo Stortoni who scored far out. 18-14 with 18 minutes to go.
A Jackson penalty made it 21-14.
Beattie had another good run and Stortoni came close, but Parks goaled another penalty. 21-17 with four minutes of ordinary time left.
Despite the fortunate nature of their pair of tries, Saracens deserved to win - stronger up front and better organised behind.
The scorers:
For Glasgow Warriors:
Try: Stortoni
Pens: Parks 4
For Saracens:
Tries: Haughton, Jackson
Con: Jackson
Pens: Jackson 3
Glasgow Warriors: 15 Bernardo Stortoni, 14 Thom Evans, 13 Colin Gregor, 12 Scott Barrow, 11 Hefin O'Hare, 10 Dan Parks, 9 Sam Pinder, 8 Johnnie Beattie, 7 John Barclay, 6 Kelly Brown, 5 Alastair Kellock (c), 4 Opeta Palepoi, 3 Moray Low, 2 Fergus Thomson, 1 Justin Va'a.
Replacements: 16 Dougie Hall, 17 Kevin Tkachuk, 18 Ed Kalman, 19 Dan Turner, 20 James Eddie, 21 Graham Morrison, 22 Colin Shaw.
Saracens: 15 Brent Russell, 14 Richard Haughton, 13 Kevin Sorrell, 12 Andy Farrell, 11 Rodd Penney, 10 Glen Jackson, 9 Neil de Kock (c), 8 Ben Skirving, 7 Richard Hill, 6 Kris Chesney, 5 Hugh Vyvyan, 4 Chris Jack, 3 Cencus Johnson, 2 Fabio Ongaro, 1 Nick Lloyd.
Replacements: 16 Andy Kyriacou, 17 Tom Mercey, 18 Tom Ryder, 19 Paul Gustard, 20 Alan Dickens, 21 Adam Powell, 22 Kameli Ratuvou.
Referee: Alan Lewis (Ireland)
Touch judges: David Wilkinson (Ireland), John Carvill (Ireland)
Television match official: Brian Fitzgerald (Ireland)