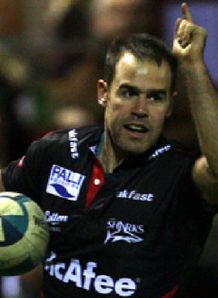 There is plenty to play for in Pool Four still, even though Sale have top sport wrapped up. Sale head to France to take on Montpellier, who can still qualify, while Petrarca Padova host Bayonne in the pool's dead-rubber. We preview all the action!
Montpellier v Sale Sharks, Saturday 19th January 2008, Stade Yves Du-Manoir, 19:45 GMT
Montpellier welcome Sale to Stade Yves Du-Manoir knowing that a win will see them sneak in to the quarter-finals as one of the three best runners-up. Sale head their safe in the knowledge that they have qualification wrapped up.
That hasn't stopped Philippe Saint Andre selecting the strongest side available to him. Luke McAlister will start at inside centre, partnering England U21 cap Chris Bell; Charlie Hodgson will direct affairs from fly-half.
The back three is full of experience, Mark Cueto takes the full-back slot with Rory Lamont and Oriol Ripol on the right and left wings respectively.
In the forwards it is an all international back row, comprising of France folkhero Sébastien Chabal, England flank Magnus Lund and Argentina star Juan Fernandez Lobbe. Dean Schofield will captain the side from second row where he partners another international in the form of Chris Jones.
Montpellier will be going all out for victory and this is reflected in the side they will field, that includes a host of international names.
Italian full-back David Bortolussi continues at fifteen, and will take on the kicking duties, whilst his fellow Italian team-mate Alessandro Stoica will line-up at inside centre. Fédérico Todeschini will direct affairs from fly-half with the reliable Sébastien Buada joining him at halfback.
Up front Springbok Warren Britz packs down on the blindside, with local boy Jérome Vallée occupying the seven jersey.
Montpellier: 15 David Bortolussi, 14 Olivier Sarraméa, 13 Régis Lespinas, 12 Alessandro Stoica, 11 Sébastien Kuzbik, 10 Fédérico Todeschini, 9 Sébastien Buada, 8 Louis Picamoles, 7 Jérome Vallée, 6 Warren Britz, 5 Drickus Hancke, 4 Michel Macurdy, 3 Philémon Toleafoa, 2 Joan Caudullo, 1 Eugène Van Staden.
Replacements: 16 Fabien Rofes, 17 Sébastien Petit, 18 Mickaël Bert, 19 Sébastien Galtier, 20 Julien Tomas, 21 Murphy Taele, 22 Mark McHugh.
Sale Sharks: 15 Mark Cueto, 14 Rory Lamont, 13 Chris Bell, 12 Luke McAlister, 11 Oriol Ripol, 10 Charlie Hodgson, 9 Sililo Martens, 8 Sébastien Chabal, 7 Magnus Lund, 6 Juan Fernandez Lobbe, 5 Dean Schofield (c), 4 Chris Jones, 3 Eifion Roberts, 2 Scott Lawson, 1 Lionel Faure.
Replacements: 16 Sébastien Bruno, 17 Ben Evans, 18 Sean Cox, 19 Jason White, 20 Richard Wigglesworth, 21 Rudi Keil, 22 Chris Mayor.
Referee: Andrew McPherson (Scotland)
Touch judges: Rob Dickson (Scotland), Alan Forest (Scotland)
Television match official: Andy Ireland (Scotland)
Petrarca Padova v Bayonne, Saturday 19th January 2008, Stadio Plebiscito, 14:00 GMT
There is nothing but pride on the line In Italy this weekend, although the hosts will be going all out for their first win in the pool.
They will face a strong challenge from their French visitors, who have been in the papers this week linked with a big money move for Springbok try-scoring machine Bryan Habana.
There is a settled look to the Bayonne side, with Manny Edmonds controlling things from fly-half.
Up front they will rely on hard work rather than too many big names, although they have an impressive back row unit comprising of Dwayne Haare, Jacques Deen and Guillaume Bernad.
Petrarca Padova: 15 Alvaro Lopez Gonzalez, 14 Fabio Faggiotto, 13 Enrico Patrizio, 12 Silao Leaega (capt), 11 Mike Palefau, 10 Ludovic Mercier, 9 Stefano Canale, 8 Sisa Koyamaibole, 7 Nicola Bezzati, 6 Alberto Saccardo, 5 Stuart Grimes, 4 Agustin Cavalieri, 3 Tino Paoletti, 2 Nicola Gatto, 1 Andres Rondinelli.
Replacements: 16 Michele Rizzo, 17 Mariano Gastaldi, 18 Lorenzo Giovanchelli, 19 Lorenzo Innocenti, 20 Luca Martin, 21 Mariano Lorenzetti, 22 Nicola Leonardi.
Bayonne: 15 Mathieu Acebes, 14 Sam Gerber, 13 Henri-pierre Vermis, 12 Craig Gower, 11 Benjamin Lhande, 10 Manny Edmonds, 9 Anthony Salle - Canne, 8 Dwayne Haare, 7 Jacques Deen, 6 Guillaume Bernad, 5 Nicolas Laffite, 4 Robin Linde, 3 Augustin Loprestti, 2 David Roumieu, 1 Pierre Philippe Lafond.
Replacements: 16 Julian Fiorini, 17 Avtandil Kopaliani, 18 Mikaera Tewhata, 19 Jean-Jo Marmouyet, 20 Louis Massabeau, 21 Benoît Marfaing, 22 Vincent Inigo.
Referee: Graham Knox (Scotland)
Touch judges: David Changleng (Scotland), Ronnie Dumma (Scotland)