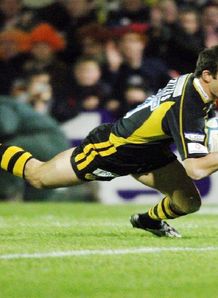 Wasps now face a potential make-or-break Heineken Cup match against Munster in Ireland next week, after running the Scarlets ragged with a 40-7, bonus-point victory at Adams Park on Sunday.
Five of the Wasps' six tries came from the backs, as the injury-hit Scarlets could find not match for the all-round pace and power of the reigning champions.
Six tries to one. That's a drubbing. In fact the gulf in class between the two teams was even wider than that. Individually and in every unit, Simon Easterby apart, London Wasps were streets ahead of Llanelli Scarlets. They were faster, stronger, more skilled, more confident, more coherent and better organised than their young, understrength opponents. That the score was not bigger was testimony to the grit of the young Scarlets who managed to keep up their determination against men who held nearly 90 per cent of territory and possession.
The Scarlets, minus 11 first-choice players, were not in the game. Not really. Not even after Deacon Manu plunged over for a try that made the score 12-7. That was a false dawn.
The Wasps had a change at full-back before the match when Mark van Gisbergen pulled out with a hamstring injury, as did Joe Worsley who was on the bench with Richard Birkett in his place. Young (just turned 20) David Doherty played in Van Gisbergen's place and had a splendid game. But then the match was a splendid opportunity for the Wasps to strut their stuff, get the bonus point and fly to the top of their pool, though with Clermont Auvergne and Munster about to kick off.
The Scarlets were without the likes of Dwayne Peel, Stephen Jones, Alix Popham, Regan King and Matthew Rees.
Welsh coach Warren Gatland was at the match. He could not have learnt a great deal that was positive. After all the best player Llanelli had was an Irish international.
Wasps wanted four tries to get a bonus point and signalled their intention of getting them from the start. Eoin Reddan tapped the first penalty and raced away with Daniel Cipriani racing on as the Wasps attacked right and then left. Reddan tapped the second penalty as well - when the Scarlets' were off-side at a kick - and this time they scored. Reddan raced and passed inside to Fraser Waters on the switch and the cheerful centre was over for the try. Cipriani converted. 7-0 after 6 minutes.
Even early in the game, Llanelli were winning slow ball from the tackle/ruck, Wasps quick ball, and Wasps were winning the turnovers.
Tom Rees won a sloppy Llanelli throw at a line-out, Cipriani broke and Waters carried it on. Wasps were stopped at the goal-line but they formed a three-man pod with Phil Vickery in the middle. The pod plodded forward and Vickery scored. 12-0 after 16 minutes.
The Scarlets got out of defence. From a scrum Nathan Thomas drove. From the tackle/ruck Liam Davies darted to the right. Tackled he got a great pass away and there was Manu plunging over with Reddan and Dominic Waldouck trying to stop him. Rhys Priestland converted from touch. 12-7 after 32 minutes.
Suddenly Llanelli seemed to have greater confidence - enough at any rate to run out of their own 22 and they were looking good till Gavin Evans knocked on, and Wasps scored.
From the scrum for the knock-on they went right. Waldouck came from the left wing and broke. He gave to Riki Flutey who left-footed a diagonal grubber to his right which Doherty collected to score. Cipriani converted. 19-7 after 36 minutes. There was still time for the bonus-point try.
Wasps mauled a line-out and then sent the ball out to the right with nothing more subtle than great passing and catching till the ball reached Paul Sackey. Gavin Evans plucked at the wing's shoulders but Sackey handed him off and passed inside to Waldouck who scored. Cipriani converted. 26-7 and half-time.
London Wasps scored only two tries in the second half, which says nothing for their dominance. They laid siege to the Llanelli line. They started the half with the zeal of a side in desperate for a bonus-point try as time runs out but that soon faded somewhat as the match, as a meaningful contest, was over.
They had a good attack on the left with Flutey prominent but the big centre damaged a hamstring, which may well be a blow for the Wasps when they fly across the Irish Sea to Limerick.
Rob Hoadley came on in Flutey's place and scored with his first touch of the ball. The Scarlets won a turn-over off Wasps and immediately James Haskell won a turn-over off the Scarlets. The ball went to the far left with a sweet pass from Lawrence Dallaglio to reach Hoadley who went over despite the attempts of three Scarlets to stoop him. Cipriani converted. 33-7 after 53 minutes.
Wasps attacked at great length. In fact they attacked for virtually the rest of the half. Hoadley nearly got a second try but Darren Daniel tackled him out at the corner.
Daniel was later penalised for a tackle infringement and sent to the sin bin.
Wasps attacked again and again as unconcerned sheep grazed on a brown Buckinghamshire hill.
Wasps had an attacking - what else - scrum on the right. Dallaglio picked up and went off on a diagonal. He played inside to replacement scrumhalf Mark McMillan. McMillan played to Sackey who scored. Doherty converted.
For Llanelli it meant their fifth successive defeat in the Heineken Cup - the only team of 24 not to have scored a single point in the competition. For the Wasps it was a good appetizer for their trip to Thomond Park.
The scorers:
For Wasps:
Tries: Waters, Vickery, Doherty, Waldouck, Hoadley, Sackey
Cons: Cipriani 5
For Scarlets:
Try: Manu
Con: Priestland
Yellow card: Daniel (Scarlets 68, repeated infringement)
London Wasps: 15 David Doherty, 14 Paul Sackey, 13 Fraser Waters, 12 Riki Flutey, 11 Dominic Waldouck, 10 Danny Cipriani, 9 Eoin Reddan, 8 Lawrence Dallaglio (c), 7 Tom Rees, 6 James Haskell, 5 George Skivington, 4 Simon Shaw, 3 Phil Vickery, 2 Raphaël Ibañez, 1 Tim Payne.
Replacements: 16 Joe Ward, 17 Tom French, 18 Tom Palmer, 19 John Hart, 20 Mark McMillan, 21 Rob Hoadley, 22 Richard Birkett.
Llanelli Scarlets: 15 Ceiron Thomas, 14 Darren Daniel, 13 Matthew Watkins, 12 Gavin Evans, 11 Mark Jones, 10 Rhys Priestland, 9 Liam Davies, 8 Nathan Thomas, 7 Simon Easterby (c), 6 Dafydd Jones, 5 Scott MacLeod, 4 Adam Eustace, 3 Deacon Manu, 2 James Hayter, 1 Iestyn Thomas,
Replacements: 16 Daniel George, 17 Bruce Douglas, 18 Dominic Day, 19 James Bater, 20 Gavin Cattle, 21 Jon Davies, 22 Garan Evans,
Referee: Christophe Berdos (France)
Touch judges: Eric Gauzins (France), Patrick Dellac (France)