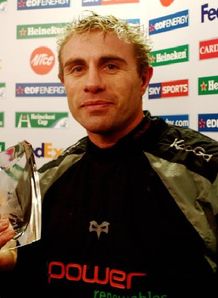 The Ospreys ensured they have their Heineken destiny in their own hands on Saturday, with a fine 32-15 win over an ill-disciplined Gloucester who had three players sent to the sin-bin.
The Welsh scored only two tries, through Shane Williams in the first half and Richard Hibbard late on, but the steady stream of penalties conceded by Gloucester ensured that James Hook kept the hosts safely out of reach of the visitors.
Gloucester still lead the group, and are still likely to top it barring major upsets, but the Ospreys are now well in the running for a best runners-up spot.
Two tries each suggests a close match. Two tries each suggests a close score. It was not a close match and not a close score. 32-15 suggests that one side was much stronger than the other. That is true. The Ospreys were much stronger than Gloucester as they pounded them again and again in the pouring Swansea rain. The Welsh side dominated possession and territory. Both Gloucester tries were against the run of play.
The Ospreys also dominated virtue. It was a cantankerous match and Gloucester paid the heavier price for ill-discipline. Not only was the penalty count 12-3 against them but they also lost three players to the sin-bin. At one stage they were down to 13 men. Because the Ospreys enjoyed such territorial domination 8 of the 12 penalties were kickable. Gloucester did not look the classy outfit they really are.
In the Ospreys' favour was the work of their powerful pack and there was the metronomic boot of James Hook that scored six penalty goals and two conversions. There was also a New Zealand trio.
Look at the team sheet and you will see the name of Justin Marshall just once. That suggests that there was just one Justin Marshall on the field. Watch the match and you will realise that that certainly was not so. There were several Justin Marshalls, all looking alike, all with a number nine on their backs.
These Justin Marshalls kicked high and long, tackled, broke, did pick-'n-drive with the forwards, covered and were at every breakdown. They were in many places at once, strong and calm, a massive force in the game.
With the Justin Marshalls went the ageless Filo Tiatia, driving and tackling. And then there was omnipresent Marty Holah. The Kiwi is a flightless bird, but not it seems when he flies with the Ospreys.
The pouring rain did not keep the fans away from smart Liberty Stadium. In fact the biggest crowd of the season arrived - over 18,000 - and they were not made shivering dummies by the rain. They sang Olé with gusto and pride.
When Fijian Akapusi Qera was penalised at a tackle, Hook goaled his first penalty, and then came the Ospreys' first try.
Gavin Henson, who was quiet but every now and then able to produce something strong and skilful, kicked a high up-and-under on a night when kicking this sort of thing was often the first option. Gloucester stood around to watch the ball bounce and it bounced high as if it were off concrete. Henson chased, and managed to bring the ball bouncing high above his head under control. Gareth Delve stopped Henson at the line but the Ospreys sent quick ball right where Leon Lloyd stood alone against three attackers. Shane Williams skipped over for the try. 10-0 after 11 minutes.
Gloucester's scrum-half Gareth Cooper chipped and Gloucester built a promising attack. The Ospreys cleared but James Simpson-Daniel counterattacked. But it all fizzled out when Lloyd was tackled into touch.
Lloyd gave away the next score when he was penalised for being a lazy runner, possibly the laziest this season. Hook goaled. 13-0 after 20 minutes.
Holah was penalised at a tackle, the only time the Ospreys were penalised in the first half, and Ryan Lamb banged the kick over. 13-3 after 26 minutes.
At this stage Gloucester had a full side, but the Ospreys destroyed their scrum. Brave Delve tried to get the ball away but was penalised for holding on. Significantly, the referee first spoke to the Gloucester captain, Marco Bortolami, saying: "I'm not going to have players running in and whispering in my ear." 16-3 after 28 minutes.
Lamb kicked a promising diagonal to his right which Lloyd gathered just in from touch but Shane Williams bundled the veteran wing into touch.
Marshall ran a brilliant counter down the right and then threw a magnificent pass to his left and Nikki Walker was heading for the line but the cover held. When Peter Buxton came in at the side and played Marshall just before he picked up the ball, provoking a flamboyant dive from the scrum-half, the referee sent him to the sin bin. He went showing anger. Hook goaled. 19-3 after 37 minutes.
That was the half-time score.
From a line-out in the second half, the Ospreys rushed a maul downfield. Delved pulled it down and was penalised. It is worth recording that this was the only kick at goal which Hook missed on the rain-soaked night. But when Anthony Allen was penalised at a tackle, Hook made it 22-3 after 51 minutes.
Then came the try of the match.
Gloucester had a line-out on their left on the Ospreys' 10-metre line. Buxton went up high and dropped the ball down to Christian Califano. The veteran Frenchman gave a short pass to replacement scrum-half Rory Lawson and the Scot straightened up, running unimpeded for 40 metres through a vacant lot to score. Chris Paterson converted. 22-10 after 56 minutes.
Were Gloucester coming back into the game?
Not really, for the Ospreys simply tightened their grip.
Marshall had a break and the Ospreys battered at the Gloucester line. Gloucester threw Luke Narraway into the defence but he did not last long, for the referee issued him with a yellow card for dissent, saying: "Don't talk to me like that again." Narraway, barely on the field, went grumpily to the sin-bin while Hook made it 25-10 after 69 minutes.
Narraway was not alone for long, for Olivier Azam was sent to join him for a high tackle on Holah. He, too, went unhappily.
Down to 13 men Gloucester decided that they had no more front row players to bring on and so the scrums became uncontested, which may have spared the Gloucester pack agony and humiliation.
Ospreys made many changes and Mike Phillips had a break to emulate Lawson's except that he did not score. The Ospreys attacked when Holah won a Gloucester line-out, the only one they lost in the match though they pinched four off the Ospreys. The Ospreys attacked and Gloucester were penalised for being off-side. This was kickable but the Ospreys opted for a five-metre line-out. They mauled and drove, and Richard Hibbard scored the try. He was injured in the action. There was also some more emotion and replacement Gloucester prop Patrice Collazo looked angry enough to take on the world. Yet again the referee spoke to the captains.
That try was scored on 79 minutes but the clock ran on and there was time for Mike Tindall to slip a clever grubber into the Ospreys in-goal where Lamb surfed onto the ball for a try,
That was it. There was much in the match that was good but the moodiness rather spoilt things.
The scorers:
For the Ospreys:
Tries: Shane Williams, Hibbard
Cons: Hook 2
Pens: Hook 6
For Gloucester:
Tries: Lawson, Lamb
Con: Paterson
Pen: Lamb
Yellow cards: Buxton (Gloucester, 33, repeated infringements), Narraway (Gloucester, 65, dissent), Azam (Gloucester, 67, high tackle)
Ospreys: 15 Lee Byrne, 14 Nikki Walker, 13 Sonny Parker, 12 Gavin Henson, 11 Shane Williams, 10 James Hook, 9 Justin Marshall, 8 Filo Tiatia, 7 Marty Holah, 6 Ryan Jones (capt), 5 Alun Wyn Jones, 4 Ian Gough, 3 Adam Jones, 2 Huw Bennett, 1 Duncan Jones.
Replacements: 16 Richard Hibbard, 17 Paul James, 18 Ian Evans, 19 Jonathan Thomas, 20 Mike Phillips, 21 Mark Taylor, 22 Jonathan Vaughton.
Gloucester: 15 Iain Balshaw, 14 James Simpson-Daniel, 13 Mike Tindall, 12 Anthony Allen, 11 Leon Lloyd, 10 Ryan Lamb, 9 Gareth Cooper, 8 Gareth Delve, 7 Akapusi Qera, 6 Peter Buxton, 5 Alex Brown, 4 Marco Bortolami (c), 3 Carlos Nieto, 2 Andy Titterrell, 1 Christian Califano.
Replacements: 16 Olivier Azam, 17 Patrice Collazo, 18 Luke Narraway, 19 Alasdair Strokosch, 20 Rory Lawson, 21 Chris Paterson, 22 Willie Walker.
Referee: Alan Lewis (Ireland)
Touch judges: Leo Colgan (Ireland), Dermot Moloney (Ireland)
Television match official: David McHugh (Ireland)