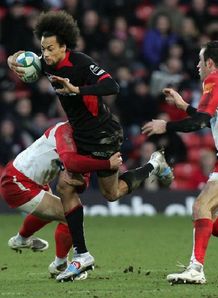 Saracens are all but in the quarter-finals of the Heineken Cup after beating Biarritz 45-16 at Vicarage Road on Saturday, gaining a valuable bonus point in the process.
This was a turning point in both teams' seasons. Biarritz have somehow managed to survive this far, somehow getting themselves into the Top 14's top four, and keeping the Heineken Cup quarter-finals a realistic dream.
They have eked out fortuitous wins: last week's 10-8 triumph over Montauban where they scored, astonishingly, their first home league try of the season, the first match against Saracens where it was only a 55m kick from Dimitri Yachvili that saved the day are two prime examples.
Today though, the thin veneer of polish on their season was eroded away by a deadly mixture of cudgel and scalpel from Saracens. There was nowhere to hide here for Biarritz, and you suspect that there will be nowhere to hide when he explains the ineptitude of the performance to 'those that matter' back in the Basque country.
The Watford-based team now only needs to avoid heavy defeat in Glasgow next week to qualify - even Biarritz managed that - and the likely win should surely see Vicarage Road sold out for a home quarter-final. Maybe even somewhere more grand. Who knows? But it has already defined their season.
Perhaps it would be better to reserve judgement on Saracens' quality until then though. Glasgow are full of fight, but limited on quality. Viadana are the same. Biarritz are just plain awful by their own standards; full of quality but limited on fight. Winning this pool has not quite set a benchmark for the season yet for Sarries.
Certainly they laboured through the first half. It took 28 minutes for Biarritz to enjoy any one piece of set piece possession, up until then they had simply fed of scraps and spillages from the Saracens' feast. One of those scraps was a charge down of an Andy Farrell kick, which gave Romain Cabannes a soft try.
Each time Biarritz visited Saracens' half, they seemed to come away bearing a gift - Julien Dupuy kicked two penalties as well. By 40 minutes, all Saracens had to show for some 68 per cent of territorial dominance was two Glen Jackson penalties and a host of squandered opportunities, not least the one Kevin Sorrell spilled in the act of slicing through the Biarritz defensive line.
6-13 it stood, a monstrous injustice to the home team, but finally, on the stroke of half-time, Hugh Vyvyan took an inside ball from Glen Jackson, and took two defenders with him for the try. Jackson converted and it was 13-13 at the break.
The try changed everything though. Biarritz, challenged to find a way of winning the game through means other than the fortune à la last week against Montauban, were exposed for their lifelessness. The try was just the spark Saracens needed to come to life.
Within two minutes of the restart, Richard Haughton, by far the brightest spark in Sarries' crackling back-line, had fumbled the ball when over the line. Within seven minutes, a wonderful left-and-right succession of movements had culminated in a third penalty for Jackson, and on the 51st minute, Chris Jack pirouetted out of a tackle and galloped over the line. Jackson's conversion made it 23-13. The gauntlet was thrown down to the visitors.
A brief Biarritz flicker came in the form of Dupuy's third penalty, but the French could find nothing to offer. Their incompetence in the execution of anything more was marked in minute 55 when, with a two-man overlap to his right, Benjamin Thiery opted to chip for the corner and sent the ball yards into touch.
Instead it was left to Saracens to dazzle the crowd. Rodd Penney took an inside ball of Neil de Kock and then steamed the final 40m for a superb individual score, converted by Jackson.
Jackson then capitalised on the increasing superiority of his forwards to land a fourth penalty and take Saracens three scores into the lead at 33-16.
Finally, with Serge Betsen off to the bin for use of the boot - the referee called it careless, everyone else knew it was frustrated - Jack rumbled over for his second - the all-important bonus point try - and in the final scrum of the game, the Biarritz pack opted to collapse it rather than scrum it. Nigel Owens scurried under the posts for the penalty try, and the rout was complete.
The Scorers:
For Saracens:
Tries: Vyvyan, Jack 2, Penney, Penalty
Cons: Jackson 3
Pens: Jackson 4
For Biarritz:
Try: Cabannes
Con: Dupuy
Pen: Dupuy 3
Yellow Card: Betsen (74th minute - Illegal use of the boot)
The Teams:
Saracens: 15 Brent Russell, 14 Richard Haughton, 13 Kevin Sorrell, 12 Andy Farrell, 11 Rodd Penney, 10 Glen Jackson, 9 Neil de Kock, 8 Ben Skirving, 7 Richard Hill, 6 Kris Chesney, 5 Hugh Vyvyan, 4 Chris Jack, 3 Cencus Johnson, 2 Fabio Ongaro, 1 Nick Lloyd.
Replacements: 16 Andy Kyriacou, 17 Tom Mercey, 18 Tom Ryder, 19 Paul Gustard, 20 Alan Dickens, 21 Adam Powell, 22 Kameli Ratuvou.
Biarritz: 15 Nicolas Brusque, 14 Philippe Bidabe, 13 Romain Cabannes, 12 Damien Traille, 11 Takudzwa Ngwenya, 10 Julien Peyrelongue, 9 Julien Dupuy, 8 Jacques Cronje, 7 Imanol Harinordoquy, 6 Samiu Vahafolau, 5 Trevor Hall, 4 Jerome Thion (capt), 3 Denis Avril, 2 Benoit August, 1 Petru Balan.
Replacements: 16 Benjamin Noirot, 17 Benoit Lecouls, 18 Steve Malonga, 19 Serge Betsen, 20 Fabien Cibray, 21 Andrea Masi, 22 Benjamin Thiery.
Referee: Nigel Owens (Wales)
Touch judges: Nigel Whitehouse (Wales), Neil Ballard (Wales)
Television match official: Derek Bevan (Wales)