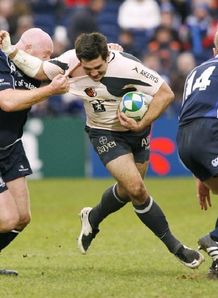 Toulouse managed to cling on to a precious bonus point in a 20-13 defeat to Leinster at the RDS on Saturday, meaning they need just a win over Edinburgh next week to grab a quarter-final spot.
But a home quarter-final is now unlikely after this defeat, in which a magnificent first half from Leinster swung the game their way.
The predicted storm held off at the Showgrounds in Dublin. It was overcast and there was wind - but no rain. The match was lively, especially in the second half, and the home side won which delighted the crowd waving big blue flags and occasionally letting off the paso-doble with accompanying Olé that was the signature tune of the 2007 Rugby World Cup.
Eddie O'Sullivan was at the match, about to announce his Six Nations squad on Monday and there were several Leinster players to put their hands up - Girvan Dempsey, Malcolm O'Kelly Jamie Heaslip and Keith Gleeson amongst them. The player who put his hand up highest is not available for Ireland - bearded Felipe Contepomi at flyhalf.
You would pinch yourself more than once during this game. In the first half you would pinch yourself and say: "Is this really Toulouse, the mighty Toulouse, who are playing. You would pinch yourself at half-time and say: "Is the score only 10-3?" During the first bit of the second half, you would pinch yourself and say: "Is this the same Toulouse side that plodded about in the first half?"
Leinster won the first half. If they had destroyed Toulouse in that first half, it would have been no surprise. The Irish province won the ball hands down. The ball that they won was tidier and far more useful than the erratic tap-backs from Toulouse line-outs, the uncaring at the tackle ruck and the back-pedalling scrums. Leinster competed for everything with great intent. Beyond the forwards Leinster handled much better than Toulouse did. The penalty count was also in Leinster's favour - 8-2 with a yellow card against Toulouse to boot. What saved Toulouse was the speed and strength of its back three.
There was an astonishing period of attack in the first half which lasted almost ten minutes. They had three close line-outs, two five-metre scrums, four penalties and Grégory Lamboley earned himself a yellow card. O'Kelly was over but held up.
Then Leinster moved the ball away to their left with Contepomi clever. Then he was even cleverer, picking a pass off his toes and heading left only to turn a brilliant ball back inside to Luke Fitzgerald who danced twice off his left foot - He is a left-footer - to beat Thierry Dusautoir and two other defenders and score.
Contepomi converted and Leinster led 10-0, their first score a penalty early in the half.
When Gordon D'Arcy was penalised for a side entry at a tackle, Valentin Courrent goaled on 41 minutes. That made the half-time score 10-3.
Not that that was half-time for the half went on till nearly 47 minutes as clocks are not stopped in the Heineken Cup.
Toulouse changed for the second half. Jean-Baptiste Elissalde replaced Byron Kelleher. That may have made a difference, but really the difference seemed to be in a change of heart by the forwards to suddenly got stuck in and protected the ball. Elissalde was on hand to get play moving. The tempo increased.
Both sides tried to run - Leinster once from behind their goal-line. Heymans had a run and a chance to score. Clerc had a run as the Toulouse scrum shoved Leinster around in a reversal of roles, but then Stephen Knoop was off, replaced by 20-year-old Cian Healy.
Toulouse attacked. Yannick Nyanga put on pressure when he charged down a clearing kick by Chris Keane.
Eventually when Dempsey was penalised at a tackle, Courrent, who had missed a kick, goaled to make it 10-6 after 54 minutes.
Suddenly the match changed. Leinster seemed to find new life and determination. First Gleeson charged down an attempted clearance by Heymans and then the men in blue were attacking with powerful thrusts by O'Driscoll, Contepomi and O'Kelly. They went left and Fitzgerald stepped inside Heymans as the Frenchman sped across in desperation and the young wing scored his second try. Again Contepomi converted from far out. 17-6 after 56 minutes.
Contepomi nearly set up another try as he chipped, collected the ball on the bounce but lost it as he tried to get a pass to Fitzgerald.
The match was lively as turn-overs happened and both teams sought to use advantage.
The Toulouse try was a masterpiece of simplicity. From a tackle they went blind on the left about 50 metres out and Heymans took a short pass from burly Romain Millo-Chlusky. Heymans sped down the field and looked set to score till he gave a pass to Yves Donguy. The young replacement went over for the try far out. Courrent converted. 17-13.
Possibilities abounded.
Clerc kicked an Dempsey counterattacked brilliantly, fading past Clerc and setting up an eager attack with O'Kelly in the van, till O'Driscoll knocked on.
Toulouse handling - not for the first time - let them down and Rob Kearney picked up on the left wing. There was nobody ahead of him, just a 60-metre run. It was too far for him as Heymans came across and mowed him down.
Healy broke cleverly and sent Shane Jennings running for the left corner but Clément Poitrenaud and Clerc combined to fell him.
Leinster were finishing strongly and Contepomi made victory d-=safe when on 84 minutes he kicked a soaring drop midway between the uprights.
The scorers:
For Leinster:
Tries: Fitzgerald 2
Cons: Contempomi 2
Pen: Contempomi
Drop goal: Contempomi
For Toulouse:
Try: Donguy
Con: Courrent
Pens: Courrent 2
Yellow card: Lamboley (Toulouse, 23, repeated infringement)
Leinster: 15 Girvan Dempsey, 14 Luke Fitzgerald, 13 Brian O'Driscoll (capt), 12 Gordon D'Arcy, 11 Rob Kearney, 10 Felipe Contepomi, 9 Chris Keane, 8 Jamie Heaslip, 7 Keith Gleeson, 6 Shane Jennings, 5 Malcolm O'Kelly, 4 Leo Cullen, 3 Stephen Knoop, 2 Bernard Jackman, 1 Stan Wright.
Replacements: 16 Brian Blaney, 17 Cian Healy, 18 Cameron Jowitt, 19 Stephen Keogh, 20 Guy Easterby, 21 Jonathan Sexton, 22 Gary Brown.
Toulouse: 15 Clément Poitrenaud, 14 Vincent Clerc, 13 Maleli Kunavore, 12 Florian Fritz, 11 Cédric Heymans, 10 Valentin Courrent, 9 Byron Kelleher, 8 Shaun Sowerby, 7 Thierry Dusatoir, 6 Yannick Nyanga, 5 Grégory Lamboley, 4 Fabien Pelous (capt), 3 Jean-Baptiste Poux, 2 William Servat, 1 Daan Human.
Replacements: 16 Virgile Lacombe, 17 Salvatore Perugini, 18 Romain Millo-Chlusky, 19 Jean Bouilhou, 20 Jean-Baptiste Elissalde, 21 Yves Donguy, 22 Gaffie du Toit.
Referee: Wayne Barnes (England)
Touch judges: Sean Davey (England), Robin Goodliffe (England)
Television match official: David Matthews (England)