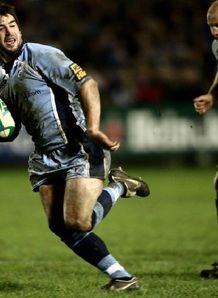 In the close three-way race in Pool 3 of the Heineken Cup, Cardiff Blues have nudged their way closer to a quarter-final berth with 23-12 win over Harlequins at gluey Cardiff Arms Park on Friday night.
There were three pitch inspections before the referee agreed that that match could go ahead. In fact, tackiness apart, there was no reason not to play a game which the Blues thoroughly deserved to win and yet in defeat there must have been a glimmer of hope for Harlequins who have become used to losing of late.
Cardiff were a much better side all round and had the confidence and courage to run out of deep defence when opportunity knocked.
Harlequins on the other hand went on with their ponderous pick-'n-drive. Their two tries did not come from pick-'n-drive Ironically expansive Cardiff were the ones to score from close-quarter bashing.
It is almost a surprise that the sides each scored two tries, for the Welsh side was clearly superior.
New Wales coach Warren Gatland was at the match. The result would have pleased him but the players who stood out would not be in the squad he announces next week - Xavier Rush, Paul Tito, Ben Blair, Martyn Williams and Gareth Thomas - especially Xavier Rush and Martyn Williams, a veteran with a spring in his step.
The Blues started off singing into the breeze. They attacked wide and creatively. They eschewed a kick at goal for a five-metre line-out and maul. Dafydd Hewitt was actually over as he carved his way through to the posts but the referee had spotted an obvious crossing and penalised Blues.
Deep in their territory the Blues won a Harlequins line-out, Gareth Thomas burst past De Wet Barry, Jamie Roberts raced, Thomas carried on and the Blues looked certain to score. Rush charged close and when the Harlequins were penalised near their own posts, Blair made the score 3-0 after 15 minutes. Harlequins had a relatively successful pick-'n-drive but were penalised. Cardiff tapped and ran and Haldane Luscombe tackled, creating a loose ball which David Strettle latched onto, but the try was denied when Luscombe was judged not to have been 10 metres away from the mark of the penalty. He was a long way back.
A poor clearance by Mike Brown produced a line-out on the Harlequins 22. The Blues won the line-out and Hewitt cut between Barry and Malone for a try at the posts. Blair converted. 10-0 after 32 minutes. That was the half-time score. Things could have been better for the visitors had Malone not missed two penalty kicks at goal.
Early in the second half the Harlequins scored a try to make the score 10-7 and blow some hope into their game.
The try came from more plod ahead when suddenly they surprised the world by playing wide to their right. Malone threw a brilliant pass wide to Brown who shrugged off Hewitt and, in Tito's tackle, got a pass to Luscombe who forced his way over in the corner. Malone converted. 10-7.
But then penalties cast cold water on Harlequins' fervent wishes. First Chris Hala'ufia was penalised at a tackle and Blair goaled. Then Barry tackled high and the referee sent him to the sin bin. That signalled the end of Harlequins' hopes. Blair goaled the subsequent penalty. 16-7.
Cardiff bashed their way close to the line and then drove Tom Shanklin over for a try which Blair converted. 23-7.
Harlequins then had their most promising passage of play. A penalty gave them a five-metre line-out but they lost the throw.
The referee penalised Cardiff at a collapsed scrum. Steve So'oialo tapped and gave to Paul Volley who ploughed ahead to close to the Cardiff posts. They went wide to the right where Brown cut inside Robinson to score. 23-12 after 78 minutes.
The scorers:
For Cardiff Blues:
Tries: Hewitt, Shanklin
Cons: Blair 2
Pens: Blair 3
For Harlequins:
Tries: Luscombe, Brown
Con: Malone
Yellow card: Barry (56, repeated infringement)
Cardiff Blues: 15 Ben Blair, 14 Jamie Roberts, 13 Tom Shanklin, 12 Dafydd Hewitt, 11 Gareth Thomas, 10 Nick Macleod, 9 Jason Spice, 8 Xavier Rush (c), 7 Martyn Williams, 6 Maama Molitika, 5 Paul Tito, 4 Deiniol Jones, 3 Taufa'o Filise, 2 Gareth Williams, 1 Gethin Jenkins.
Replacements: 16 John Yapp, 17 T. Rhys Thomas, 18 Scott Morgan, 19 Mark Lewis, 20 Richie Rees, 21 Rhys Jones, 22 Jamie Robinson.
Harlequins: 15 Mike Brown, 14 David Strettle, 13 Hal Luscombe, 12 De Wet Barry, 11 Tom Williams, 10 Chris Malone, 9 Steve So'oialo, 8 Chris Hala'ufia, 7 Paul Volley (c), 6 Tom Guest, 5 Nicolas Spanghero, 4 James Percival, 3 Mike Ross, 2 Gary Botha, 1 Ceri Jones.
Replacements: 16 Tani Fuga, 17 Ricky Nebbett, 18 Ollie Kohn, 19 Phil Davies, 20 Danny Care, 21 Adrian Jarvis, 22 Tosh Masson.
Referee: Romain Poite (France)
Touch judges: Bernard Dal Maso (France) Eric Soulan (France)