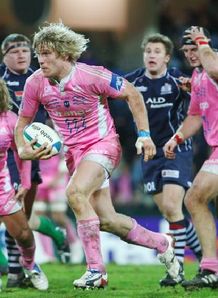 Bristol failed to get a bonus point against Stade Français on Friday, going down 19-11 in the Heineken Cup and leaving them with a little extra to do against Cardiff next week.
Bristol now lie third, four points behind the Blues, and thus needing to beat the Blues scoring four tries and by more than seven points, while also hoping that Friday's opposition stumbles against Harlequins.
It was scant reward for a courageous Bristol performance, but a few flashes of class from the Parisians made the difference in the second half.
A howling wind greeted Jason Strange's kick-off, and it was clear from the outset it was not going to be pretty stuff. Rain had pelted down for much of the day, and the conditions were sticky underfoot, and swirling over it.
That was right up Bristol's street but playing into the wind in the first half meant they were up against it early on.
When prop James Hobson failed to roll away from a ruck, David Skrela drilled home a penalty to put Stade 3-0 up but after Hobson was penalised again at the breakdown moments later, the France fly-half squirmed his second attempt wide.
Rodrigo Roncero and Hobson were both then given 10 minutes in the cooler following a bout of fisticuffs and, from the resulting penalty, Strange made no mistake to level matters at 3-3.
Bristol were managing to stifle the hosts, with their back row of Andrew Blowers, Joe El-Abd and Matt Salter ubiquitous.
However, in the 24th minute the visitors' defence was breached by the rampaging Remy Martin, who seemingly had the line at his mercy as well as two support runners.
That Martin found himself tackled by the Luke Arscott inches short of the line said as much about the flanker's inadequacy as a finisher as the Bristol full-back's superb cover defence.
Skrela added a second penalty in the 28th minute to give the Frenchmen a 6-3 lead, and another on the stroke of half-time to further their advantage.
With the wind behind Bristol after the break and captain Mark Regan growing as a nuisance to Stade, we once again saw just how resilient this Bristol team can be, especially when Skrela botched an easy shot at goal in the 43rd minute.
Strange made him pay minutes later by nailing his second penalty of the night for 9-6, but Stade were growing in confidence with the ball in hand and deservedly went over in the 52nd minute for the game's first try.
Quick ball from a patient short side build-up allowed Skrela to find Corleto, who crashed home in the right corner between two defenders from close range.
Bristol hit back immediately though when Brian O'Riordan sniped through a gap in the right channel and fed Luke Arscott, who in turn freed brother Tom Arscott for a score in the corner.
Neither try was converted, leaving the score at 14-11 with 20 minutes left. Bristol just would not let go, despite the increased pace of the Parisian game.
But as the game opened up, Stade produced a moment of real class. once again the build-up was mostly down the short side, and then Skrela looped Matheiu Bastareaud in the centre before flinging a 30m pass wide to Christophe Dominici.
The veteran winger popped the ball back inside to Julien Arias, who reached and dived for the line.
That proved to be the winning score, with David Hill's last-gasp penalty miss meaning Bristol failed to pick up the bonus point, and maybe failing to have a decent shot at the quarter-finals.
Man of the match: Young centre Mathieu Bastareaud has a real future ahead of him if he can stay injury free. He is strong on his feet, and deft with the ball in hand even with Bristol's behemoths bearing down on him. And he's only 19...
The scorers:
For Stade Français:
Tries: Corleto, Arias
Pens: Skrela 3
For Bristol:
Try: Tom Arscott
Pens: Strange 2
Yellow cards: Roncero (Stade Français), Hobson (Bristol), both 11, both punching.
Stade Français: 15 Ignacio Corleto, 14 Julien Arias, 13 Stéphane Glas, 12 Mathieu Bastareaud, 11 Christophe Dominici, 10 David Skrela, 9 Alexandre Albouy, 8 Sergio Parisse, 7 Rémy Martin, 6 Pierre Rabadan, 5 Pascal Pape, 4 Boela Du Plooy, 3 Rodrigo Roncero, 2 Dimitri Szarzewski, 1 David Attoub.
Replacements:16 Damien Weber, 17 Franck Montanella, 18 Arnaud Marchois, 19 Mauro Bergamasco, 20 Jérôme Fillol, 21 Lionel Beauxis, 22 Mirco Bergamasco.
Bristol: 15 Luke Arscott, 14 Tom Arscott, 13 Rob Higgitt, 12 Neil Brew, 11 David Lemi, 10 Jason Strange, 9 Brian O'Riordan, 8 Andrew Blowers, 7 Joe El Abd, 6 Matt Salter (c), 5 Sean Hohneck, 4 Roy Winters, 3 Jason Hobson, 2 Mark Regan, 1 Darren Crompton.
Replacements: 16 Scott Linklater, 17 Alex Clarke, 18 Dave Attwood, 19 Alfie To'oala, 20 Redford Pennycook, 21 Graeme Beveridge, 22 David Hill.
Referee: George Clancy (Ireland)
Touch judges: David Keane (Ireland), Seamus Flannery (Ireland)
Television match official: Marshall Kilgore (Ireland)