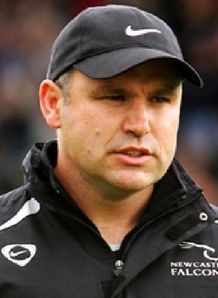 The big game in Pool Three is between Brive and Newcastle, with the winners all but qualifying for the knock-out stages. The other game sees Cetransa El Salvador host Connacht, who have an outside chance of qualification themselves. We preview all the action.
Newcastle v Brive, Friday 11 January, Stade Amedée-Domenech, 18:00 GMT
Newcastle Falcons welcome back All Black prop Joe McDonnell for Friday's European Challenge Cup clash against Brive.
The Kiwi takes the place of Jon Golding at loosehead, in one of just two personnel changes from the starting XV which defeated Worcester last weekend.
The other player coming in is South African number eight Russell Winter, who captains the side as Geoff Parling drops to the bench.
England centre Jamie Noon remains in Newcastle for family reasons, while the Falcons back division sees Mathew Tait moved to outside centre as Tom May drops to fullback and Tim Visser pushes on to the wing.
Having lost heavily in Brive last year, Fletcher insisted that this time round it would be a different story.
"I feel as if the squad has moved forward massively from where we were when we played out in Brive last season, and I am expecting a much higher standard of performance," said director of rugby John Fletcher.
"We go in to this game on the back of two Premiership wins, but we know we have to lift our levels from last weekend when we were forced to grind it out against Worcester.
"They came to Kingston Park with a very specific game plan to kill our ball - I know that because they left their match notes in the changing room after the game - and we know Brive will be another big test in the forwards."
Brive name a side featuring three players from the 2007 Rugby World Cup. Tongan Suka Hufanga lines up at outside centre, Fijian Norman Ligairi takes his place on the left wing and Romanian Alex Manta packs down at blind side flanker.
Newcastle: 15 Tom May, 14 Tim Visser, 13 Mathew Tait, 12 Toby Flood, 11 John Rudd, 10 Jonny Wilkinson, 9 James Grindal, 8 Russell Winter (c), 7 Ben Woods, 6 Brent Wilson, 5 Mark Sorenson, 4 Andy Perry, 3 Carl Hayman, 2 Andy Long, 1 Joe McDonnell.
Replacements: 16 Matt Thompson, 17 Jon Golding, 18 Geoff Parling, 19 Phil Dowson, 20 Lee Dickson, 21 Alex Tait, 22 Ollie Phillips.
Brive: 15 Maxime Petitjean, 14 Ronie Cooke, 13 Suka Hufanga, 12 Fabrice Estebanez, 11 Norman Ligairi, 10 Luciano Orquera, 9 Jean-Baptiste Pejoine (c), 8 Simon Azoulai, 7 Jerome Bonvoisin, 6 Alex Manta, 5 Charl van Rensburg, 4 Fabien Domingo, 3 Scott Franklin, 2 Jawad Djoudi, 1 Davit Kinchagishvili.
Replacements: 16 Jean-Philippe Bonrepaux, 17 Luke Harbut, 18 Andres Bordoy, 19 Vincent Forgues, 20 Ryno Van der Merwe, 21 Grégory Mahe, 22 Nicolas Le Roux.
Referee: Carlo Damasco (Italy)
Touch judges: Stefano Mancini (Italy), Gianluca Bonacci (Italy)
Cetransa El Salvador v Connacht, Campo de Pepe Rojo, Sunday 13 January, 11:30 GMT
Connacht coach Michael Bradley has made three changes to his team ahead of their European Challenge Cup clash with Cetransa El Salvador at the Capo de Pepe Rojo on Sunday.
Daniel Riordan has recovered from his flu in time for Sunday's game and takes his place in the side at outside centre, while Ray Ofisa starts at blindside flanker for the first time since these sides last met in November.
Michael Swift starts in the second row alongside Captain Andrew Farley, having been on the bench for Connacht's last game against Munster and former Australian U21 international, Liam Bibo, could well make his professional debut for the province should he take part in the game, having been named amongst the replacements.
Cetransa El Salvador: 15 Meeuwis Stanley, 14 Tomás Brouwer, 13 Jose Revilla, 12 Redgarht Van Eyk, 11 Luis Gascón, 10 Alejandro Gutiérrez, 9 Daniel Hunter, 8 Iván Criado (c), 7 Jorge Molina, 6 Fabio Galloppa, 5 Óscar Benito, 4 Sergio Souto, 3 Manuel Serrano, 2 Daniel Marrón, 1 Ion Insausti.
Replacements: 16 César Caballero, 17 Javier Miranda, 18 Jose Zapatero, 19 Fernando Suárez, 20 Luis Turrión, 21 Raúl Turrión, 22 Ignacio Gutiérrez.
Connacht: 15 Gavin Duffy, 14 Darren Yapp, 13 Daniel Riordan, 12 Mel Deane, 11 Aidan Wynne, 10 Andy Dunne, 9 Conor O'Loughlin, 8 Colm Rigney, 7 Mike McCarthy, 6 Ray Ofisa, 5 Andrew Farley (c), 4 Michael Swift, 3 Robbie Morris, 2 Adrian Flavin, 1 Brett Wilkinson.
Replacements: 16 John Fogarty, 17 Ronan Loughney, 18 David Gannon, 19 Jonny O'Connor, 20 Conor McPhillips, 21 Tim Donnelly, 22 Liam Bibo.
Referee: Greg Garner (England)
Touch judges: tba