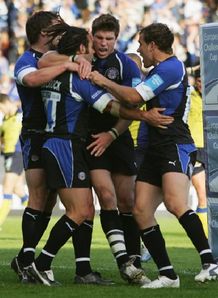 Bath's waltz through the European Challenge Cup continued as they scored in the first and last minutes of a 59-16 hammering of Albi.
Full-back Joe Maddock scored after barely a minute as Bath jogged to a fourth straight win in Europe.
Bath are romping away with Pool One, and wins over Auch and Overmach Rugby Parma in their final two pool matches should guarantee a home quarter-final.
Albi were out of this match after only three minutes as the home side made a
blistering start. Full-back Maddock scored after barely 50 seconds, and the applause had barely died down when inspirational flanker Jonny Faamatuainu dotted down to secure a 12-0 lead.
Shaun Berne was over after 15 minutes, but Albi centre Tim Bowker silenced the home fans as his try narrowed the margin to 19-10.
Flanker James Scaysbrook scored on the stroke of half-time to secure a try bonus point, and although Albi winger Justin Mensah-Coker crossed, the French minnows were never a threat.
Bath cruised through the 50-point barrier as Alex Crockett went over, Berne completed his double and Olly Barkley dotted down for two late tries.
Meanwhile, Rico Gear showed his class with a stunning haul of four tries in Worcester's 66-16 win over Rugby Parma at Stadio Sergio Lanfranchi.
Mike Ruddock's side made it four from four in the Challenge Cup, securing a try bonus point in the first half. Former All Black Gear showed his pace with the first, fourth, fifth and seven tries in an entertaining match.
The Warriors took an unassailable 31-9 lead into the half-time break, and were soon cruising past last weekend's 50-0 score line against the same opposition.
Marcel Garvey completed a brace of tries just after the resumption, before Gear dotted down for his fourth.
With Test star Gear showing what he can do in the opening hour, the Warriors' two most exciting young backs - Chris Pennell and Mike Benjamin - chimed in with late tries as their side repeated last weekend's 50-point win over their hapless opponents.