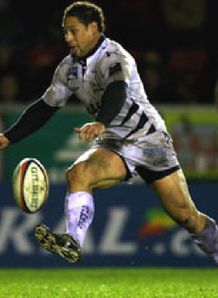 The big game in Pool Four this weekend pits French side Bayonne against Sale Sharks in a clash that could decide the group winners, while Petrarca Padova entertain Montpellier. We preview all the action!
Bayonne v Sale Sharks, Stade Jean Dauger, Saturday 8 December, 19:45 GMT
Sale head to France for their crucial European Challenge Cup game against Bayonne without the services of Luke McAlister and Lee Thomas. McAlister is suffering from a groin problem whilst Thomas has a knock to his knee.
On top of that Ben Foden is away on England Sevens duty, although Juan Martin Fernandez Lobbe is fit again and will play some part from the bench.
"This will be a tough game for us as Bayonne are a very good team on their own ground," said Sale director of rugby Philippe Saint Andre.
"We want to win the group and this is a game we must win. Luke McAlister has been struggling with a groin injury this week and we have decided to rest him and get him fit for the return game next week.
"I am pleased that Juan Martin Fernandez Lobbe is fit again and he will play a part in some of the game on Saturday."
Bayonne include two French caps in their back line, Richard Dourthe at full-back and Xavier Garbajosa at outside centre. Australian A fly-half Manny Edmonds will direct proceedings in the number ten jersey.
The Teams:
Bayonne: 15 Richard Dourthe, 14 Sam Gerber, 13 Xavier Garbajosa, 12 Henri-pierre Vermis, 11 Benjamin Lhande, 10 Manny Edmonds, 9 Anthony Salle - Canne, 8 Jacques Deen, 7 Jean-Jo Marmouyet, 6 Guillaume Bernad, 5 Mikaera Tewhata, 4 Nicolas Laffite, 3 Avtandil Kopaliani, 2 Arnaud Heguy, 1 Aretz Iguiniz.
Replacements: 16 David Roumieu, 17 Pierre Philippe Lafond, 18 Andrew Springgay, 19 Louis Massabeau, 20 Julien Tilloles, 21 Vincent Inigo, 22 Simon Ternisien.
Sale Sharks: 15 Mark Cueto, 14 Oriol Ripol, 13 Chris Mayor, 12 Rudi Keil, 11 Rory Lamont, 10 Charlie Hodgson, 9 Richard Wigglesworth, 8 Sebastien Chabal, 7 Magnus Lund, 6 Jason White, 5 Sean Cox, 4 Ignacio Fernandez Lobbe, 3 Eifion Roberts, 2 Sebastien Bruno, 1 Andrew Sheridan.
Replacements: 16 Neil Briggs, 17 Lionel Faure, 18 Stuart Turner, 19 Dean Schofield, 20 Sililo Martens, 21 Julien Laharrague, 22 Juan Martin Fernandez Lobbe.
Referee: Peter Fitzgibbon (Ireland)
Touch judges: Leo Colgan (Ireland), Tom Horkan (Ireland)
Television match official: Bertie Smith (Ireland)
Match commissioner: Brian Fowler (Wales)
Petrarca Padova v Montpellier, Stadio Plebiscito, Saturday 8 December, 14:00 GMT
Montpellier face the first of back-to-back games with Petrarca Padova knowing two bonus point wins will keep the pressure on at the top of the table.
They have selected a strong side, featuring Italian international duo David Bortolussi and Alessandro Stoica, as well as Argentinean fly-half Fédérico Todeschini.
Petrarca are able to include Fijian World Cup player Sisa Koyamaibole in their pack, along with former Scotland international Stuart Grimes.
In the backs former French fly-half Ludovic Mercier will direct play and is joined at half-back by Stefano Canale.
The Teams:
Petrarca Padova: 15 Martin Acuna, 14 Lorenzo Innocenti, 13 Enrico Patrizio, 12 Manuel Dallan, 11 Alvaro Lopez Gonzalez, 10 Ludovic Mercier, 9 Stefano Canale, 8 Sisa Koyamaibole, 7 Gonzalo Padrò, 6 Mariano Lorenzetti, 5 Chresten Davis, 4 Stuart Grimes, 3 Mariano Gastaldi, 2 Lorenzo Giovanchelli, 1 Andres Rondinelli.
Replacements: 16 Michele Rizzo 17 Emmanuel Billot 18 Michele Matteralia 19 Agustin Cavalieri 20 Giacomo Preo 21 Nicola Gatto 22 Fabio Faggiotto
Montpellier: 15 David Bortolussi, 14 Frikkie Welsch, 13 Grant Rees, 12 Alessandro Stoica, 11 Olivier Sarraméa, 10 Fédérico Todeschini, 9 Sébastien Buada, 8 Sébastien Galtier, 7 Jérome Vallée, 6 Fulgence Ouedraogo, 5 Drickus Hancke, 4 Mickaël Bert, 3 Philémon Toleafoa, 2 Joan Caudullo (c), 1 Sébastien Petit.
Replacements: 16 Fabien Rofes, 17 Eugène Van Staden, 18 Romain Frou, 19 Mamuka Gorgodze, 20 Didier Chouchan, 21 Julien Tomas, 22 Francois Trinh Duc.
Referee: Andrew McPherson (Scotland)
Touch judges: David Jack (Scotland), John Ferns (Scotland)