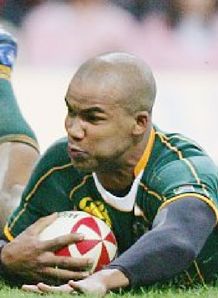 Related links
Teams
South Africa showed their world-conquering class at the Millennium Stadium in Cardiff on Saturday, recording an easy 34-12 over Wales in their one-off Test without raising much of a sweat.
"Good fun!" That was the verdict of the South African captain, John Smit, after the game. It is not a frequent verdict by a captain after a Test match. But perhaps it was fitting - a bit of fun on a gloomy November afternoon in Cardiff.
In winning, the Springboks became the first winners of the streamlined Prince William Trophy which probably added little to the intent of both sides. The Prince was there to hand over his trophy to John Smit who enjoyed have his ginger-haired baby daughter on his arm. It was a family occasion.
He also paid tribute to departing coach Jake White. Oh, he did say it was important for South Africa, as world champions, to recognise their responsibility to give every Test match the respect it deserves, but he said that the focus of the week had really been a "celebration of the impact Jake White has had on our lives".
South Africa beat Wales in a cold and scrappy game that became even scrappier as both sides gave all their men a chance.
It did not have the air of a Test match, except for a while late in the second half when players became testy. There were also two yellow cards for the Springboks which suggested that men were earnest - both of them at tackles, one against tall Albert van den Berg and the other against Bismarck du Plessis who was clearly distraught at the decision. He had, after all, been on the field for only a few minutes.
Before the anthems and James Hook's kick-off, the crowd had a minute's applause to the memory of the late Ray Gravell, the most Welsh of Welshmen and a rugby legend, who was to have given the Welsh players their jersey for this match.
Wales actually had a lot of the game. They had more possession and so much more territory, but they ran across the field and managed two tries, both from kicks, neither created by the backs. The South Africans on the other hand ran straight and scored five tries, making try-scoring look an easy exercise.
Each of the new caps in the match scored a try - Morgan Stoddart for Wales from a diagonal kick by James Hook and Ryan Kankowski of South Africa when he ran 30 metres or so to score. At the other end of the history spectrum, Colin Charvis scored his 22nd try to make him the top try-scoring forward in Test rugby.
South Africa scored first. Jonathan Thomas tackled high and Frans Steyn kicked a long, dipping penalty goal. 3-0 after three minutes.
Then Wales had a long period of possession. It was 10 minutes before South Africa put the ball into a line-out and 11 minutes before they put the ball into a scrum. But with all that possession the Welsh did not look like scoring a try. They were easily contained. It was only late in the second half that the Springboks started to miss tackles and even then Wales did not look like running in a try.
In the first half the Springboks, without Victor Matfield, lost two line-outs. Things were better after that as Juan Smith delivered good ball. Wales were neat on their own line-outs - except when it counted. When they had good attacking positions, they lost their line-outs, as they three times.
There were many scrums in the game as the conditions were difficult - 24 in all. The Springboks were generally better though not as good when they had men in the sin-bin. That said, Wales took a tighthead off them - actually an accidental ricochet.
The first time the Springboks had an attacking line-out they scored a try. The line-out was on their right and Juan Smith soared high to play the ball from on high down to Enrico Januarie. The Springboks went left and Smith was on hand to run straight through a gap, past Stoddart for a try. André Pretorius converted, using a kicking tee and not his usual sand. 10-0 after 20 minutes.
When CJ van der Linde was penalised at a tackle - and he is often penalised - Hook had a simple chance - close in and straight in front - and he missed it.
The Springboks were running again. The Springboks counterattacked. JP Pietersen made the first breach going left and then they went back right with a long pass to Ruan Pienaar who had Jaque Fourie outside of him on an overlap. Pienaar drew and passed and Fourie had a straight ruin for the corner. 15-0.
Fourie got the third try as well. It came from a line-out on South Africa's right. Pretorius played back to Pietersen coming in from the left wing. Pietersen broke and Fourie went on a straight run to the posts. Pretorius converted. 22-0.
At this stage, after 33 minutes, Heinke van der Merwe came on to win his first cap. Two minutes later he went off when Jannie du Plessis, bleeding staunched, came back. But ht did get a chance to have a long period of play in the second half.
Just before half-time Stoddart kicked ahead down the left touch-line. Pienaar seemed to have the ball covered but, bending, missed the bouncing ball and Stoddart seemed certain to score. Stopped on the line he got the ball back to Charvis who powered over through little Januarie.
That made the score 22-5 at the break.
Five minutes into the second half the Springboks scored their fourth try. They were going right in a bumbling way with the ball knocked backwards over and over till Steyn cleaned up. Next thing Smit threw a wonderful pass to his right to Bryan Habana who was over from the left wing. Habana beat Tom Shanklin and gave Pietersen a stroll to the try, which Pretorius converted. 29-5 after 45 minutes.
The Springboks were not good for the rest of the half, seldom secure in what they were doing. Replacement Van den Berg went to the sin bin and Wales opted for a five-metre scrum instead of the three points But the Springboks held. Their clearing kick was not out and the Welsh countered. The Springboks held them out but then Hook lobbed a kick to the far right where Stoddart was too tall for Habana, caught the ball and grounded it for a clever try. Hook converted from touch. 29-12 after 52 minutes.
There were some fractious moments after Mike Phillips replaced the industrious Dwayne Peel .
South Africa's last score came from a line-out on their right. They drove and went left. Wales had the ball off a Springbok handling error but, advantage over, lost the ball themselves and the Springboks went right setting Kankowski running some 30 metres, past Sonny Parker, to score. Steyn, who was now at flyhalf in place of Pretorius, was nowhere near with the conversion attempt.
Wales had the better of the remaining time, not that it really mattered.
What does the match say about the present? Wales are a long way away from top flight.
What does it say about the future?
For the Springboks they are a step nearer a rest and a new coach. But Wales have the urgent business of the Six Nations looming large and there was little for their comfort in this performance.
The experiment of having Tom Shanklin on the wing did not work. Always so sure at centre, he was hesitant on the left wing. Morgan Stoddart attacked well from fullback but his defence was not strong. The forwards played with determination but not with great strength. As a team, their defensive allignments are woeful.
The Springboks were not on a learning trip but they may well have learnt that CJ van der Linde is seriously flawed at loosehead, that Ryan Kankowski found dealing with the tackle - taking and making - uncertain, that they really do need Victor Matfield, that Ruan Pienaar is a much, much better scrum-half than fullback and that André Pretorius will not play the dictator at fly-half. He may not even get the chance to with stronger personalities around him.
Man of the Match: James Hook with the dancing feet had good moments and made a try. Alun Wyn Jones, until just before then, played with great effect. On the South Africa side there was a great performance on attack and defence from Jaque Fourie but our man of the match was action-man Schalk Burger who tackled, won ball in the tackle, created opportunities for those around him, and drove with intent when the ball needed protection on defence.
Moment of the Match: The Welsh try and that breath-holding moment as the ball went on its arc towards the corner. That said, there would have been many matches when each of the five South African tries would have been the Moment of the Match.
Villain of the Match: The yellow-card holders - Albert van den Berg and Bismarck du Plessis - and Mike Phillips and his surly intrusion into the game.
The scorers:
For Wales:
Tries: Charvis, Stoddart
Cons: Hook
Pens:
For South Africa:
Tries: Smith, Fourie 2, Pietersen, Kankowski
Cons: Pretorius 3
Pens: Steyn
Yellow cards: Albert van den Berg (South Africa, 48 professional foul), Bismarck du Plessis (South Africa, 77 - professional foul)
The teams:
Wales: 15 Morgan Stoddart, 14 Mark Jones, 13 Sonny Parker, 12 Gavin Henson, 11 Tom Shanklin, 10 James Hook, 9 Dwayne Peel, 8 Jonathan Thomas, 7 Robin Sowden-Taylor, 6 Colin Charvis, 5 Alun Wyn Jones, 4 Ian Evans, 3 Rhys Thomas, 2 Huw Bennett, 1 Gethin Jenkins (captain).
Replacements: 16 T Rhys Thomas, 17 Duncan Jones, 18 Luke Charteris, 19 Alix Popham, 20 Mike Phillips, 21 Stephen Jones, 22 Tom James.
South Africa: 15 Ruan Pienaar, 14 JP Pietersen, 13 Jaque Fourie, 12 Frans Steyn, 11 Bryan Habana, 10 André Pretorius, 9 Ricky Januarie, 8 Ryan Kankowski, 7 Juan Smith, 6 Schalk Burger, 5 Johann Muller, 4 Bakkies Botha, 3 Jannie du Plessis, 2 John Smit (captain), 1 CJ van der Linde.
Replacements: 16 Bismarck du Plessis, 17 Heinke van der Merwe, 18 Albert van den Berg, 19 Hilton Lobberts, 20 Wynand Olivier, 21 Akona Ndungane, 22 Conrad Jantjes.
Referee: Chris White (England)
Touch judges: Dave Pearson (England), David Changleng (Scotland)
Assessor: Steve Hilditch (Ireland)