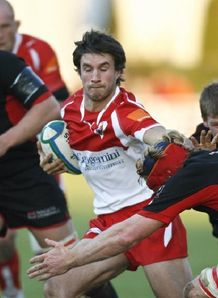 Biarritz sneaked a dramatic last-minute Heineken Cup victory over Saracens with Dimitri Yachvili's late penalty gifting the locals a tense 22-21 victory at the Parc des Sports Aquiléra on Saturday.
Sarries scored three tries to Biarritz's one, but penalties cost them dear as Yachvili's five successful kicks gave the home side the points.
After Kamile Ratuvou and Rodd Penney had touched down for the Guinness Premiership side, Andy Farrell looked to have won it with his late try, but for Yachvili to break English hearts with his late penalty.
After Yachvili kicked his first penalty, Saracens winger Ratuvou put the English side ahead with the opening try on six minutes, which was converted by Glen Jackson.
Yachvili kicked a second penalty to keep Biarritz in touch, but Penney crossed the line on 35 minutes to put Saracens 14-6 ahead after Jackson again added the extras.
Yachvili's boot was hurting Saracens though, and two more successful penalties took his, and Biarritz's points tally to 12 as they trailed by just two.
Philippe Bidabe put the French side ahead for the first time since the opening exchanges with 53 minutes on the clock when he went in for Biarritz's one and only try of the match, which was inevitably converted by Yachvili.
With eight minutes left to play, the much-maligned Farrell grabbed what looked to be the crucial try, with Jackson's successful conversion putting Saracens 21-19 ahead and in touch of a superb victory.
However, with time almost up, Yachvili stepped up to kick his fifth penalty through the posts and send Saracens tumbling to a dramatic 22-21 defeat.
Undoubtedly the match-winner for Biarritz, Yachvili ended the game with 17 points as the French side made it two wins from two in Pool Four.
The scorers:
For Biarritz:
Try: Bidabe
Con: Yachvili
Pens: Yachvili 5
For Saracens:
Tries: Ratuvou, Penney, Farrell
Cons: Jackson 3
Biarritz: 15 Nicolas Brusque, 14 Ashwin Willemse, 13 Marcelo Bosch, 12 Damien Traille, 11 Philippe Bidabe, 10 Julien Peyrelongue, 9 Dimitri Yachvili, 8 Samiu Vahafolau, 7 Imanol Harinordoquy, 6 Agustin Creevy, 5 David Couzinet (c), 4 Jérôme Thion, 3 Benoît Lecouls, 2 Benjamin Noirot, 1 Petru Balan.
Replacements: 16 Matias Cortese, 17 Eduard Coetzee, 18 Manuel Carizza, 19 Jacques Cronje, 20 Steve Malonga, 21 Julien Dupuy, 22 Andrea Masi.
Saracens: 15 Richard Haughton, 14 Rodd Penney, 13 Kevin Sorrell, 12 Andy Farrell, 11 Kameli Ratuvou, 10 Glen Jackson, 9 Neil de Kock (c), 8 Ben Skirving, 7 Richard Hill, 6 Kris Chesney, 5 Tom Ryder, 4 Hugh Vyvyan, 3 Cencus Johnston, 2 Matt Cairns, 1 Nick Lloyd.
Replacements: 16 Fabio Ongaro, 17 Tom Mercey, 18 Paul Gustard, 19 David Seymour, 20 Moses Rauluni, 21 Gordon Ross, 22 Edd Thrower
Referee: Malcolm Changleng (Scotland)
Touch judges: Rob Dickson (Scotland), Jim Yuille (Scotland)
Television match official: Andy Ireland (Scotland)