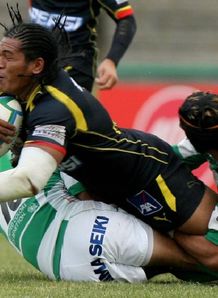 Perpignan remain second in Pool One of the Heineken Cup after collecting a patient 29-17 victory over Treviso at the Stadio Comunale di Monigo on Saturday, pocketing a crucial bonus-point at the death.
The French side, now on nine tournament points, duly keep the pressure on London Irish (ten points) at the top of Heineken Cup Pool One after coming back to beat the Italians.
The hosts had threatened to cause an upset by taking a lead into half-time thanks to a try by Benjamin De Jager and the boot of Marius Goosen.
But the French team responded through touchdowns by Viliami Vaki, Damien Chouly, Adrien Plante and Mickael Ladhuie to overpower the group minnows.
The victory leaves the Catalans just a point behind the Guinness Premiership side at the top of the group after two wins apiece, and the pair will face off in the next round of matches at Madejski Stadium on December 9.
The scorers:
For Treviso:
Try: Jager
Pens: Goosen 4
For Perpignan:
Tries: Vaki, Chouly, Plante, Ladhuie
Cons: Rosalen 3
Pen: Rosalen
Treviso: 15 Brendan Williams, 14 Lucas Borges, 13 Michael Horak, 12 Marius Goosen (c), 11 Benjamin De Jager, 10 Andrea Marcato, 9 Fabio Semenzato, 8 Dion Kingi, 7 Hottie Louw, 6 Michael Barbieri, 5 Cornelius Van Zyl, 4 Antonio Pavanello, 3 Salvatore Costanzo, 2 Franco Sbaraglini, 1 Nicolas De Gregori.
Replacements: 16 Pedro di Santo, 17 Diego Vidal, 18 Silvio Orlando, 19 Enrico Pavanello, 20 Scott Palmer, 21 Alberto Sgarbi, 22 Nathan Mauger.
Perpignan: 15 Jérôme Porical, 14 Federico Martin Aramburu, 13 Jean-Philippe Grandclaude, 12 Gavin Hume, 11 Adrien Plante, 10 Cédric Rosalen, 9 Chris Cusiter, 8 Henry Tuilagi, 7 Damien Chouly, 6 Viliami Vaki, 5 Rimas Alvarez Kairelis, 4 Olivier Olibeau, 3 Nicolas Mas, 2 Guilhem Guirado, 1 Perry Freshwater (c).
Replacements: 16 Mickael Ladhuie, 17 Kisi Pulu, 18 Sebastian Bozzi, 19 Nathan Hines, 20 Nicolas Durand, 21 Julien Candelon, 22 Charles Geli.
Referee: Andrew Small (England)
Assessor: Dave Pearson (England), Ashley Reay (England)