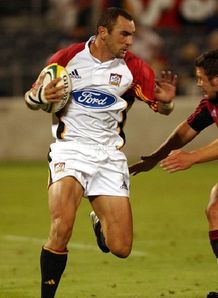 Bath play host to Overmach Parma on Saturday, and Albi welcome Auch to La Maison des Sports to complete the European Challenge Cup action in Pool One later in the day. We preview all the action!
Bath v Overmach Parma
The Rec, Saturday 17 November, 14:15 GMT
Bath boss Steve Meehan has named a strong side to face Overmach Parma with the majority of the club's World Cup contingent starting the match.
Steve Borthwick captains the side with fellow World Cup players Lee Mears, Matt Stevens and Paulica Ion forming the front row.
In the backs, Butch James will make his home debut forming a half-back partnership with fellow Springbok Michael Claassens. Olly Barkley stays at inside centre and Nick Abendanon starts at full-back.
Meanwhile, Parma have made wholesale squad and positional changes to the side that suffered a shock 28-23 home defeat to Albi last weekend, with the likes of Denis Dallan and Manoa Vosawai missing out.
New Zealand Maori flyer Roger Randle returns to side, albeit in the outside-centre berth, with skipper Ezio Galon switching to full-back.
Bath: 15 Nick Abendanon, 14 Andrew Higgins, 13 Alex Crockett, 12 Olly Barkley, 11 Michael Stephenson, 10 Butch James, 9 Michael Claassens, 8 Daniel Browne, 7 Michael Lipman, 6 Andy Beattie, 5 Peter Short, 4 Steve Borthwick (capt), 3 Paulica Ion, 2 Lee Mears, 1 Matt Stevens.
Replacements: 16 Pieter Dixon, 17 Laurence Ovens, 18 James Scaysbrook, 19 Jonny Fa'amatuainu, 20 Michael Baxter, 21 Shaun Berne, 22 Matt Banahan.
Overmach Parma: 15 Ezio Galon, 14 Riccardo Pavan, 13 Roger Randle, 12 Gilberto Pavan, 10 Barry Irving, 9 Pietro Travagli, 8 Alex Ainley, 7 Juan Martin Soffredini, 6 Pablo Sciarretta, 5 Pelu Taele, 4 Brad Taylor, 3 Fabio Staibano, 2 Bruno Masetti, 1 German Fontana.
Replacements: 16 Abraham Winter, 17 Alberto de Marchi, 18 Mantvydas Tveraga, 19 Francesco Minto, 20 Giulio Rubini, 21 Francesco Mazzariol, 22 Alessandro Chillon.
Referee: David Changleng (Scotland)
Touch judges: Neil Paterson (Scotland), Alan Forrest (Scotland)
Albi v Auch
La Maison des Sports, Saturday 17 November, 19:30 (18:30 GMT)
Albi have made wholesale changes to the side that recorded an away win at Parma for the vist of Auch.
There is a new half-back pairing in André Hough and Sébastien Pages and three new faces in the back row.
Amongst the other changes, Thibault Lacroix loses out to Tim Bowker whilst Canada flyer Justin Mensah-Coker switches from the right to left wing.
Auch have also rung the changes from the side that lost to Bath, with only four players wearing the shirts they wore last weekend.
Albi: 15 John Stewart, 14 Régis Bianco, 13 Thomas Sanchou, 12 Tim Bowker, 11 Justin Mensah-Coker, 10 André Hough, 9 Sébastien Pages, 8 Vincent Clement (capt), 7 Yohann Misse, 6 Franck Marecha, 5 Paul Guffroy, 4 Arnaud Mela, 3 Jérome Filitoga, 2 Pierre Saby, 1 Christophe Lafoy.
Replacements: 16 Nicolas Grelon, 17 Pierre Correia, 18 Ronny Sua, 19 Charly Laffitte, 20 Stanislas Krzesinski, 21 Thibault Lacroix, 22 Lilian Ducos.
Auch: 15 Frederic Couzier, 14 Thierry Brana, 13 Pierre Aguillon, 12 Nicolas Pagotto, 11 Patrick Bosque, 10 Benoît Albert, 9 Christophe Clarac, 8 Hugo Rongieras, 7 Nicolas Bontinck, 6 Stephan Saint Lary (capt), 5 Jérôme Cholley, 4 Olivier Caisso, 3 Grégory Menkarska, 2 Sébastien Bruere, 1 Yoann Marty.
Replacements: 16 Nicolas Sentous, 17 Guylain Mololo, 18 Alexandre Barozzi, 19 Mamouka Magrakvelidze, 20 Frédéric Medves, 21 Brice Salobert, 22 Arnaud Miniaylo.
Referee: Rob Debney (England)
Touch judges: David Rose (England), Alan Hughes (England)
Match commissioner: Claude Gueit (France)