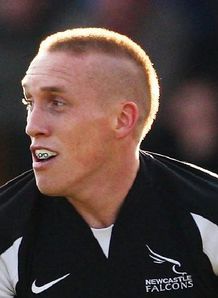 Newcastle held off a spirited Brive fightback to win Thursday's European Challenge Cup Pool Three tie 25-19 at Kingston Park.
The Falcons led 16-6 at half-time and had a man advantage after Brive hooker Jean-Philippe Bonrepaux had been sin-binned on the stroke of half-time for repeated infringements.
But while Bonrepaux was off the field, Brive stole six of the ten points back, and then Ryno van der Merwe's try on the hour mark tied the teams at 19-19.
The Falcons dug in well, and as time ebbed away from the visitors, a penalty from Steve Jones and a late drop goal from Tom May gave the home team the points, while some sterling defence from the French near the end ensured that they did at least leave with a bonus point.
It was an intriguing match, with plenty of edge to it. Newcastle set their stall from the outset, rumbling their first driving maul 20m downfield from the halfway line until Van der Merwe was pinged for coming round the side and Steve Jones opened the scoring.
From the next line-out after the restart, the Falcons did similar, charging up the middle until Alex Manta was found to be too slow rolling away and Jones repeated his kicking feat.
Brive regathered their restart and their back row did excellently at clearing out a series of quick mauls and rucks before Brive wing Farid Sid stormed through four tackles to get into Newcastle's 22.
The move, which involved plenty of wide passes from zippy scrum-half Gregory Mahé and fly-half Benjamin Dambielle eventually foundered in midfield near the Newcastle posts, but only as a result of Jamie Noon straying offside, and Dambielle pulled a penalty back after seven minutes. Newcastle wanted to rumble, Brive wanted to enjoy the open spaces. A typical Anglo-French clash began to brew up - also marked by some unseemly scuffles in the front row.
It seemed for much of the first half that rumbling was the way forward. Newcastle were as aggressive with the body in defence as they were in attack, and the willingness to spring into the assault yielded the game's first try.
A Brive scrum near their own line - resulting from a searing break by Jamie Noon who dropped the ball in the offload - was pile-driven backwards, and Dambielle panicked in the confines of his own in-goal zone with the Newcastle defence foaming at the mouth in his face.
He opted for a suicidal run, followed up with a classic hospital pass to Barry Davies, who spilled the ball in the tackle.
Immediately five Newcastle bodies sprang for the ball, and Joe McDonnell's was the first to land on it, right by the posts. Jones added the extras and the Falcons held a healthy-looking 13-3 lead after 16 minutes.
Dambielle was never the same after that, and missed two shots at goal, both set up by carries from the excellent Romanian number eight Alexandru Manta, who had made 12 carries for substantial gain by the half-hour mark. Eventually it fell to Davies to land a long shot at the posts to reduce the arrears.
The stream of penalties resulted from some excellent refereeing by Peter Allan, whose command of the breakdown never wavered in its consistency or clarity.
However - and it really is something European refereeing panels should look into - had he not lapsed into colloquial ref-speak after 38 minutes and been able to speak a smattering of French instead, Brive may not have lost hooker Jean-Philippe Bonrepaux to the sin-bin for repeated infringements. Allan had warned Bonrepaux shortly before for an infringement 'close to the red zone'.
Goodness knows what the Frenchman made of that phrase, but he certainly didn't understand it too well, failing to roll away from a tackle a minute later and giving away the penalty that made it 16-6 at the break. He was summarily yellow-carded for his effort, or lack thereof.
There was time for one more flourish from the French, with Manta tearing into the Newcastle 22 after Simon Azoulai had nicked the restart from Newcastle hands, but the Romanian lost the ball 5m from the line in contact, and also lost his senses from a bang to the head. He failed to re-emerge for the second half - a bitter blow to Brive's attack.
Still, the second half heralded a change in fortune for the French, and a welcome return to action for England's world Cup-winning hooker Steve Thompson. Newcastle's line-out fell apart for the first quarter of an hour, and their driving line-out maul weapon was spiked.
Even with a man fewer, Brive's pack preyed on the Falcons mistakes to claw their way back into the game with two penalties, both conceded by Phil Dowson, one converted by Dambielle and one by Maxime Petitjean, who had replaced Dambielle after the Brive coaches had lost patience with the youngster's inconsistencies.
Jones extended the score to 19-12 after a deliberate knock-on in the midfield, but on the hour, Brive struck.
A penalty - for which Dowson was also yellow-carded - was dispatched to the blind side corner by Petitjean, where Ronnie Cooke was lurking. Cooke was stopped, but Brive had a 5m scrum, and their pack took Newcastle on at the Falcons' own game, with ten phases of driven forward possession ending in a crash try from Van der Merwe, confirmed by TMO Jim Fleming. Petitjean made it 19-apiece.
But in a tight spot, Newcastle's patient territorial kicking game, led by Jones and backed up by May, was always more likely to triumph. Jones landed his fifth penalty to hand the hosts the lead back, and twice in the final ten minutes Newcastle could have claimed a match-clinching try.
Wing John Rudd, like Manta, was prominent for several storming runs, and one five minutes from time was only stopped by a terrific tackle from last man Davies.
Then right at the death, Newcastle's pack, with James Grindal taking the ball on more than most, drove over the line, but under the pile of bodies and the ball was Brive reserve prop Jawad Djoudi.
The Falcons forwards had six more tilts at the line from the 5m scrum, but Brive's defence held firm. May landed the killer drop goal, but those few minutes of defence ensured the French left with a bonus point for losing by less than seven. How crucial might that be come January?
The scorers:
For Newcastle:
Try: McDonnell
Con: Jones
Pens: Jones 5
Drop goal: May
For Brive:
Try: Van der Merwe
Con: Petitjean
Pens: Dambielle 2, Davies, Petitjean
Yellow cards: Bonrepaux (Brive, 40, repeated infringement), Dowson (Newcastle, 58, repeated infringement)
Newcastle Falcons: 15 Tom May, 14 Ollie Phillips, 13 Mathew Tait, 12 Jamie Noon, 11 John Rudd, 10 Steve Jones, 9 James Grindal, 8 Russell Winter, 7 Brent Wilson, 6 Geoff Parling, 5 Mark Sorenson, 4 Andy Perry, 3 David Wilson, 2 Matt Thompson, 1 Joe McDonnell (c)
Replacements: 16 Andy Long, 17 Jon Golding, 18 Phil Dowson, 19 Ben Woods, 20 Lee Dickson, 21 Tim Visser, 22 Alex Tait
Brive: 15 Barry Davies, 14 Farid Sid, 13 Ronie Cooke, 12 Ben Johnston, 11 Norman Ligairi, 10 Benjamin Dambielle, 9 Grégory Mahe, 8 Alexandru Manta, 7 Simon Azoulai, 6 Ryno van der Merwe, 5 Fabien Domingo (c), 4 Johan van Zyl, 3 Pierre Capdevielle, 2 Jean-Philippe Bonrepaux, 1 Luke Harbut
Replacements: 16 Steve Thompson, 17 Simon Hughes, 18 Andres Bordoy, 19 Jawad Djoudi, 20 Jean-Baptiste Pejoine, 21 Suka Hufanga, 22 Maxime Petitjean.
Referee: Peter Allan (Scotland)
Touch judges: Andrew MacPherson (Scotland), Peter Carruthers (Scotland)
Television match official: Jim Fleming (Scotland)
By Danny Stephens