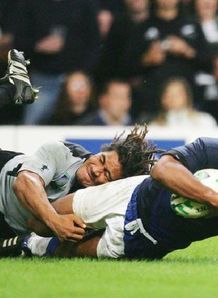 Related links
Teams
France will play England in an all-northern semi-final in Paris next Saturday, after dumping the favourites New Zealand out of the tournament 20-18 in Cardiff on Saturday.
Fantastic! Sheer fantasy! Amazing Saturday went spirally upwards into fantasy! There has never been a day like it in World Cup rugby.
Whether France deserved to win or not, doesn't matter one iota. The fact is that they did win. If the brave deserve the fair, they deserved this victory. The French made 178 tackles to New Zealand's 36. That was bravery as they stood shoulder to shoulder and repelled the Pacific wave that threatened to overwhelm them. They kept a tsunami at bay.
They tackled and tackled and then New Zealand lost the ball, and Elissalde went scampering off like a little boy who has pinched one of his mother's cookies and then kicked the cookie into the crowd for an outburst of ecstasy.
It was, as Dickens once wrote, the best of times and it was the worst of times. It was a time of ecstasy for France. It was a time of utter, shuddering despair for New Zealand.
History had repeated itself. The favourites were not going to make the final. New Zealand who seemed to be winning well at half-time were beaten 17-5 in the dramatic second half as if 1999 had returned to life.
Fantastic Saturday will go down in rugby history.
It is tough for New Zealand. For France it is a wonderful boost and reward for a country which has done so much to make this World Cup a joyous success.
The match had started with a dramatic haka, with France on the half-way line and the All Blacks doing their 'ka mate' haka within touching distance, which produced a cheeky grin and wink from David Marty to Keith Robinson and dismissive amusement on the face of Sébastien Chabal, the icon of the World Cup with posters of him all over France.
Lionel Beauxis kicked off and he did a lot of kicking after that, but so did Damien Traille and Jean-Batiste Elissalde. There was no secret that this was going to be French tactics. Their selection broadcast this to the world. It was not great kicking - just long kicking, not kicking with great chase or and attempt to win back the ball.
It seemed that France's tactic of kicking long over and over had backfired in the first half. But then, just before half-time, they threw a switch and changed lines. They started running. But their initial tactic and their changed of tactic both seemed to suck the All Blacks into an unusual and, for them, unsuitable game. Gone were the smooth runners, the clever interpassing, the switches and changes of angles that split defences apart with effortless ease and created chances for great wings. Instead they also kicked in the first half, so much so that France had 19 line-outs in the match to New Zealand's five. Then when France started running the All Blacks went on a pick-'n-drive splurge which produced just one try in many goes. True, that try with 18 minutes to go gave them a lead which could have been a winning one. But it wasn't. Stuck in a pick-'drive rut, which was largely sterile, the All Blacks it seems could not get out of it and nobody could help them out of it - not their experienced captain and not the trio of grim visages behind the technology in the stands. They abandoned their playing principles and paid the price.
The New Zealand pack was better at scrumming and, surprisingly, in the line-out. At line-out time the French were surprisingly naive. They had four line-out jumpers - five when Imañol Harinordoquy replaced Serge Betsen - but they seemed determined to throw to where New Zealand's lone jumper was, and Ali Williams won four of their line-outs. The first one came within a boot's edge of scoring the first try of the match.
The loss of Betsen after four minutes was a blow to France. He tackled Joe Rokocoko and was trying to get up when a French knee struck his head and down he went. The match stopped for some time while he was attended to, eventually leaving the field on wobbly legs. His direct hardness was a great loss to France.
Half way through the second half the All Blacks lost Daniel Carter who limped off but after a match in which he had been far less dominant than usual. Byron Kelleher went with him and their replacements, Nick Evans and Brendon Leonard, brought sharpness to the New Zealand attack - until Evans also left, apparently, with a hamstring problem.
France had a chance to score early on but Traille missed a drop attempt from in front.
When Fabien Pelous tackled Rokocoko and stayed lying on him, he was penalised and Carter opened the scoring with a straightforward penalty. 3-0 after 13 minutes.
Then came the first Williams steal at a line-out when he beat Harinordoquy in the air and suddenly Luke McAlister, who was hero and villain in this match, burst through Beauxis on a long run. The ball went left to Williams who was over in the corner but his right boot had touched the touch-line in the tackle by Vincent Clerc. France survived, but not for long.
The All Blacks took a quick throw-in from touch and again McAlister broke powerfully. He fed Jerry Collins and stayed with the rugged flank to take a pass and score in Traille's tackle. Carter converted. 10-0 after 18 minutes.
Thierry Dusautoir, bravest of the brave, went offside - a short offside when a tackle was judged to have become a ruck - and Carter made it 13-0 after 30 minutes.
The All Blacks were cruising into the semis, or so it seemed. It was an illusion for they did not score again for another 32 minutes - just as in 1999.
Then France threw the switch. They stopped their unchallenging kicking and started running. Suddenly they were challenging the All Blacks, shaking their composure and on the stroke of half-time, when Williams was penalised at a maul, Beauxis made it 13-3 with France's third penalty kick at goal. Earlier Beauxis and Elissalde had missed one each.
After a great break by Kelleher early in the second half, France had a golden chance to score when Cédric Heymans fly-kicked a loose ball downfield but was slowed in the gathering. France went right and had an overlap but a poor pass by Traille spoilt the chance of a score. Then France had a great maul on and took it to within six metres of the New Zealand line where the All Blacks collapsed the maul. On advantage France went left and Beauxis chipped. McAlister went out of his way to block Jauzion's path. This led to a penalty to France and a yellow card for McAlister. That incident may well have sown the seeds of an All Black defeat;.
Beauxis kicked the penalty and it may have seemed that the All Blacks had got off lightly as twice in that move there was the strong possibility of a French try.
Stung, the All Blacks flung themselves into the attack, no longer with the fluent phases of the first half but with staccato pick-'n-drive. They were at the line but So'oialo knocked on a wild pass and France survived.
Suddenly France broke out and seemed about to score as Harinordoquy had an big overlap on the right, but his speed and nerve let him down and he was felled five metres from the New Zealand line. France went left and then right again and Dusautoir burst through Leon MacDonald's tackle to score. Beauxis' conversion went in off the upright and the score was 13-13.
At this stage McAlister returned from his purgatory. Carter limped off and other changes were made.
New Zealand went into their pick-'n-drive routine until Chabal, brave and strong, wrenched the ball free. Then Williams won another line-out and France were subjected to more pick-'n-drive pummeling until eventually So'oialo just managed to squeeze over with the ball under a tattooed arm. The conversion was not all that difficult but McAlister missed it.
Soon afterwards Evans had a sharp break but Elissalde managed to stop him with fingernails clinging to a jersey and then France made a telling change. Heavy Beauxis went off and on came Frédéric Michalak. He had an immediate effect.
Traille burst beyond McAlister and gave to Michalak who went racing down the left. When it seemed that he was being hemmed in he stopped, turned his back on the approaching goal-line and picked out Yannick Jauzion for a pass and the big centre strode over for a try. Elissalde made no mistake with the conversion and France led 20-18 with 11 minutes to play - 11 minutes of high tension as New Zealand attacked again and again, flinging themselves with increasing desperation at the determined French.
At one stage Michalak seemed to have blown it. France won a turn-over in the midst of all this battering and from deep inside his in-goal Michalak kicked across the field to his left to Chris Jack but the big lock was unable to get quick control and make the opportunity count.
McAlister tried a long drop but was short and wide, and there were just 15 seconds left when Michalak dropped out. France survived and ecstacy broke out in Cardiff.
Man of the Match: There were certainly candidates in such a brave match, such as Leon MacDonald and Ali Williams of New Zealand. For France there were candidates, too, especially Jean-Baptiste Elissalde and all those men who made so many tackles. We are going to choose the tackler-in-chief Thierry Dusautoir as our Man of the Match.
Moment of the Match: The sight of Jean-Baptiste Elissalde scurrying across the field with the ball in wild elation, knowing that France had won.
Villain of the Match: There were two candidates - Luke McAlister and the interviewer who, moments after the final whistle, thrust a mike at Richie McCaw and asked him his reaction and how big a blow the defeat was for New Zealand rugby, insensitive to the great player's suffering.
The scorers:
For France:
Tries: Dusautoir, Jauzion
Cons: Beauxis, Elissalde
Pens: Beauxis 2
For New Zealand:
Tries: McAlister, So'oialo
Con: Carter
Pens: Carter 2
Yellow card: McAlister (45, New Zealand, off-the-ball tackle)
France: 15 Damien Traille, 14 Vincent Clerc, 13 David Marty, 12 Yannick Jauzion, 11 Cédric Heymans, 10 Lionel Beauxis, 9 Jean-Baptiste Elissalde, 8 Julien Bonnaire, 7 Thierry Dusautoir, 6 Serge Betsen, 5 Jérôme Thion, 4 Fabien Pelous, 3 Pieter de Villiers, 2 Raphaël Ibañez (captain), 1 Olivier Milloud.
Replacements: 16 Dimitri Szarzewski, 17 Jean-Baptiste Poux, 18 Sébastien Chabal, 19 Imañol Harinordoquy, 20 Frédéric Michalak, 21 Christophe Dominici, 22 Clément Poitrenaud.
New Zealand: 15 Leon MacDonald, 14 Joe Rokocoko, 13 Mils Muliaina, 12 Luke McAlister, 11 Sitiveni Sivivatu, 10 Dan Carter, 9 Byron Kelleher, 8 Rodney So'oialo, 7 Richie McCaw (captain), 6 Jerry Collins, 5 Ali Williams, 4 Keith Robinson, 3 Carl Hayman, 2 Anton Oliver, 1 Tony Woodcock.
Replacements: 16 Keven Mealamu, 17 Neemia Tialata, 18 Chris Jack, 19 Chris Masoe, 20 Brendon Leonard, 21 Nick Evans, 22 Isaia Toeava.
Referee: Wayne Barnes (England)
Touch judges: Jonathan Kaplan (South Africa), Tony Spreadbury (England)
Television match official: Chris White (England)
Assessor: Steve Hilditch (Ireland)