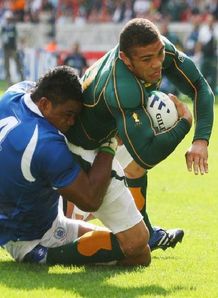 Related links
Teams
South Africa warmed up for their clash with England on Friday in fine style, putting Samoa to the sword 59-7 and eight tries to one in Paris.
On this evidence, England's reign as world champions is over. In fact, they appear to be heading for their earliest exit in their RWC history - both sides on display at Parc des Princes looked eminently capable of seeing off Brian Ashton's troops.
Yes, the scoreline suggests that Samoa were taken to the cleaners, but it doesn't tell the full story. The islanders stood toe-to-toe with the South Africans for much of the first half, only buckling after the Boks engaged their brains and put together a dazzling 10-minute blitz early in the second half.
In terms of pure strength and ability, there was very little between these two sides. But South Africa have two weapons that the Samoans can only dream of deploying: olympian fitness and the whitewash-seeking missile that is Bryan Habana who scored four of his side's eight tries.
With all respect to Samoa, this game was all about South Africa laying down their RWC credentials for all the world to see.
So what will the likes of the All Blacks, Australia and Argentina make of the performance?
Like this great city itself, there's plenty of beauty and elegance to be seen in South Africa's game - but also odd pockets of chaos and decay. At times during this game they allowed the lowly Samoans to dictate terms and seemed unable to decide on fitting tactics.
That a XV boasting 609 Test caps needed a neophyte like Francois Steyn to steady the ship - for that is what the youngster did - will give Bok boss Jake White pause for thought. Perhaps it's time he bid some of his older chums au revoir.
Still, job done. And plenty for the Republic to smile about - and the confidence of South Africa's second-half showing allows for dreams to be dreamed.
Samoa made the worst possible start by knocking on in the shadow of the sticks. South Africa attacked the narrow side and a high tackle from Semo Sititi gifted Percy Montgomery his first kick at goal, and the veteran made no mistake.
South Africa came straight back from the re-start and Samoa impinged once again, coughing up a penalty for straying off-side. Montgomery duly doubled his account.
Samoa had a chance to answer back moments later when Schalk Burger was pinged for tackling an airbourne catcher, but Gavin Williams's kick at the sticks sailed wide.
Moments later, another languid swing of Montgomery's boot punished Samoa for failing to roll away from the tackle, and it looked like we were in for an all too predictable afternoon.
But the Samoans suddenly decided that they'd had enough of watching Monty's action and started hitting the green line at pace and with immense power, with big Danie Rossouw seen going backwards for the first time in recorded history after Henry Tuilagi lined him up on the fringe.
With the Boks busy adjusting to the new threat, Samoa turned from brawn to brains and worked Williams through the tiniest of gaps in the midfield. The centre, son of New Zealand great Bryan, couldn't believe his luck as he found himself in the clear and scampered home for the try and conversion.
The score invigorated the Samoans and brought the neutral fans squarely behind their cause. The Boks looked stunned. Wasn't this supposed to be their party? Their nerves began to morph into handling errors, penalties and needless niggle.
Instead of going back to the safety and obvious supremacy of their pack, the South Africans decided to put width on the ball, but their efforts lacked the rapier wit of their increasingly confident opponents.
Not for the first time, it was left to Habana to save South African bacon with a moment of sheer individual brilliance.
The Boks worked a nondescript ball down the narrow side before Jaque Fourie popped up to set Habana free. The little speedster set off on a mazy run peppered with feints and dummies, deciding to go it alone, almost in disdain of his hitherto butter-fingered brethren. It was a good decision: he shook off a number of tackles before crashing over the whitewash for an unconverted try.
The score seemed to knock the brains back into the South Africans after over twenty minutes of mindless rugby, and they were soon camped on the blue line with their big forwards sucking - vampire-like - at Samoa's reserves of strength.
With the defence drawn in and fading fast, Fourie du Preez decided to take it wide, and Montgomery was on hand to cut a diagonal to the line with the last move of the first half.
And so the Boks went to the break with a sudden 21-7 lead and breathing a collective sigh of relief. It was as if they had just learned an important lesson: water is the best thing to use when fighting fire, not, as the old maxim would have us believe, more fire.
But Samoa would not go gently into that good night. There they were, celebrating a try in the first minute of the second half after Joe Tekori dived over the green line from the base of a ruck. But referee Paul Honiss adjudged the islanders had been off-side at the breakdown and did not award the try.
The injustice of it all sparked another menacing raid from them men in blue. The South Africans found themselves pinned to their line once again, and things went from bad to worse as Jean de Villiers was forced to depart with an arm injury.
It was Francois Steyn, De Villiers's replacement, who broke the siege with a beautiful step-and-go that left the Samoans scattered in his wake as he made his escape from his 22 and into the green yonder.
Former France star Thomas Castaignède, a man who knows something about talent, recently surmised that "the gods of rugby had been present at the birth of Francois Steyn". He's not far wrong: the youngster's second touch of the ball - a deft delayed pass - opened a hole in Samoa's lines and allowed Fourie through for a try.
Suddenly South Africa were in complete control and passes began to go to hand. A nice phase of interpassing between the forwards paved the way for Montgomery's second and the Boks had clear water.
Another moment of individual class saw Habana collect his second moments later, and the game was won - all in the space of a 10-minute spell of intelligent rugby.
With the result in the bag, the game - like the Samoans - lost its energy and petered out to its inevitable conclusion. But not before Habana claimed his third and fourth tries, both courtesy of that dazzling speed.
With the Samoans dead on their feet, JP Pietersen - anonymous for much of the match - popped up to punctuate proceedings with an easy try of his own.
Across town, a certain group of Englishmen will now need to be coaxed out from behind the sofa.
Man of the match: To a man, Samoa were brave and passionate, with Henry Tuilagi and Gavin Williams the pick of the crop. That South Africa's recovery coincided with the arrival of Francois Steyn is no coincidence, but how can we ignore the brilliant Bryan Habana? More than a game-break, this guy can speed away with this whole tournament.
Moment of the match: Bryan Habana's first two tries will live long in the mind, but we'll opt for Brian Lima's entry to the game - and to the annals of rugby history. 'The Chiropractor' becomes the first player to participate in five World Cup tournaments. He sullied the fairy tale moments later with what appeared to be a shoulder-charge on André Pretorius, but he still deserves his moment in the limelight.
Villian of the match: Plenty of niggle and a few handbags were swung, but let's call it passion - it was intense but not underhand.
The scorers:
For South Africa:
Tries: Habana 4, Montgomery 2, Fourie, Pietersen
Cons: Montgomery 5
Pens: Montgomery 3
For Samoa:
Try: Williams
Con: Williams
The teams:
South Africa: 15 Percy Montgomery, 14 JP Pietersen, 13 Jaque Fourie, 12 Jean de Villiers, 11 Bryan Habana, 10 Butch James, 9 Fourie du Preez, 8 Danie Rossouw, 7 Juan Smith, 6 Schalk Burger, 5 Victor Matfield, 4 Bakkies Botha, 3 CJ van der Linde, 2 John Smit (c), 1 Os du Randt.
Replacements: 16 Bismarck du Plessis, 17 BJ Botha, 18 Johann Muller, 19 Wikus van Heerden, 20 Ricky Januarie, 21 André Pretorius, 22 Francois Steyn.
Samoa: 15 David Lemi, 14 Lome Fa'atau, 13 Gavin Williams, 12 Jerry Meafou, 11 Alesana Tuilagi, 10 Eliota Fuimaono-Sapolu, 9 Junior Polu, 8 Henry Tuilagi, 7 Semo Sititi (c), 6 Daniel Leo, 5 Kane Thompson, 4 Joe Tekori, 3 Census Johnston, 2 Mahonri Schwalger, 1 Justin Va'a.
Replacements: 16 Tanielu Fuga, 17 Kas Lealamanua, 18 Alfie Vaeluaga, 19 Justin Purdie, 20 Elvis Seveali'i, 21 Loki Crichton, 22 Brian Lima.
Referee: Paul Honiss (New Zealand)
Touch judges: Chris White (England), Lyndon Bray (New Zealand)
Television match official: Bryce Lawrence (New Zealand)
Assessor: Steve Hilditch (Ireland)