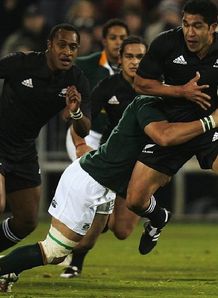 Related links
Teams
New Zealand set up an all or nothing Tri-Nations finale against Australia next weekend, but only after struggling to overcome a supposedly weak South Africa side 33-6 in Christchurch on Saturday.
Once more the New Zealand performance was beset with errors, while the Boks, although limited in attack, defended gamely, but couldn't find anything to match the impact of New Zealand's replacements.
All three New Zealand tries came late, two from replacement players and one from a simply ridiculous mistake by the Bok defence, giving the scoreline a satisfactory look for the home team - deeply flattering for the neutral - by the end.
But the pressure is very much on New Zealand after this match, with the standards of last year not being met by a long stretch and the Rugby World Cup now only one more match away.
33-6. There will be Springboks turning in their graves, from PK Albertyn to Morris Zimerman, at such a defeat of the Springboks, and yet it was not the worst of them all and not without virtue from this side cruelly labelled the B Boks.
For New Zealand it was a victory which Richie McCaw said was not to be scoffed at, but not at all smooth, thoroughly deserved though it was.
South Africa were competitive in the first half but spent the second half clinging on. Finally their clinging slipped and New Zealand scored 21 points in the last 11 minutes, the last seven after the final siren had gone and the game was in chaos. Daniel Carter was just the last man left running with the ball.
For the All Blacks there was a 'setback' before the kick-off. Sitiveni Sivivatu pulled a calf muscle in the warm-up but his replacement was mighty Joe Rokocoko.
The Springboks started well and running - the way they ended last week against the Wallabies - but eventually they gave that up and decided that the best tactic was to transfer possession to the All Blacks, as they did for an hour in Sydney last week. On one occasion in the first half, with the Springboks on the attack, Ruan Pienaar kicked into the New Zealand 22. The next stoppage was a line-out in the South African 22!
The Springboks also aided in their own humiliation. Pedrie Wannenburg incurred a regulation yellow card at a tackle and when the All Blacks were penalised under the Springbok posts Albert van den Berg took it on himself to put a boot on an All Black, presenting them with three points at a time when the score was 9-6. That is disheartening.
Heartening must have been a vastly improved effort at the tackle/ruck where the Springboks competed. The competition resulted in slow ball which did not make for a plethora of tries.
For the All Blacks, Carter's continued ordinariness must have been a worry and Isaia Toeava had poor judgement in the centre. Much of the handling must be a cause for concern as pass after pass went astray. In the first half the All Blacks put the ball into one scrum, the Springboks into eight. The All Black scrum came after 36 minutes.
The evening was cold and dry to start with in Christchurch and got off to an excellent singing of the South African national anthem by Pete Guthrie - for a change on foreign soil - and the traditional kamate haka by the All Blacks. The start had a feelgood air about it.
The All Blacks had the first chance to score but Carter missed a straight kick, but when Breyton Paulse was judged off-side, a dubious call, Carter goaled. 3-0 after nine minutes.
Pienaar tried a long kick at goal, as he did in the second half, and, as was the case in the second half, the attempt was ridiculous. But when Ruben Thorne tackled high Derick Hougaard levelled the scores at 3-3 after 23 minutes. Straight after that Jacques Cronjé was penalised for using his hands at a tackle and Carter made it 6-3.
For the first time a try looked imminent when the All Blacks won a deep Springbok throw into a line-out and Luke McAlister stepped inside Wynand Olivier and accelerated ahead but the passing went hopelessly awry.
The Springboks had a good passage of play with pick 'n' drive but that fizzled out with a knock-on and a scrum to New Zealand.
The second half started badly for South Africa when Jaco Pretorius,, who looked out of his depth, knocked on the kick-off and the All Blacks played advantage. With Rokocoko on his outside Toeava opted to go for the try but was pulled down. McAlister had another break but he, too, was pulled down. Instead it was the Springboks who scored when Keven Mealamu was penalised at a tackle/ruck and Hougaard goaled. 6-6 after 46 minutes.
Then Wannenburg was sent to the sin bin for the second time in this Tri-Nations. The captains had been spoken to and had had a chance to speak to their teams but Wannenburg still did his own thing right in front of the Springbok posts. Carter goaled, 9-6 after 52 minutes.
From now on, except for one foray into New Zealand territory, the Springboks could only hang on, which they did reasonably well till their grip eventually slipped at the end.
There were two meaningful changes about this time. Lively Brendon Leonard replaced Piri Weepu at scrum-half and made a huge difference in the speed of play, and Peter Grant came on for Hougaard and really looked the part.
Just after this Van den Berg's indiscretion pushed the score to 12-6.
That is how it stayed for the next ten minutes. Then Paulse knocked on at close quarters and the admirable Doug Howlett grabbed the advantage to send Rokocoko racing away. Challenged, he flipped the ball back, underhand, to Leonard who had a straight run to the line for the try. 19-6.
At this stage all manner of changes were made and the game became looser, and eventually chaotic.
With four minutes left the All Blacks attacked, switching from far right to far left where Nick Evans, on for Howlett, slipped inside Paulse and past two others with slithery speed and dived over for a try, which Carter converted from touch.
More substitutions happened. Then Wynand Olivier had a dart down the left and grubbered ahead and chased. At the corner flag Carter fly-kicked the ball into touch to concede a five-metre line-out. The Springboks tried a clever move but knocked on. That still gave the All Blacks a five-metre scrum to defend but Eddie Andrews was penalised for collapsing.
The siren had gone, there were numerous errors as both sides tried to keep the ball alive and eventually Carter picked it up for a long trot to the posts. He converted to set the seal on an unconvincing win.
Man of the Match: Wikus van Heerden was again magnificent for South Africa but the candidates were really New Zealanders - strong Luke McAlister, Chris Jack and our choice - nor for the first time - Richie McCaw who is at the heart of so much vital possession and opportunity for his side.
Moment of the Match: Joe Rokocoko's impish flip pass inside to Brendon Leonard.
Villain of the Match: Perhaps Albert van den Berg and Pedirie Wannenburg should share this title for their indiscretions. Perhaps.
The scorers:
For New Zealand:
Tries: Leonard, Evans, Carter
Cons: Carter 3
Pens: Carter 4
For South Africa:
Pens: Hougaard 2
Yellow card: Wannenburg (52, South Africa, killing the ball)
The teams:
New Zealand: 15 Mils Muliaina, 14 Doug Howlett, 13 Isaia Toeava, 12 Luke McAlister, 11 Joe Rokocoko, 10 Dan Carter, 9 Piri Weepu, 8 Rodney So'oialo, 7 Richie McCaw (c), 6 Reuben Thorne, 5 Keith Robinson, 4 Chris Jack,3 Carl Hayman, 2 Keven Mealamu, 1 Tony Woodcock.
Replacements: 16 Andrew Hore, 17 Neemia Tialata, 18 Jerry Collins, 19 Chris Masoe, 20 Brendon Leonard, 21 Conrad Smith, 22 Nick Evans.
South Africa: 15 JP Pietersen, 14 Breyton Paulse, 13 Waylon Murray, 12 Wynand Olivier, 11 Jaco Pretorius; 10 Derick Hougaard, 9 Ruan Pienaar, 8 Jacques Cronjé, 7 Pedrie Wannenburg, 6 Wikus van Heerden, 5 Johann Muller (captain), 4 Albert van den Berg, 3 Jannie du Plessis, 2 Bismarck du Plessis, 1 CJ van der Linde.
Replacements: 16 Gary Botha, 17 Eddie Andrews, 18 Gerrie Britz, 19 Hilton Lobberts, 20 Michael Claassens, 21 Peter Grant, 22 Tonderai Chavhanga.
Referee: Stuart Dickinson (Australia)
Touch judges: Nigel Owens (Wales), Paul Marks (Australia)
Television match official: James Leckie (Australia)
Assessor: Bob Francis (New Zealand)