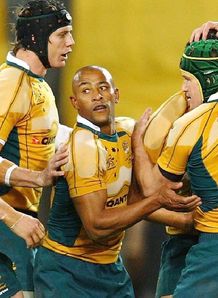 Related links
Teams
Just as they did against Wales a month ago, Australia pulled back from a shock 0-17 deficit at home to take their Tri-Nations encounter 25-17 against South Africa in Sydney on Saturday.
Two tries in the first eight minutes - one a well-worked charge from Wikus van Heerden, the other a 60m intercept by Breyton Paulse - both converted by Derick Hougaard, plus a penalty from Hougaard, had the Boks 0-17 ahead after a quarter of an hour.
But gradually the experienced Wallabies worked their way into the game, and a two-try flurry early in the second half swung the game their way, giving veterans Stephen Larkham and George Gregan a winning send-off from home turf.
It was a match about respect, and respect won.
There was respect for two of the greatest players in the history of world rugby - George Gregan playing his 133rd Test and Stephen Larkham his 100th, their last in Australia. They were in the winning team as they came back from behind for the third time in recent matches. The respect shown to them by their home fans and by their opponents was excellent.
There was also a respectful performance from the Springboks. Vilified and scorned, accused of treachery, threatened with eviction, they earned respect and in fact could have earned a little more than that.
Then the teams were playing for the Nelson Mandela Plate - in honour of the most respected man in the world, and the Wallabies deservedly won that.
Respect won on that fine, cold evening in Sydney.
The Springboks had an excellent first twenty minutes and then a spell late in the second half when they went in for pick 'n' drive and put pressure on the Wallabies. But the meat was in the sandwich between those two periods when the Wallabies played with continuity and flair as they dominated possession and so territory and opportunity.
The match had an electric start for the Springboks. Larkham kicked off and the Wallabies won the kick off which they immediately sent wide to the left but then Gregan chipped and Paulse ran in counter-attack. The Springboks had a penalty and Derick Hougaard hit the upright. The ball bounced back into the field of play and the Springboks stayed on the attack with good work from Waylon Murray and Gary Botha till Ruan Pienaar fed Wikus van Heerden who scored close in. Hougaard converted, and the Springboks led 7-0 after 7 minutes.
The Wallabies kicked off and won the kick-off and again went wide to the left where Nathan Sharpe threw a long pass towards Stirling Mortlock. It did not reach Mortlock for Paulse nipped in, intercepted and raced through empty paddocks to score. Again Hougaard converted. 14-0 after 9 minutes.
Would pundits be eating humble pie?
Sharpe was kind to the Springboks again when he went offside and Hougaard made it 17-0 after 15 minutes.
For the next 65 minutes the Springboks did not score a point. They had a chance to go up 20-0 when George Smith was penalised for holding on, but Hougaard , who had an anonymous game, missed one he should have got comfortably,.In the second half he also missed a drop and a penalty kick, before being subbed.
Goal-kicking was not the only bad part of South African booting. Early on Pienaar kicked high and well and put the Wallabies under pressure. But as the half wore on he just kicked. His kicking was no longer an attacking weapon but just a transfer of possession and this brought the Wallabies more and more into the game.
When Pedrie Wannenburg was penalised for a high tackle, the Wallabies used the penalty to form a line-out and from it they wove patterns and Mark Gerrard was able to burst past Van Heerden to score close in. Mortlock converted. 17-7 after 22 minutes.
As half-time drew nearer the Wallabies were getting closer and closer to the Springbok line till Wannenburg was off-side and Mortlock made the score at the break 17-10, with a penalty.
The Springboks were ahead but the writing was on the wall. The writing grew big and bright when the Wallabies won a turnover off Wannenburg near the half-way line on their right and attacked going left. Larkham chipped and the ball seemed to be heading out when Mortlock, with great skill, swung a left boot to fly-kick it back infield, forcing the Springboks to concede a line-out. The Wallabies went left from the line-out and then came back in for energetic Stephen Hoiles to get over in Gary Botha's tackle. Mortlock's kick made it 17-all after 43 minutes.
Hougaard was well wide with a drop attempt and then, when Bob Skinstad was penalised at a tackle, Mortlock put the Wallabies ahead.
Just after this the Springboks conceded the first of two expensive yellow cards. They were winning the ball at a tackle/ruck but had nobody to pick it up as Wallabies loomed. Lying on the ground Botha footed the ball back and was sent to the sin bin. Later Johann Muller was reported for punching at a collapsed scrum and he was sent to the sin bin as well with five minutes left. The lucky player may well have been George Smith who punched CJ van der Linde and was then penalised for what the referee called a swinging arm on Muller. Smith's actions seemed worthy of at least what Botha, who hurt nobody, and Muller got.
While Botha was sitting with George Ayoub in touch, the Wallabies attacked brilliantly down the right. At top speed Gerrard managed to kick diagonally infield where Matt Giteau, under pressure, swooped on the ball and surfed over for a try, which Mortlock did not convert.
The Springboks had the better of the rest of the match but made crucial errors - accidental off-side, then a penalty for holding on in the tackle but after the final siren they did their best bit of attacking from their own line and but for a knock-on at the end of it by Paulse could well have scored a try which would have given them a bonus point.
It was the first of four Tri-Nations matches so far that did not produce a bonus point.
Man of the Match: Call me sentimental but the Men of the Match are that celebrated duo George Gregan and Stephen Larkham and all that they brought to this game and many, many others - 233 Tests between them, 85 in the same team, 75 as the half-back pairing. And in any case they were as good as anybody in this match, and better than most.
Moment of the Match: Breyton Paulse's intercept try. Apart from anything else it said that the "B Boks" deserved respect.
Villain of the Match: We had a duo for Man of the Match and a trio for Villain of the match - Gary Botha, Johan Muller George Smith.
The scorers:
For Australia:
Tries: Gerrard, Hoiles, Giteau
Cons: Mortlock 2
Pens: Mortlock 2
For South Africa:
Tries: Van Heerden, Paulse
Cons: Hougaard 2
Pen: Hougaard
Yellow cards: Botha (52, South Africa, playing ball on the ground), Muller (72, South Africa, punching)
Australia: 15 Julian Huxley, 14 Mark Gerrard, 13 Stirling Mortlock (captain), 12 Matt Giteau, 11 Adam Ashley-Cooper, 10 Stephen Larkham, 9 George Gregan, 8 Stephen Hoiles, 7 George Smith (v/c), 6 Rocky Elsom, 5 Dan Vickerman, 4 Nathan Sharpe, 3 Guy Shepherdson, 2 Adam Freier, 1 Matt Dunning.
Replacements: 16 Sean Hardman, 17 Al Baxter, 18 Hugh McMeniman, 19 David Lyons, 20 Phil Waugh (v/c), 21 Scott Staniforth, 22 Drew Mitchell.
South Africa: 15 Bevin Fortuin, 14 Breyton Paulse, 13 Waylon Murray, 12 Wynand Olivier, 11 JP Pietersen, 10 Derick Hougaard, 9 Ruan Pienaar, 8 Bob Skinstad (captain), 7 Pedrie Wannenburg, 6 Wikus van Heerden, 5 Johann Muller, 4 Johan Ackermann, 3 Jannie Du Plessis, 2 Gary Botha, 1 CJ van der Linde.
Replacements: 16 Bismarck du Plessis, 17 Eddie Andrews, 18 Albert van den Berg, 19 Jacques Cronjé, 20 Michael Claassens, 21 Peter Grant, 22 Jaco Pretorius.
Referee: Paul Honiss (New Zealand)
Touch judges: Steve Walsh (New Zealand), Kevin Deaker (New Zealand)
Television match official: Lyndon Bray (New Zealand)
Assessor: Michel Lamoulie (France)
By Paul Dobson