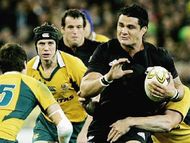 Related links
Teams
Two tries while New Zealand were down to 14 men gave Australia a shock 20-15 victory at the Melbourne Cricket Ground on Saturday - keeping their hopes alive of winning back the Bledisloe Cup and throwing the Tri-Nations race wide open.
As Australia raised their arms in triumphant jubilation they did so in the knowledge that not only have they ensured the Tri-Nations and Bledisloe Cup remain wide open, but also revealed that the All Blacks are human after all.
It took a superhuman effort from the Wallabies, and as they departed the MCG, man for man they bore more than a passing resemblance to the Incredible Hulk. The green of the advertising logos on the pitch had slowly covered their bodies and shirts throughout a compelling encounter.
Stirling Mortlock, the catalyst behind a stirring second-half performance that saw Australia fight back from 6-15 down, rippled beneath a green glaze covering him. George Smith, who left the fray with minutes left, did so with his shirt splitting at the seams. This was a performance based on brute strength and born out of a steely determination to not go quietly into the cold Melbourne night as all but they had scripted.
This, only the All Blacks' fourth defeat in as many years, is perhaps their most telling. The previous three, all at the hands of South Africa, ultimately counted for little. Yet this close to the World Cup there is renewed optimism for all, the All Blacks do indeed have chinks in their armour and Australia gave a master class in how best to expose them.
The reshuffle in the New Zealand back-line, a result of a late injury to Leon MacDonald, gave the Wallabies a target to attack with Luke McAlister forced to play out of position at outside centre. Mortlock was quick to pick up on this in the build up to the game, and it was he who did the damage with two searing outside breaks, the latter of the two leading to the winning score.
It is testament to the Australian mentality that they emerged from this encounter victorious, as for long periods the signs were ominous. Yet it was their tenacity and unwavering determination to make a statement to the world that allowed them to maintain more than a glimmer of hope. And when it mattered, with Carl Hayman in the sin-bin, they capitalised on All Black errors and punished them to the full.
Having left the All Blacks waiting after a ferocious rendition of the 'Kapa O Pango', a salute to the warriors in black, the Wallabies were made to pay. Julian Huxley hoicked the kick off straight into touch and the next time an Australian would touch the ball would be a full five minutes later when Huxley again got the game going after Tony Woodcock had burrowed over for New Zealand.
The signs were not good for Australia, those opening five minutes were a cameo of what the All Blacks do so well. They attacked with pace and exposed every possible weakness in the Australian defensive line, with Mils Muliaina slicing into the twenty-two to lay the platform for Woodcock's try. The runners queued up out wide yet Woodcock, with the help of Dan Carter, bulldozed over from close range for his first Test try. Carter duly added the extras and the All Blacks were up and running.
It was down to Stephen Larkham to check the All Blacks, whose speed off the defensive line was phenomenal. Maybe Larkham slid in a clever kick to avoid a barrage of All Black tacklers, but more likely it was his astute knowledge and vision that prompted the kick. It came agonisingly close to yielding a try for the chasing Mortlock but Rokocoko pipped him to the ball and defused the danger.
It was a timely reminder that Australia posed more than a passing threat, despite having been given little to no hope. Mortlock got them on the board fourteen minutes in with a simple penalty, having missed a difficult attempt moments before. Carter then extended the lead with a penalty of his own a matter of seconds later after what can only be described as stupid play from George Smith, slapping the ball out of Byron Kelleher's grasp under referee Marius Jonker's nose.
The scrum was becoming messy, and after four re-sets Jonker lost his patience and penalised the bemused Hayman. Mortlock stepped up and slotted a fine kick from out wide. Twenty minutes gone and enough from both sides to suggest this would not be a cake walk for the All Blacks.
Then came a timely strike from the Kiwis, signaling their intent to play an expansive game and further exposing the Australian frailties out wide. A quick free-kick by Kelleher paved the way for a lightning-quick try. No sooner had Jerry Collins smashed into three Australian defenders than Luke McAlister was slipping out of a George Gregan tackle and feeding a simple pass out to the grateful Rico Gear who cantered over in the corner.
The remainder of the half was a black wave of pressure, resulting in a staggering eighteen missed tackles from the men in gold. Had it not been for a glaring knock-on by Rodney So'oialo with Rico Gear outside him and only Matt Dunning between the pair and the try line it could have been a bigger margin going into the break. As it was the All Blacks had to settle for 6-15.
The second half could not have been more diametrically opposed from the first. New Zealand may not have lost in their previous fifty-five Tests when leading at half-time, but it was Australia and the mighty Mortlock who came out roaring. With minimal space out wide Mortlock took the ball at pace and showed McAlister a clean pair of heels before trampling over the top of Mils Muliaina in a style reminiscent of Jonah Lomu.
The break may have failed to yield a more tangible reward yet it served as a reminder that Australia had the weapons to hurt the All Blacks.
Not to be outdone, New Zealand stepped it up a gear and Carter dazzled his way through a bewildered Australian defence. However for all their creative play it was basic errors that started to cost the All Blacks. On several occasions they wasted prime field position and scoring chances with simple mistakes.
With each error the Australians grew in stature, the hulk in them straining to burst out. Then, with Carl Hayman in the sin-bin for hands in the ruck, the green and gold monster erupted into life with two heroic tries. The first was engineered by a Larkham break, supported by the bustling Tuqiri. The ball came back quickly and Gregan ensured the attack kept flowing. Out it went to the busy Nathan Sharpe who fired a peach of a pass to Adam Ashley-Cooper.
He was faced, in a tight space, with Rico Gear who he beat with a simple turn of pace. Then Richie McCaw came across and he too was beaten with a deft side-step - yes McCaw was made to look a fool - and finally Chris Jack made a last ditch attempt to haul him down. He also failed and Ashley-Cooper was over for a try that breathed life and fire into the Australian bellies. Giteau added a fine conversion and it was game on.
The chink in the All Black armour was then to be torn open and to make matters worse it was from yet another of their own errors. Aaron Mauger, who was surprisingly out of sorts, floated a kick straight into touch. From the resultant line-out Australia struck with a score that has huge reverberations in world rugby. It sent a message to all who were giving up hope to say the World Cup is not a foregone conclusion.
McAlister was the defensive chink, and he was exposed in devastating style by captain courageous Mortlock. Having left McAlister flat-footed Mortlock again made a fool of McCaw as he stepped inside his counterpart. Having looked for support Mortlock put his head down and turned on the afterburners, cruising effortlessly into the New Zealand twenty-two. As four All Blacks closed in on him he looped a one-handed pass over the onrushing tacklers to Scott Staniforth who had the simple task off finishing the break under the posts.
The remainder of the game saw a tired and lacklustre All Blacks look for another late escape which was not forthcoming. The Wallabies wound the clock down in expert manner and sounded a warning to their fierce rivals that they pose a real threat to the Bledisloe Cup, the Tri-Nations, and most importantly, the World Cup.
Man of the Match: For New Zealand Jerry Collins was huge in attack but more so in defence. McCaw started in his usual form but two costly missed tackles tainted his otherwise superb effort. For the Wallabies it was a monumental team effort to hang in there and when the chance came to strike killer blows. But the heart of their effort was their captain Stirling Mortlock, who was simply awesome. He showed some deft touches in attack, coupled with a solid defensive effort, and the crowning moment in his display was that searing break to set up Staniforth for the winning try.
Moment of the Match: There is no doubt whatsoever that Carl Hayman's sin-binning was the turning point. It was whilst the cornerstone of the All Blacks pack was in the bin that Australia racked up fourteen unanswered points and effectively won the game. That was the turning point for the analysts, but Stirling Mortlock's break for the winning try was the moment that got the pulses racing
Villain of the Match: It was a hard and physical encounter yet all managed to keep their tempers in check in an environment when they could easily have spilled over.
The scorers:
For Australia:
Tries: Ashley-Cooper, Staniforth
Cons: Giteau 2
Pens: Mortlock 2
For New Zealand:
Tries: Woodcock, Gear
Con: Carter
Pen: Carter
Yellow card: Carl Hayman (New Zealand, 62 - repeated infringements, not rolling away at tackle)
The teams:
Australia: 15 Julian Huxley, 14 Adam Ashley-Cooper, 13 Stirling Mortlock (c), 12 Matt Giteau, 11 Lote Tuqiri, 10 Stephen Larkham, 9 George Gregan, 8 Wycliff Palu, 7 George Smith (v/c), 6 Rocky Elsom, 5 Dan Vickerman, 4 Nathan Sharpe, 3 Guy Shepherdson, 2 Stephen Moore, 1 Matt Dunning.
Replacements: 16 Adam Freier, 17 Al Baxter, 18 Mark Chisholm, 19 Stephen Hoiles, 20 Phil Waugh (v/c), 21 Scott Staniforth, 22 Mark Gerrard.
New Zealand: 15 Mils Muliaina, 14 Rico Gear, 13 Luke McAlister, 12 Aaron Mauger, 11 Joe Rokocoko, 10 Dan Carter, 9 Byron Kelleher, 8 Rodney So'oialo, 7 Richie McCaw (c), 6 Jerry Collins, 5 Troy Flavell, 4 Chris Jack, 3 Carl Hayman, 2 Anton Oliver, 1 Tony Woodcock.
Replacements: 16 Keven Mealamu, 17 Neemia Tialata, 18 Ross Filipo, 19 Chris Masoe, 20 Piri Weepu, 21 Aaron Mauger, 22 Nick Evans.
Referee: Marius Jonker
Touch judges: Jonathan Kaplan (South Africa), Willie Roos (South Africa)
Television match official: Shaun Veldsman (South Africa)
Assessor: Michel Lamoulie (France)
By Marcus Leach