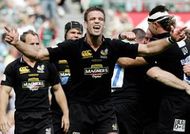 London Wasps deprived Leicester Tigers of their treble dream on Sunday, producing a magnificent physical performance to take the Heineken Cup for the second time with a 25-9 win at Twickenham.
Man for man, the black-clad men stood up to their bigger counterparts and drove the Tigers into the ground at every opportunity, nicking two first-half tries from line-outs and then booting four goals, each one a carefully-placed nail in the Tigers' collective coffin.
Who would have thought it? At the start of the day, Leicester were Europe's unstoppable force, and the Heineken Cup was still a maybe for next season.
Two hours later, 81,076 people - a world-record attendance for a club game - were left gobsmacked by just how simple turning over the Tigers had proved to be, and left overjoyed by the news that Wycombe's finest will now have the chance to defend their trophy after the ERC announced that an agreement had been reached for the staging of next season's tournament shortly before the kick-off. Joy to all.
It was not quite the feast of rugby many had predicted. Compelling? Yes. Rugged? Yes. Flowing? No. There were 24 penalties in the game, a higher than average count, but that was not referee Alan Lewis's fault - the Irishman who has taken control of more Heineken games than anybody else took a firm grip on this one and never once relinquished it, emerging with immense credit.
It was a pressure game, more about squeezing mistakes from the opposition than about opening up their defence through individual brilliance. Once the squeeze was on, the Tigers leaked penalties like a saturated sponge. It was how Wasps got that squeeze on that was the key.
Alesana Tuilagi, the scourge of all English club defences throughout the season, barely got a sniff of the ball. Paul Sackey stood bravely in his way every time he did, and even in being knocked over, still managed to grab enough of the Samoan to bring him down. Alex King pitched in too, as did the magnificent Joe Worsley and, memorably, young stripling Danny Cipriani at the end. One job done.
There was also Seru Rabeni to think about, but he too was nullified. With Wasps' forwards bringing all Leicester momentum to a grinding halt at nearly every tackle, Rabeni got the ball behind the ruck standing still nearly every time. He is a force going forward, but he is just too heavy to escape from a standing start. He too was tackled by at least two defenders every time the ball came his way.
At every single breakdown, Worsley, Rees, Palmer, Shaw, Vickery, French, Ibañez and Dallaglio tackled, got up, saw the ball, fizzed over and tackled again. Not once did they significantly miss their man. It was as though the Leicester runners were throwing themselves at a thick piece of jungle.
So there went Leicester's plan A, and a plan B never materialised. Perhaps the Tigers simply could not believe the intensity they were facing. Perhaps they believed it would abate as time went on. It never did. Pat Howard may reflect that on his final day of a glorious stint as Leicester coach, the Tigers' traditional stubbornness he has bought into and used so much just wasn't enough.
Wasps also scored two tries from line-outs which robbed Leicester even of a black shirt-tail to cling on to, and while the steady flow of penalties, turnovers and errors went against the Tigers, those concerned will reflect that the mental lapses gifting those tries epitomised most starkly the difference between the two teams on the day.
Right from the off, when Josh Lewsey knocked Frank Murphy into next week after just eight seconds, Wasps looked more determined, more switched on, and more muscular. Nobody was hungrier than Lawrence Dallaglio while he was on the pitch, and it was first his turnover, then his two ball carries after Alex King's grubber, that earned Wasps their first two penalties. King slotted the second for the early 3-0 lead.
Dallaglio strutted around all day like a monarch, with the other 29 players on the pitch merely subjects of the realm. By contrast Martin Corry, the anarchist to Dallaglio's throne, lost his cool on a number of occassions. As the captains played their roles, so the teams did theirs. Wasps ruled all by the end, Leicester were just the labouring serfs.
Still, Wasps made life harder for themselves than they ought to have done. King missed two first-half penalties and two conversions, and while Wasps conceded fewer penalties, more of them were kickable. Goode equalised with Leicester's first, but after 15 minutes, a moment of pure narcolepsy in Leicester's line-out cost them a try.
Raphaël Ibañez shaped to throw in, and the entire Leicester front four shuffled backwards to lift Ben Kay into the air for a challenge. Eoin Reddan scampered around the front to gather the short pass from Ibañez and away he ran for the cheeky try.
King missed that conversion, and with Tom Rees blatantly blocking Lewis Moody's chase of the restart in front of both the posts and the referee, Reddan's score yielded only a net two-point advantage.
Into the game crept a few pointers that this was not going to be the Tigers' day. Even an intelligent kick wide from Goode to Rabeni was too shallow, allowing Voyce and Fraser Waters to cover.
Two minutes later, Kay's charge to the line in the corner was stopped by a terrific tackle from Dallaglio, which knocked the ball from Kay's grasp.
At the ensuing scrum, Heineken debutant prop Tom French won a penalty off Julian White, with the wizened England international found guilty of driving up - a trick most of those watching had suspected him of doing for much of the match up until then.
As White turned away feigning disgust, French stood with a triumphant smile and applauded his retreat. One-up to the youngster in the front row.
A couple more monster hits by Rees and Palmer on Rabeni earned Wasps another penalty, which King hoofed to touch - having missed two other shots at goal already.
Ibañez threw to Simon Shaw, who was suspiciously close to the 5m line, Shaw gave it back to the Frenchman, and away he scampered to the corner just as Reddan had done twenty minutes earlier.
Goode's penalty just before the break made it 13-9. A close scoreline, but nobody was fooled. The game was Wasps' for the taking.
Half-time is a good time to change situations like these, but little did change after the break.
Tuilagi was caught holding on after rescuing King's high kick, and King made it 16-9. Goode missed a sitter after his pack had scrummed Wasps off the ball - a rare occurrence indeed. Tuilagi was sent into space, and tackled wonderfully by Sackey.
Leicester conceded two quick penalties, one for going in at the side of a ruck, and then one for Tuilagi being offside. King goaled, 19-9. Another Wasps turnover forced another penalty, and then the black pack drove deep nto the Leicester 22, giving King all the time in the world to drop a goal and make it 22-9.
Tuilagi then popped up at fly-half to try and inject something special into Leicester's backs, but his miss-pass to Geordan Murphy went high over the Irishman's head to touch. The game trickled and trickled further away from the Tigers.
Still within two converted tries, the Tigers had one brief flash of what might have been. Dan Hipkiss finally stepped through the Wasps backs, slipped the ball to Ollie Smith, who slipped the ball to Corry.
A shame there, for had it been Murphy, the extra pace would have surely taken Tigers to the line. As it was, Corry held on to the ball just a touch too long, and gave Tuilagi no space. Sackey once again braved Tuilagi's thumping thighs and brought down the Samoan, winning a scrum.
From that scrum, James Haskell, on for Dallaglio, peeled off the back and charged a heroic 80m downfield before Ian Humphreys finally caught him short of the line. At the ruck, Leicester's flagging flankers were caught offside, and King stepped up to administer the last rites.
Man of the match: So many contenders in a black shirt, Fraser Waters and Alex King were both phenomenal in the tackle, and Paul Sackey's job on Alesana Tuilagi was phenomenal. Lawrence Dallaglio might get it on sentimental grounds, and Phil Vickery deserves an honourable mention, but Wasps' true driving force was Joe Worsley, who produced form he has rarely shown since England's glory days to snuff out the Tigers' charges.
Moment of the match: James Haskell's charge at the last. A number eight in full flight is something to behold!
Villain of the match: Dallaglio's constant refereeing of the match? That was about as villainous as it got, and he played so well that he probably earned himself those privileges. Nothing to report here.
The scorers:
For Leicester Tigers:
Pens: Goode 3
For London Wasps:
Tries: Reddan, Ibañez
Pens: King 4
Drop goal: King
The teams:
Leicester Tigers: 15 Geordan Murphy, 14 Seru Rabeni, 13 Danny Hipkiss, 12 Daryl Gibson, 11 Alesana Tuilagi, 10 Andy Goode, 9 Frank Murphy , 8 Martin Corry (captain), 7 Shane Jennings, 6 Lewis Moody, 5 Ben Kay, 4 Louis Deacon, 3 Julian White, 2 George Chuter, 1 Marcos Ayerza.
Replacements: 16 James Buckland, 17 Alex Moreno, 18 Leo Cullen, 19 Brett Deacon, 20 Ian Humphreys, 21 Sam Vesty, 22 Ollie Smith.
London Wasps: 15 Danny Cipriani, 14 Paul Sackey, 13 Fraser Waters, 12 Josh Lewsey, 11 Tom Voyce, 10 Alex King, 9 Eoin Reddan, 8 Lawrence Dallaglio (c), 7 Tom Rees, 6 Joe Worsley, 5 Tom Palmer, 4 Simon Shaw, 3 Phil vickery, 2 Raphaël Ibañez, 1 Tom French.
Replacements: 16 Joe Ward, 17 Peter Bracken, 18 Dan Leo, 19 James Haskell, 20 Mark McMillan, 21 Dominic Waldouck, 22 Mark van Gisbergen.
Referee: Alan Lewis (Ireland)
Touch judges: Alain Rolland (Ireland), Simon McDowell (Ireland)
Television match official: David McHugh (Ireland)
By Danny Stephens