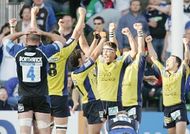 Clermont Auvergne won the European Challenge Cup on Saturday with a 22-16 win over Bath at the Twickenham Stoop, holding off a fierce fightback from the West Countrymen.
It was a fitting way for Clermont veteran Tony Marsh to sign off from the European stage, with the expatriated New Zealander marking his final European match with a try and an excellent performance.
Bath's defeat also cost them the chance of a place in next season's senior European competition, assuming it eventually goes ahead once the politics have run their course.
Harlequins take the final English Heineken Cup berth by virtue of their seventh-place finish in the Guinness Premiership.
It was a terrific match; all the way from a rugged start to an open third quarter, and then to a nerve-wracking finale. Clermont were on top for much of it, and should have been out of sight by the final whistle. Instead it fell to Danny Grewcock's tired hand, failing to take a pass from Tom Cheeseman, to give the French outfit its reprieve in the final play of the game.
Had he taken the pass, Bath would have won. Clermont had notched nineteen unanswered points in the nineteen minutes after half-time to go 22-6 in the lead, and then simply turned around and basked in the glory.
Joe Maddock then stepped through for a fabulous individual try to bring Bath back to 22-13, the Bath pack suddenly began shoving their opposition off their own ball, and the French team looked well and truly sucker-punched.
A 50-50 video ref call over Peter Short's touchdown then held Bath back when a try would have given them unstoppable momentum.
As it was, Olly Barkley kicked a penalty with five minutes to go to bring Bath to within a score of victory, and for the final five minutes, the men in black and blue hammered away at the Clermont defence in a pulsating finale, but just ran out of time.
The first half yielded nine measly points, a poor return for a forty minutes in which it was dangerous to let your eyes wander from the screen.
Clermont enjoyed so much of the possession, yet chucked so much of it away through a series of easy turnovers, forward passes, knock-ons, and wrong options.
Aurelien Rougerie and Julien Malzieu terrorised the Bath defence coming off their wings, but the Clermont backs stood so flat in attack that any momentum generated dissipated in the midst of some well-drilled Bath defence.
Clermont had only one scrum in the entire first half, and Bath had only two line-outs. By contrast, Bath had eight scrums, and Clermont nine line-outs. That disparity was entirely due to the territorial dominance of the men in yellow: they spent an awful lot of time making errors after working their way into the Bath 22, and letting the opposition clear from the scrums.
Clermont also conceded six turnovers in the first half, an unforgiveable count at this level, and Brock James missed two shots at goal he might normally expect to land. Thus it was that despite the dominance, Bath led 6-3 at the break through two penalties from Olly Barkley.
Both sides prodded at each other's defence in the opening skirmishes, trying to find a quick way through. Malzieu provided the game's first clean break after four minutes, but he opted to pass to the supporting Sam Broomhall rather than grubber ahead into the space.
Rougerie shook off four tackles after ten minutes to get to within five metres of the Bath line and the Bath defence killed the ball, handing James a penalty, but the Australian missed.
Instead, it was Bath who took the lead, with Barkley landing a penalty after a Nick Abendanon break.
James missed a second penalty immediately after, with Bath's forwards messing up the restart and then going off their feet, but equalised on 20 minutes when referee Nigel Owens marched a penalty ten metres further on because of back-chat, bringing James within range.
At 3-3, Clermont began to tick. First Sam Broomhall picked off a 22 drop out, to first charge to the Bath 22, and then two phases later to cut deep into it, but a turnover by Michael Lipman was a crucial intervention for Bath.
Then Rougerie powered down his wing into the 22 after a delightful switch of play by James, but the execution of the final two passes was dreadful and the move foundered on a knock-on.
Then Anthony Floch was too flat to take the most simple of overlap passes, leaving Bath with a five-metre scrum rather than a five-point deficit.
It was frustrating stuff, and when Bath did get into the Clermont half, two quick-fire penalties conceded saw Broomhall sent to the bin, and Barkley give Bath an unlikely lead.
There was one more chance for Clermont before the break, and it exemplified their half. Malzieu could have been away, but the pass to use his overlap was so airy-fairy that the defence was able to close him down. When the ball came the other way, Rougerie was all on his own in acres of space, yet Grant Esterhuizen chose to try and slice through the defence himself.
The second half was all different. Within four minutes, Clermont had the lead, after Floch chipped the defence in his own 22, regathered, and sent Malzieu away. The long languid stride of the winger left three Bath defenders in its wake, and took Malzieu in at the left-hand corner. James converted to make it 10-6.
Marsh got the second ten minutes later, capitalising on a polished line-out move between Michel Dieudé and Mario Ledesma which culminated in the latter - a hooker - turning Abendanon - a full-back - and skinning him on the outside. The ball went left, Malzieu did well with an unsympathetic pass, and then Marsh exploded up the short side to score in the corner.
James saw his conversion bounce back off an upright, but within five minutes he had added seven points to the total, chipping the defence and picking off the ball for an easy score. Clermont 22 Bath 6, and the English looked devoid of ideas.
Then... Maddock scored a sensational try, stepping inside four players, tearing through a gap, and utterly flummoxing Floch with a jink before haring away under the posts. It was the bit Bath needed, and fifteen sets of teeth clamped down on it.
The Bath pack made mincemeat of two Clermont scrums, and stole three line-outs. A penalty was kicked to the corner, and a good old-fashioned English rolling maul headed for the line. Short's long arm stretched out over the top of the bodies, and the ball touched the ground... but Owens was not convinced and asked for confirmation from upstairs.
Graham Simmonds took an eternity, but decided that Short had lost control over the ball in the air before touching down, and Clermont had a 5m scrum. Still 22-13, ten minutes to go
The Bath pack decimated Clermont's, forcing a scrum of their own and the Bath forwards stood as eight waving fists in the air with triumph, but then the Clermont pack responded with a full-blooded drive, and eventually a Bath hand knocked the ball on. 22-13, eight minutes to go.
For four minutes, the Clermont pack closed things out, but then a silly penalty conceded by Gonzalo Longo gave Barkley the opportunity to reduce the gap to six points. 22-16, four minutes to go.
Two minutes to go, another penalty for Bath. This one kicked to the corner by Malone, but for once, Lee Mears' radar was out of sync, and the ball went to the back where Mignoni cleared. 22-16, one minute to go.
Another Bath penalty, another kick to the corner, as the clock in the stadium ticked over the 80-minute mark. This time a good line-out, and a magnificent maul that rolled not only 14 out of the 15 metres to the line, but also a further 20m towards the posts. Then out the ball came, wide it went, all Grewcock had to do was catch, draw, and send Maddock to the line... but the pass was hard and flat, and even Grewcock's big paw could not make it stick, and as Rougerie jumped for joy, so Grewcock bowed himself in despair.
Man of the match: Of Clermont's two constant threats, captain Aurelien Rougerie nicks it from Malzieu by virtue of his defence, but the two could really share. Sam Broomhall was excellent despite the silly yellow card, and when he came on, lock Loic Jacquet was terrific in the loose. For Bath, Steve Borthwick had a captain's game, while Olly Barkley and Nick Abendanon were the pick of the backs.
Moment of the match: Joe Maddock's try was one of the moments of this season, never mind the match!
Villain of the match: Two Bath candidates: David Barnes for a rather petulant knee to someone's head, and Danny Grewcock (did you expect anyone else?) for his rabbit punch that left Thibault Privat with a deeply purple nose.
The scorers:
For Bath:
Try: Maddock
Con: Barkley
Pens: Barkley 2
For Clermont:
Tries: Malzieu, Marsh, James
Cons: James 2
Pen: James
Yellow card: Broomhall (37, Clermont, repeated infringement)
Bath: 15 Nick Abendanon, 14 Joe Maddock, 13 Eliota Fuimaono-Sapolu, 12 Olly Barkley, 11 David Bory, 10 Shaun Berne, 9 Nick Walshe, 8 Zak Feaunati, 7 Michael Lipman, 6 Andy Beattie, 5 Danny Grewcock, 4 Steve Borthwick (c), 3 Matt Stevens, 2 Lee Mears, 1 David Barnes.
Replacements: 16 Pieter Dixon, 17 Aaron Jarvis, 18 Peter Short, 19 James Scaysbrook, 20 Andy Williams, 21 Chris Malone, 22 Tom Cheeseman.
ASM Clermont Auvergne: 15 Anthony Floch, 14 Aurélien Rougerie (c), 13 Grant Esterhuizen, 12 Tony Marsh, 11 Julien Malzieu, 10 Brock James, 9 Pierre Mignoni, 8 Elvis Vermeulen, 7 Michel Dieude, 6 Sam Broomhall, 5 Thibaut Privat, 4 Jamie Cudmore, 3 Martin Scelzo, 2 Mario Ledesma, 1 Laurent Emmanuelli.
Replacements: 16 Brice Miguel, 17 Goderzi Shvelidze, 18 Loic Jacquet, 19 Gonzalo Longo, 20 Alessandro Troncon, 21 Seremaïa Bai, 22 Raphael Chanal.
Referee: Nigel Owens (Wales)
Touch judges: High Watkins (Wales), Tim Hayes (Wales)
Television match official: Gareth Simmonds (Wales)