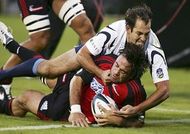 The Crusaders not only put their campaign back on track but they moved four places up to fifth on the standings with an impressive 32-10 win over a pitiful Bulls outfit at Jade Stadium in Christchurch on Saturday.
The Crusaders outscored an unusually meek Bulls team by four tries to one.
The Bulls appeared right from the start to be going through the motions. It is the half-way mark of what has already been an abrasive tour, and with useful away wins over Brumbies and Waratahs under their belt and games against the more vulnerable Hurricanes and Highlanders coming up, Heynecke Meyer's non-selection of Victor Matfield - for one - showed that this was a game the Bulls might be prepared to sacrifice for the sake of freshness.
That concept would be the kind way of explaining both the ludicrous amount of possession given meekly away and the greasy-armed tackling that let the Crusaders run away with the game just after half time. The less kind way would be to say that the Bulls had shot their bolt over the last fortnight. We'll take the kind way, but there might be quite a few who take the unkind, for the Bulls really were poor. Whether you are in a win-at-all-costs or in a damage limitation mindset, a ruck/maul turnover count of 9-2 against you is unacceptable.
The Crusaders seemed to have much of their tight game planned. Four times in the first ten minutes we saw a little chip-kick from either fly-half Stephen Brett or one of his co-runners in the backs off first or second phase ball. One also came from flanker Kieran Read.
That was on their own ball. On turnover ball, which came frequently enough to indicate it had been perceived as a possible tactic by Robbie Deans, the Crusaders often opted for a longer kick downfield.
Twice it nearly yielded a try but some scrambled defence by Derick Hougaard the first time and Wayne Julies the second held the home team out.
Other times the kick itself was relatively harmless, but rendered dangerous by a latent lack of ability from Jaco van der Westhuyzen - whose beard and headband made him look remarkably like some late 70's tennis-playing playboy - to find touch with his clearances.
Hougaard's intervention came at the cost of a scrum in the second minute, and from the scrum, Mose Tuiali'is charge cut deep enough into the Bulls defence that the others were caught offside at the next phase. Brett goaled to make it 3-0.
Then in the seventh minute, one of Van der Westhuyzen's wayward missiles was returned for the opening try. After Tuiali'i - responsible for so much of the Crusaders' forward momentum throughout the match - had run the ball back down the touchline, the ball went wide. Caleb Ralphheld the ball just long enough to suck in the defenders, before two more passes left had Johnny Leo'o in the corner. Brett failed with the tricky conversion.
The Crusaders went off the boil for a time, and the visitors blundered their way back into the game. Hougaard goaled one of several penalties the home team gave away to make it 8-3, and just missed another. They ought to have made more of their period of domination, but the concession of possession was so regular that there was no danger of a Bulls try at any time.
Brett got the Crusaders firing again with an electric break from his own 22 after 25 minutes, with lock Michael Paterson carryng on the move and a likely try butchered by the option another chip-kick, this one from prop Wyatt Crockett.
On 31 minutes, the Crusaders took an insurmountable lead. Van der Westhuyzen once again missed touch with a clearance, and the ball was taken into contact in the midfield. Casey Laulala cut a good straight line into the drifting Bulls backs, and popped inside to Scott Hamilton. He chipped, Pedrie Wannanburg failed to regather, and Rico Gear tok the ball over for the try.
Brett made it 18-3, then almost sparked another try with another break two minutes later, but for an untimely Van der Westhuyzen hand batting away the crucial pass. Peter Hynes was yellow-carded for less on Friday, this time Van der Westhuyzen was indulged and the Crusaders were awarded a mere scrum.
Moments later, the first half was epitomised, when Wannenburg took the ball off a line-out, and promptly had it wrestled from him by Kevin Senio near the Bulls line. It didn't lead to a score, but it was the kind of play that stuffed any chance of the Bulls increasing their own tally of points.
Six minutes after the break, the Crusaders had wrapped the game up, along with the bonus point. First there came a terrific try by young Tim Bateman in the centre, whose deceptive languid stride had Bryan Habana making the schoolboy error of turning his back in an attempt to cover the angles. Bateman promptly stormed past Habana on the right, slithered through Gary Botha's tackle, and went over. Brett made it 25-3 with the extras.
Then on 46 minutes, Leo'o busted the midfield line, and found Rico Gear running the angle, and although the AB winger was caught Scott Hamilton was on hand to dash under the posts, making it 32-3.
There was, in truth, little else worth talking about. The Bulls regained a measure of composure on the ball, but only a little more momentum. It was enough momentum to send Wikus van Heerden over for a try off a line-out on 50 minutes though, with Hougaard converting to make the score 32-10.
There was also the try that never was from Rico Gear, who was sent scampering to the corner in some broken play, only to inexplicably try and change hands during his scoring dive and lose the ball mid-touchdown.
It mattered not. The Crusaders had complete control of the game, and cruised hoe to victory with minimum fuss.
Man of the match: Plenty of red-shirted candidates, and no Blue. Stephen Brett once again warned Dan Carter not to rest on his laurels with a commanding fly-half performance, and Johnny Leo'o did sterling work down in the dirt, but for combining some unstoppable running and some precious ball-mining in the mud, Mose Tuiali'i gets this week's accolade.
The scorers:
For the Crusaders:
Tries: Leo'o, Gear, Bateman, Hamilton
Cons: Brett 3
Pens: Brett 2
For the Bulls:
Tries: Van Heerden
Cons: Hougaard
Pens: Hougaard
Teams:
Crusaders: 15 Scott Hamilton,14 Rico Gear, 13 Casey Laulala, 12 Tim Bateman, 11 Caleb Ralph, 10 Stephen Brett, 9 Kevin Senio, 8 Mose Tuiali'i, 7 Johnny Leo'o, 6 Kieran Read, 5 Ross Filipo, 4 Michael Paterson, 3 Campbell Johnstone, 2 Corey Flynn (c), 1 Wyatt Crockett.
Replacements: 16 Ti'i Paulo, 17 Ben Franks, 18 Isaac Ross, 19 Peter Nixon, 20 Andrew Ellis, 21 Tusi Pisi, 22 Brent Ward.
Bulls: 15 Jaco van der Westhuyzen, 14 Akona Ndungane, 13 Marius Delport, 12 Wayne Julies, 11 Bryan Habana, 10 Derick Hougaard, 9 Fourie du Preez (c), 8 Pedrie Wannenburg, 7 Wikus van Heerden, 6 Danie Rossouw, 5 Francois van Schouwenburg, 4 Bakkies Botha, 3 Danie Thiart, 2 Gary Botha, 1 Gurthro Steenkamp.
Replacements: 16 Derick KuŁn, 17 Ruan Vermeulen, 18 Victor Matfield, 19 Anton Leonard, 20 Heinie Adams, 21 Mornť Steyn, 22 Frikkie Welsh.
Referee: Stuart Dickinson (Australia)
Touch judges: Paul Marks (Australia) Steve Walsh (New Zealand)
Television match official: Vinnie Munro (New Zealand)
Assessor: Stuart Beissel (New Zealand)