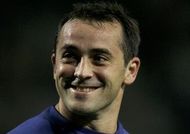 Saracens will continue their push for a top four place in the Guinness Premiership when Bristol are the visitors to Vicarage Road on Sunday and the Men In Black welcome back Thomas Castaignède to the starting line-up.
The French international has been missing through injury since the New Year but after coming off the replacements bench at Newcastle last week, he's been named at full-back to start the game against Bristol.
In other team news, Richard Hill, Neil de Kock, Kevin Yates and Iain Fullarton come back into the squad while Cencus Johnston comes in at tighthead prop for the injured Cobus Visagie. On the bench, Ross Laidlaw returns to first team action after missing much of the season with a shoulder injury.
"There is a lot left to play for this season and we've put ourselves in a position where we can push for the top four in the Guinness Premiership," explained Saracens coach Richard Graham.
"We've got a proud home and away record over the course of the season, but now it's all about focusing on the remaining five games.
"Importantly for us, we've still got to play three teams in Bristol, London Irish and Wasps who are either just above or below us in the league so at least there we can control our own destiny.
"We know we will have a tough game against Bristol on Sunday. They have performed well all season and have a very experienced forward pack and also have a good fly half in Jason Strange to guide them around the pitch.
"It will be a good test to see where we are, what reaction we will get from the players after the defeat at Newcastle and also, a strong indication of where we may finish at the end of the season. It's a very important game for us."
Meanwhile, Bristol coach Richard Hill has made six changes to his starting line-up with flanker Joe El Abd appointed as skipper.
It's been a tough few weeks for Bristol who have slipped to three consecutive defeats in the Guinness Premiership after only losing twice in the first 14 matches. And there is no let up in the pressure with Saracens only five points behind Bristol in the table.
Bristol's injury list increased yet further last weekend when scrum half Brian O'Riordan suffered a dislocated shoulder in the home reverse to London Irish robbing Richard Hill of another front line player.
O'Riordan may have started the season as back up to Shaun Perry but he played a key role in Bristol's season to date making 19 appearances and the scrum-half duties now fall to Greg Nicholls who has yet to start a first team game this season.
Other changes in the backline see Sam Cox return in the centre, Craig Morgan back on the wing and a first Premiership start of the season for Argentinian international full-back Bernardo Stortoni who has missed most of the season through illness.
The only changes in the pack are in the second row where Roy Winters and Gareth Llewellyn stand down in favour of Mariano Sambucetti and Sean Hohneck.
Vicarage Road was the scene of a key win for Bristol in 2005-6, but Assistant Coach Martin Haag acknowledged that a repeat of that result would be tough to achieve when he announced his team today.
"It's going to be tough up there," said Haag.
"When you look at their record at home and consider that they're the in form team in the Premiership then we have to be considered as underdogs."
"But the guys who have come into the team this week have added a bit of spice and are all looking forward to it. We're not going there with a losing mentality, we're going there with a desire to win."
Saracens: 15 Thomas Castaignède, 14 Dan Scarbrough, 13 Rodd Penney, 12 Kevin Sorrell, 11 Kameli Ratuvou, 10 Glen Jackson, 9 Neil de Kock, 8 Ben Skirving, 7 Richard Hill, 6 Kris Chesney, 5 Simon Raiwalui, 4 Iain Fullarton, 3 Cencus Johnston, 2 Shane Byrne, 1 Kevin Yates.
Replacements: 16 Matt Cairns 17 Nick Lloyd 18 Hugh Vyvyan 19 David Seymour 20 Moses Rauluni 21 Ross Laidlaw 22 Tomas de Vedia
Bristol: 15 Bernardo Stortoni, 14 Lee Robinson, 13 Neil Brew, 12 Sam Cox, 11 Craig Morgan, 10 Jason Strange, 9 Greg Nicholls, 8 Andrew Blowers, 7 Joe El Abd (captain), 6 Nathan Budgett, 5 Sean Hohneck, 4 Mariano Sambucetti, 3 Darren Crompton, 2 Scott Linklater, 1 Alex Clarke,
Replacements: 16 Wayne Thompson, 17 Dave Blaney, 18 Roy Winters, 19 Redford Pennycook, 20 Danny Gray, 21 David Lemi, 22 Josh Taumalolo
Date:
Venue:
Kick-off:
Referee: Sean Davey
Touch judges: Paul Bridgman, David Kurk
Television match official: John Burtenshaw