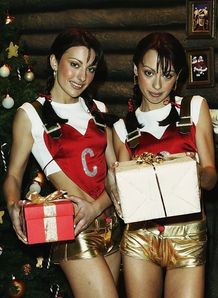 Related links
Also see
It is not just you good people who will be running downstairs to see what is under the tree. Here we look at what some of rugby's elite will be getting.
Some were requested by the said person while others we thought best to spring a surprise. Remember now, this is tongue in cheek. Merry Christmas!
Brendan Venter - A signed DVD copy of Mike Bassett: England Manager
Sonny Bill Williams - A charity fight against Mike Tyson (that will make him think twice about boxing weeks before Super Rugby 2010)
Drew Mitchell - A time machine to go back to Twickenham so he could wipe that smile off the face of Chris Ashton
Matt Giteau - Two weeks free pass at kicking school
James O'Connor - A fake ID
Gavin Henson - A pair of rugby boots...we'll even tie the laces for him
Graham Henry - One helicopter to get to a secret underground lair just in case New Zealand don't win the 2011 World Cup
Robbie Deans - One helicopter to get him to a secret underground lair just in case Australia win the 2011 World Cup
Richard Cockerill - One injury-free card for 2011
Jerry Flannery - See above
Glasgow squad - New hand luggage bags, complete with contact lenses and what the heck, let's throw in a tracking device
Nick Evans - One air ticket back to New Zealand (terms and conditions - runs out before September 2011)
Marc Lièvremont - A review DVD of how his team won the Six Nations Grand Slam so he knows what XV to stick with.
Robbie Fruean - His list to Santa had just one request, recognition for good ITM Cup form
Richie McCaw - A year's worth of cotton wool, kindly supplied by the public of New Zealand
Dan Carter - See above
Golden Lions Rugby Union - A gift voucher to attend "Law 101: How to draw up a binding contract" at the University of Johannesburg
Gavin Henson - 1 Litre value pack of make-up remover. Eye liner = zero changing room credibility
Jonny Wilkinson - A nice new bright red beach towel. Life is gets tough on the Med in the summer!
All the very best to you all this festive period!