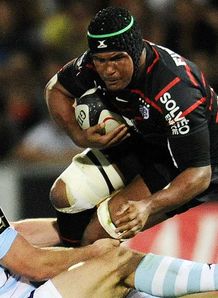 Toulouse captain Thierry Dusautoir said he felt devastated that the club's run of 20 successive semi-final appearances had come to an end.
Racing Metro secured a shock 21-16 play-off victory over Toulouse at Stade Ernest Wallon on Friday and will now face Toulon in Lille on May 16 in the first semi-final.
Ireland fly-half Jonathan Sexton was Racing's hero as he scored all their points via seven penalties.
"It's a huge disappointment after playing in the semi-finals for 20 years," said Dusautoir.
"On the game itself, we tried to up the intensity in the second half, but left it too late."
The result was also revenge for a Racing side who had lost 33-19 to the same opponents at the same venue in the quarter-finals 12 months ago.
"We were saying that we felt a little cursed in the play-offs," said Racing centre Henry Chavancy.
"These last four years we had made the play-offs but had not won a game.
"We stood together tonight. We showed that Racing are a band of brothers."
On Saturday, Clermont take on defending champions Castres with the winners to meet Montpellier in the semi-finals.