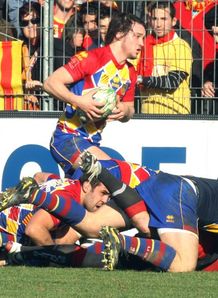 French scrum-half Florian Cazenave was stripped of his French Rugby Federation (FFR) licence on Monday after losing his eye in a domestic accident.
The 24-year-old Perpignan half-back lost the eye after sustaining a bad injury in June last year, and following a lengthy rehabilitation process had been given the medical green light to resume playing.
But the FFR ruled against renewing his licence.
"The FFR rules are very clear: when you've lost a bilateral organ, there is a formal prohibition against practising rugby," said the FFR medical commission president Jean-Claude Peyrin.
"It is therefore impossible for Florian Cazenave to play rugby again in France, whether in the Top 14 or in the fourth division, as he cannot obtain a licence."
Cazenave had asked to wear special glasses, which are being tested by the International Rugby Board (IRB), but the FFR refused to test these in France.