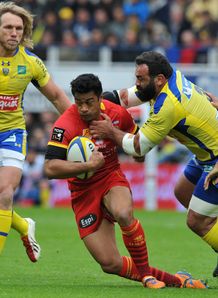 Related links
Also see
Perpignan were relegated from the Top 14 on Saturday despite picking up a losing bonus-point in Clermont on a drama-filled final day of the regular season.
USAP looked on course to end Clermont's 76-game home unbeaten streak but three yellow cards in the final quarter combined with a miraculous comeback by Oyonnax - who came back from 19-3 down to save a bonus point in Brive - saw the 2009 champions drop out of the top division for the first time in 103 years.
Toulon finished top thanks to a narrow win over Stade Français after Morne Steyn missed a late conversion that would have earned the Parisians a play-off berth.
Montpellier joined Toulon in moving directly into the semi-finals after crushing Racing-Metro 44-10.
Toulouse thrashed Grenoble to leap up the final standings and secure a home play-off.
Results:
Clermont 25-22 Perpignan
Bayonne 23-13 Castres
Bordeaux-Bègles 54-20 Biarritz
Brive 19-17 Oyonnax
Montpellier 44-10 Racing Métro
Toulon 17-15 Stade Français
Toulouse 38-8 Grenoble
Play-off fixtures:
Clermont v Castres (10 May )
Toulouse v Racing (9 May)
Semi-finals:
Toulon v Toulouse/Racing (16 May)
Montpellier v Clermont/Castres (17 May)
---
ASM Clermont Auvergne 25-22 USA Perpignan
Parc des Sports Marcel Michelin, Clermont Ferrand
Perpignan came with minutes of saving their place in the Top 14 but buckled under pressure in the dying minutes, punished by three second-half yellow cards.
The Catalans led several times and came close to ending Clermont's four-year winning run at home.
Even a draw would still have been enough to keep the seven-time champions up but a late Morgan Parra penalty gave Clermont a three-point victory. Wales fly-half James Hook will have plenty of regrets having missed a penalty from straight in front of the posts that proved incredibly costly.
Perpignan started badly when Wesley Fofana went over for the hosts. But the Catalans took the lead at 13-10 after Hook converted a try from South African wing Wandile Mjekevu.
But Clermont scrum-half Morgan Para won the kicking battle with Hook, landing a further five penalties to Hook's four.
The scorers:
For Clermont:
Try: Fofana
Con: Parra
Pens: Parra 6
Yellow cards: Malzieu, Sivivatu
For Perpignan:
Try: Mjekevu
Con: Hook
Pens: Hook 4
Drop: Hook
Yellow cards: Mjekevu, Guiry, Vilaceca
Clermont:15 Jean Marcellin Buttin, 14 Sitiveni Sivivatu, 13 Aurelien Rougerie, 12 Wesley Fofana, 11 Julien Malzieu, 10 Mike Delany, 9 Morgan Parra, 8 Elvis Vermeulen, 7 Alexandre Lapandry, 6 Gerhard Vosloo, 5 Nathan Hines, 4 Julien Pierre, 3 Davit Zirakashvili, 2 Benoit Cabello, 1 Thomas Domingo.
Replacements: 16 Benjamin Kayser, 17 Vincent Debaty, 18 Jamie Cudmore, 19 Damien Chouly, 20 Ludovic Radosavljevic, 21 Brock James, 22 Regan King, 23 Clement Ric.
Perpignan: 15 Richard Haughton, 14 Wandile Mjekevu, 13 David Marty, 12 Lifeimi Mafi, 11 Watisoni Votu, 10 James Hook, 9 Nicolas Durand, 8 Justin Purll, 7 Alasdair Strokosch, 6 Bertrand Guiry, 5 Romain Taofifenua, 4 Guillaume Vilaceca, 3 Kisi Pulu, 2 Guilhem Guirado, 1 Sebastien Taofifenua.
Replacements: 16 Romain Terrain, 17 Sona Taumalolo, 18 Maxime Delonca, 19 Karl Chateau, 20 Dewaldt Duvenage, 21 Tommaso Benvenuti, 22 Sione Piukala, 23 Giorge Jgenti.
---
Aviron Bayonnais 23-13 Castres Olympique
Stade Jean Dauger, Bayonne
Castres held onto their play-off spot despite the defeat at Bayonne as Stade Francais's losing bonus-point against Toulon left them a point short of the play-offs.
The champions face a trip to Clermont and the daunting Parc des Sports Marcel Michelin in the play-offs in a repeat of last year's semi-final, in which Castres shocked the odds-on favourites a week after Clermont had lost to Toulon in the European Cup final.
Bayonne led 10-6 at the interval and pressed home their advantage in the second half to finish tenth.
The scorers:
For Bayonne:
Tries: Ugalde, Rokocoko
Cons: Bustos Moyano 2
Pens: Bustos Moyano 3
For Castres:
Try: Tales
Con: Garcia
Pens: Kockott 2
Bayonne: 15 Scott Spedding, 14 Martin Bustos Moyano, 13 Joe Rokocoko, 12 Matthieu Ugalde, 11 Marvin O'Connor, 10 Santiago Fernandez, 9 Guillaume Rouet, 8 Charles Ollivon, 7 Dwayne Haare, 6 Mark Chisholm, 5 Lisiate Faaoso, 4 Dewald Senekal, 3 Gert Muller, 2 David Roumieu, 1 JC Janse van Rensburg.
Replacements: 16 Anthony Etrillard, 17 Aretz Iguiniz, 18 Opeti Fonua, 19 Jean Monribot, 20 Jean Joseph Marmouyet, 21 Mathieu Belie, 22 Manu Ahotaeiloa, 23 Vitolio Manukula.
Castres: 15 Brice Dulin, 14 Marcel Garvey, 13 Romain Cabannes, 12 Remi Lamerat, 11 Remy Grosso, 10 Remi Tales, 9 Rory Kockott, 8 Antonie Claassen, 7 Ibrahim Diarra, 6 Jan Bornman, 5 Rodrigo Capo Ortega, 4 Christophe Samson, 3 Ramiro Herrera, 2 Brice Mach, 1 Yannick Forestier.
Replacements: 16 Mathieu Bonello, 17 Saimone Taumoepeau, 18 Richie Gray, 19 Yannick Caballero, 20 Cedric Garcia, 21 Daniel Kirkpatrick, 22 Seremaia Bai, 23 Mihaita Lazar.
---
Montpellier Hérault Rugby 44-10 Racing Métro 92
Stade Yves Du Manoir, Montpellier
Racing had come into the match as the team with the most points in the second half of the season but imploded as Montpellier ran in five tries to one from Ireland fly-half Jonathan Sexton.
It was one-way traffic as Montpellier led 23-3 at the break thanks to a double from ex-Springbok Wynand Olivier.
François Trinh-Duc was particularly impressive, scoring a try and finishing with a 100 percent record from the kicking tee for a personal haul of 22 points.
The scorers:
For Montpellier:
Tries: Olivier 2, Ranger, Trinh-Duc, Combezou
Cons: Trinh-Duc 4, Escande
Pens: Trinh-Duc 3
For Racing Métro:
Try: Sexton
Con: Sexton
Pen: Sexton
Yellow card: Van der Merwe
Montpellier: 15 Pierre Berard, 14 Rene Ranger, 13 Anthony Tuitavake, 12 Wynand Olivier, 11 Yoan Audrin, 10 Francois Trinh-Duc, 9 Jonathan Pelissie, 8 Alex Tulou, 7 Mamuka Gorgodze, 6 Alexandre Bias, 5 Thibault Privat, 4 Robins Tchale-Watchou, 3 Nicolas Mas, 2 Charles Geli, 1 Mikheil Nariashvili.
Replacements: 16 Mickael Ivaldi, 17 Yvan Watremez, 18 Sitaleki Timani, 19 Fulgence Ouedraogo, 20 Eric Escande, 21 Thomas Combezou, 22 Anthony Floch, 23 Paea Fa'anunu.
Racing Métro: 15 Juan Martin Hernandez, 14 Adrien Plante, 13 Fabrice Estebanez, 12 Jamie Roberts, 11 Marc Andreu, 10 Jonathan Sexton, 9 Maxime Machenaud, 8 Jacques Cronje, 7 Antoine Battut, 6 Wenceslas Lauret, 5 Francois van der Merwe, 4 Juandre Kruger, 3 Luc Ducalcon, 2 Virgile Lacombe, 1 Julien Brugnaut.
Replacements: 16 Jeremie Maurouard, 17 Eddy Ben Arous, 18 Fabrice Metz, 19 Bernard Le Roux, 20 Mike Phillips, 21 Henry Chavancy, 22 Benjamin Lapeyre, 23 Brian Mujati.
---
Rugby Club Toulonnais 17-15 Stade Français Paris
Stade Allianz Riviera, Nice
Stade Français missed out on a play-off berth by the narrowest of margins after Morne Steyn sent his conversion attempt wide following Heinke van der Merwe's 77th minute try.
The Parisians should have done better against a Toulon side that played the last half-hour with 14 men after Georgian hooker Konstantin Mikautadze was sent off for stamping.
The consolation for Stade Français is that the losing bonus point secures them a play-off against Wasps for a place in next season's European Champions Cup.
The scorers:
For Toulon:
Try: Mitchell
Pens: Michalak 4
Red card: Mikautadze
For Stade Français:
Tries: Bonneval, Van der Merwe
Con: Fillol
Pen: Fillol
Yellow cards: Plisson, Danty, Ioane
Toulon: 15 Drew Mitchell, 14 David Smith, 13 Mathieu Bastareaud, 12 Maxime Mermoz, 11 Bryan Habana, 10 Frederic Michalak, 9 Michael Claassens, 8 Juan Martin Fernandez Lobbe, 7 Virgile Bruni, 6 Juan Smith, 5 Ali Williams, 4 Konstantin Mikautadze, 3 Martin Castrogiovanni, 2 Craig Burden, 1 Alexander Menini.
Replacements: 16 Jean Charles Orioli, 17 Xavier Chiocci, 18 Jocelino Suta, 19 Steffon Armitage 20 Matt Giteau, 21 Delon Armitage, 22 Sebastien Tillous-Borde, 23 Carl Hayman.
Stade Français: 15 Hugo Bonneval, 14 Julien Arias, 13 Waisea Nayacalevu, 12 Meyer Bosman, 11 Digby Ioane, 10 Jules Plisson, 9 Jerome Fillol, 8 David Lyons, 7 Sylvain Nicolas, 6 Antoine Burban, 5 Pascal Papé, 4 Alexandre Flanquart, 3 Rabah Slimani, 2 Laurent Sempere, 1 Heinke Van der Merwe.
Replacements: 16 Michael Van Vuuren, 17 Zurabi Zhvania, 18 Carl Wegner, 19 Scott Lavalla, 20 Julien Dupuy, 21 Morne Steyn, 22 Jonathan Danty, 23 Davit Kubriashvili.
---
Stade Toulousain 38-8 FC Grenoble
Stade Ernest Wallon, Toulouse
Toulouse ran in six tries, including a hat-trick from former All Black wing Hosea Gear, to blitz Grenoble and take the winning bonus-point that propelled them above Racing on a better head-to-head record.
A home play-off against Racing now awaits the 17-time French champions.
The scorers:
For Toulouse:
Tries: Gear 3, Vermaak 2, Picamoles
Cons: McAlister, Doussain 3
Yellow card: Maestri
For Grenoble:
Try: Dardet
Pen: Stewart
Pen: Stewart
Yellow card: Alexandre
Toulouse: 15 Maxime Medard, 14 Vincent Clerc, 13 Florian Fritz, 12 Clement Poitrenaud, 11 Hosea Gear, 10 Luke McAlister, 9 Jean Marc Doussain, 8 Louis Picamoles, 7 Thierry Dusautoir, 6 Yannick Nyanga, 5 Joe Tekori, 4 Romain Millo-Chluski, 3 Census Johnston, 2 Jaba Bregvadze, 1 Schalk Ferreira.
Replacements: 16 Christopher Tolofua, 17 Cyril Baille, 18 Yoann Maestri, 19 Yacouba Camara, 20 Jano Vermaak, 21 Gael Fickou, 22 Akapusi Qera, 23 Yohann Montes.
Grenoble: 15 Fabien Gengenbacher, 14 Matthieu Nicolas, 13 Rida Jaouher, 12 Nigel Hunt, 11 Daniel Kilioni, 10 Blair Stewart, 9 James Hart, 8 Fabien Alexandre, 7 Peter Kimlin, 6 Olivier Chaplain, 5 Andrew Farley, 4 Ben Hand, 3 Dayna Edwards, 2 Laurent Bouchet, 1 Albertus Buckle.
Replacements: 16 Alexandre Dardet, 17 Florian Lescadieu, 18 Hendrik Roodt, 19 Jonathan Best, 20 Geoffroy Messina, 21 Rudi Coetzee, 22 Lilian Saseras, 23 Kevin Goze.
---
CA Brive-Corrèze 19-17 US Oyonnax
Stade Amédée-Domenech, Brive-la-Gaillarde
A late try by Oyonnax's Jonathan Bousquet gave his side a losing bonus-point that kept them in the 14 and sent Perpignan down.
Oyonnax came back from 19-3 down against a Brive side that had nothing left to play for, to score tries from Guillaume Bousses in the 66th minute and then Bousquet eight minutes from time to secure the all-important bonus point.
The scorers:
For Brive:
Try: Pejoine
Con: Germain
Pens: Germain 4
Yellow card: Ribes
For Oyonnax:
Tries: Boussès, Bousquet
Cons: Urdapilleta 2
Pens: Urdapilleta
Yellow cards: Browne, Tebani, Lassalle
Brive: 15 Gaetan Germain, 14 Guillaume Namy, 13 Arnaud Mignardi, 12 Andrew Mailei, 11 Malakai Bakaniceva, 10 Thomas Laranjeira, 9 Jean-Baptiste Pejoine, 8 Sisa Koyamaibole, 7 Dominiko Waqaniburotu 6 Petrus Human, 5 Arnaud Mela, 4 Julien Ledevedec, 3 Tamato Leupolu, 2 Guillaume Ribes, 1 Goderdzi Shvelidze.
Replacements: 16 Karlen Asieshvili, 17 Damien Lavergne, 18 Hugues Briatte, 19 Said Hireche, 20 Damien Neveu, 21 Thomas Sanchou, 22 Laurent Ferreres, 23 Johan Coetzee.
Oyonnax: 15 Régis Lespinas, 14 Silvere Tian, 13 Guillaume Bousses, 12 Roimata Hansell-Pune, 11 Jonathan Bousquet, 10 Benjamin Urdapilleta, 9 Agustin Figuerola, 8 Vili Ma'afu, 7 Valentin Ursache, 6 Joe El Abd, 5 Damien Browne, 4 Thibault Lassalle, 3 Marc Clerc, 2 Jody Jenneker, 1 Lukas Rapant.
Replacements: 16 Salim Tebani, 17 Ruaan du Preez, 18 Damien Lagrange, 19 Christophe Andre, 20 Fabien Cibray, 21 Hemani Paea, 22 Florian Denos, 23 Antoine Tichit.
---
Union Bordeaux-Bègles 54-20 Biarritz Olympique
Stade Jacques Chaban-Delmas, Bordeaux
Biarritz's miserable season ended in fitting style with another thrashing.
UBB needed a bonus-point win to hope for a chance to make the European play-offs. The hosts scored a full-house of points but were denied due to Stade Stade Français's losing bonus-point.
The scorers:
For Bordeaux-Bègles:
Tries: Lonca, Le Bourhis, Treloar, Brousse, Avei, Fakate, Talebula 2
Cons: Bernard 4, Saubusse
Pens: Bernard 2
Yellow card: Maynadier
For Biarritz:
Tries: Thomas, Lesgourgues
Cons: Baby 2
Pens: Baby 2
Bordeaux-Bègles: 15 Romain Lonca, 14 Charles Brousse, 13 Felix Le Bourhis, 12 Thibault Lacroix, 11 Darly Domvo, 10 Pierre Bernard, 9 Heini Adams, 8 Matthew Clarkin, 7 Hugh Chalmers, 6 Louis-Benoit Madaule, 5 Aliki Fakate, 4 Jan Andre Marais, 3 Silviu Florea, 2 Ole Avei, 1 Benat Auzqui.
Replacements: 16 Clement Maynadier, 17 Laurent DelBoulbes, 18 Adam Jaulhac, 19 Cameron Treloar, 20 Matt Graham, 21 Manu Saubusse, 22 Metuisela Talebula, 23 Benjamin Sa.
Biarritz: 15 Paul Couet-Lannes, 14 Takudzwa Ngwenya, 13 Charles Gimenez, 12 Seremaia Burotu, 11 Teddy Thomas, 10 Benoit Baby, 9 Yann Lesgourgues, 8 Raphael Lakafia, 7 Tanguy Molcard, 6 Benoit Guyot, 5 Thibault Dubarry, 4 Erik Lund, 3 Francisco Gomez Kodela, 2 Romain Ruffenach, 1 Fabien Barcella.
Replacements: 16 Arnaud Heguy, 17 Thomas Synaeghel, 18 Josh Furno, 19 Ueleni Fono, 20 Julien Peyrelongue, 21 Damien Traille, 22 Aled Brew, 23 Eugene van Staden.