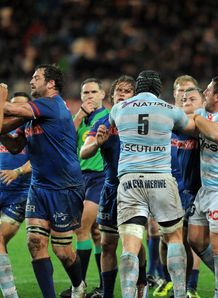 Related links
Teams
Also see
The Ligue Nationale de Rugby (LNR) has on Wednesday announced several changes to the Top 14 league format that will kick in from next season.
Instead of the losing bonus-point being given for finishing seven points or less behind the winning the team, that margin has been reduced to five.
There is also a one-match suspension for any player that is brandished with three yellow cards in an attempt to reduce foul play and up tempo.
Meanwhile, there's a boost to teams who boast international stars as during pre-season, a group of 30 players will be named in the France squad, which will lead to an extra €100,000 per player being granted to a Top 14 side's salary cap. That cap has been frozen at €10 million next season.
In other positives to clubs who lose players to the national set-up, compensation paid to them is set for an increase from €550 to €1,300 per day.