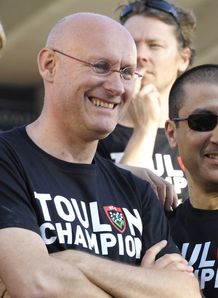 Related links
Also see
Toulon manager Bernard Laporte has had his 16-week ban temporarily lifted by the French National Olympic Committee.
Laporte's suspension, following his outbursts regarding referee Laurent Cardona, was extended from 13 to 16 weeks by an LNR appeals committee last week, prompting Toulon to take their appeal to the ComitÚ National Olympique et Sportif Franšais (CNOSF), which is the highest authority in sport in France.
The CNOSF have appointed two mediators to deal with the case, which will be heard on Thursday April 3.
In the meantime, Laporte's ban - which covers access to stadiums as well as referee's and players' dressing rooms - has been temporarily lifted, meaning he will be able to play a role in Saturday's Top 14 clash with Toulouse.