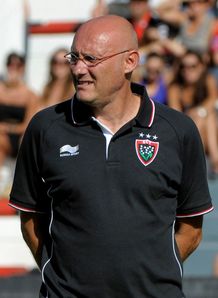 Related links
Also see
Toulon have turned to the French National Olympic and Sports Committee to appeal manager Bernard Laporte's 16-week ban.
Laporte had initially been suspended for 13 weeks by the Disciplinary Committee of the Ligue Nationale de Rugby (LNR) following his disparaging remarks regarding referee Laurent Cardona but had his ban extended by three weeks by the Appeals Committee of the French Federation ( FFR) last Friday.
Laporte has been banned from the touchline and changing rooms until June 3. He may also not communicate in any way with officials or players or the Toulon staff during fixtures, meaning he will not be able to have an hands-on role in the rest of his team's domestic and European season.
The ComitÚ National Olympique et Sportif Franšais (CNOSF) is the highest authority in sport in France.