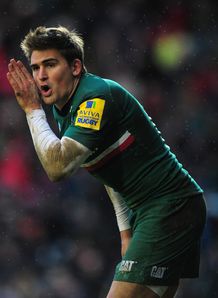 Related links
Teams
As expected, Toulouse have confirmed the arrival of England and Leicester Tigers fly-half Toby Flood for next season.
One of the worst kept secrets in Europe over the last few months, Flood will move to France on a three-year contract after ten years in the Premiership, first with Newcastle Falcons before joining Leicester in 2008.
Flood has won 60 caps for England, scoring over 300 points, but will now be unavailable for selection following his move across the channel.
"Stade Toulousain symbolizes French rugby. There is a great history at this club, which is respected around the world," said Flood.
"I saw several similarities between the tradition and history here at Toulouse and with my current club Leicester Tigers. That was one of my reasons for joining and I hope to have similar success here with Toulouse as I have in England.
"I had the opportunity to try something different between what I'm used to in England and how everything is done in France, particularly in terms of training and preparation for matches. As I said, whether in Leicester or Toulouse, there is great tradition and top-class coaches.
"I really enjoyed all my time with Leicester. But coming here is like a new start for me, probably with new things to learn. It's like being a kid again coming here to a new lifestyle and learning to play the Toulouse way."