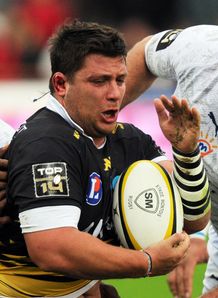 Biarritz prop Alexandre Menini has confirmed that he will join Toulon as an injury replacement for Andrew Sheridan.
Sheridan, who underwent surgery on an neck injury in Marseille last Thursday, has been ruled out until the end of the season.
The former England international has been struggling with the injury since November and there have been question marks over his playing future. But a source close to the club has confirmed that the 34-year-old plans to honour the final year of his contract next season, according to reports in the French press.
Short on front row options, RCT have signed up 30-year-old Menini as a medical joker. Menini confirmed the news via Twitter on Tuesday.
The former Mont-de-Marsan prop has played 11 games for Biarritz this season, starting seven times.