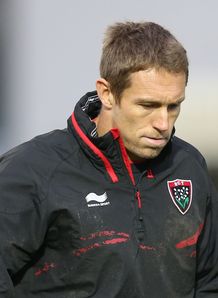 Toulon fly-half Jonny Wilkinson played down his role in his 100th Top 14 match despite scoring all his side's points in Sunday's 15-9 win over relegation-threatened Bayonne.
The 34-year-old celebrated his milestone by landing four penalties and one drop goal to give Toulon only their second away win in eight away matches this season and consolidated their place in the top six places for the play-offs - they are five points ahead of seventh placed Toulouse.
For Bayonne defeat - only their second at home this season - leaves them in a precarious position as while they got a defensive bonus point they are only four points clear of second from bottom Oyonnax, who have two games in hand.
Bayonne's fellow Basque club Biarritz look doomed despite beating Grenoble on Saturday as they are 18 points off safety and just seven games to play for them. Wilkinson - who took his points total in his Top 14 career to 1367 points - was delighted with the rare win away from home.
"All wins are important but this one is particularly so," said Wilkinson, who has scored just three tries for Toulon.
"Bayonne are a very strong team and they are capable of beating anyone.
"Obviously I'm happy to win on my 100th appearance but it is more important for the team.
"It fell on me to score the points because these days in the Top 14 all the defences are very strong and you have to take the points when they are offered."