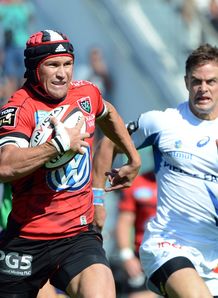 Under-pressure Toulon host Castres in a rematch of last season's final on Saturday while Toulouse visit Biarritz for a high-stakes clash.
With Toulouse facing the threat of missing the play-offs and Biarritz staring down the barrel of relegation, the ramifications of the result in the Basque Country could be massive.
Elsewhere, Montpellier host a Mediterranean derby with Perpignan while Oyonnax battle Bordeaux-Bègles in a relegation showdown.
Fixtures:
Friday, February 14
Grenoble v Clermont
Saturday, February 14
Toulon v Castres
Biarritz v Toulouse
Montpellier v Perpignan
Oyonnax v Bordeaux-Bègles
Racing Métro 92 v Bayonne
Brive v Stade Français
---
Previews:
Rugby Club Toulonnais v Castres Olympique
Stade Felix Mayol, Toulon
European champions Toulon will seek to get a measure of revenge over Castres, who denied them in the Top 14 final last season, and consolidate their place in the top six to boot.
Toulon, who lie fifth in the table, three points off third-placed Castres in what has been thus far a poor season for them, will go into the match fired up even more after their head coach Bernard Laporte was slapped with a 13-game ban on Wednesday for his tirade against a referee.
The club have appealed against the punishment but they are a side that thrives on confrontation and casting themselves as victims - club president Mourad Boudjellal having also in the past been heavily punished for his outspoken comments - and Castres can expect to feel the backlash.
The match is seen as so crucial to Toulon's prospects of even qualifying for Europe through their final league position that Boudjellal has instructed that France centre Mathieu Bastareaud be selected.
That came after France coach Philippe Saint-André's plea that those players who started in both the wins over England and Italy in the Six Nations should be rested.
"There are people such as the president of the Federation or the coach of the French team that take decisions that mean others lose out," said Boudjellal.
"If we lose against Castres, we seriously risk missing out on top level European competition next season."
Castres, though, will be no pushovers having adapted well to life after becoming somewhat surprising champions.
The team that their highly-rated backrow forward Ibrahim Diarra describes as being 'country bumpkins' has been boosted this week with a whole swathe of players committing themselves to the club by signing new contracts.
They will be able to call on captain and fly-half Rémi Talès after he recovered from a neck problem but will acquiesce with Saint-Andre's request and not select French fulléback Brice Dulin.
Castres, though, will look to their South African points machine Rory Kockott to set aside a possible conflict of loyalties as he is reputed to have signed a pre-contract agreement with Toulon for next season.
For Castres president Pierre-Yves Revol the reason for their continued success is down to the fact they have not let last season's triumph go to their heads.
"We have largely managed our success last season in a good way," he told AFP.
"That is because we didn't think that just because we won the title it propelled us into the role of the driving force of French club rugby.
"We are not that pretentious. We have humble people around us and within the squad, who allow us to keep our feet on the ground."
Toulon: 15 Delon Armitage, 14 Drew Mitchell, 13 Maxime Mermoz, 12 Matt Giteau, 11 David Smith, 10 Jonny Wilkinson, 9 Frederic Michalak, 8 Steffon Armitage, 7 Virgile Bruni, 6 Juan Smith, 5 Ali Williams, 4 Jocelino Suta, 3 Levan Chilachava, 2 Craig Burden, 1 Emmanuel Felsina,
Replacements: 16 Benjamin Noirot, 17 Xavier Chiocci, 18 Danie Rossouw, 19 Pierrick Gunther, 20 Mathieu Bastareaud, 21 Rudi Wulf, 22 Michael Claassens, 23 Martin Castrogiovanni.
Castres: 15 Geoffrey Palis, 14 Max Evans, 13 Romain Cabannes, 12 Seremaia Bai, 11 Remy Grosso, 10 Remi Tales, 9 Rory Kockott, 8 Antonie Claassen, 7 Jan Bornman, 6 Ibrahim Diarra, 5 Richie Gray, 4 Christophe Samson, 3 Karena Wihongi, 2 Brice Mach, 1 Yannick Forestier,
Replacements: 16 Marc Rallier, 17 Saimone Taumoepeau, 18 Rodrigo Capo Ortega, 19 Pedrie Wannenburg, 20 Julien Tomas, 21 Daniel Kirkpatrick, 22 Marcel Garvey, 23 Anton Peikrishvili.
Result in Round 6: Castres won 22-15
Kick-off: 14:55 (13.55 GMT)
Referee: Romain Poite
---
Biarritz Olympique v Stade Toulousain
Parc des Sports d'Aguilera, Biarritz
Toulouse, whose first home loss of the season to Montpellier last Friday saw them slide out of the play-off spots to seventh, and will test their shaky away form against bottom side Biarritz
Toulouse president Jean-Rene Bouscatel has been one of the most vociferous critics of the request to rest the French international players. This is a game that Toulouse can ill afford to lose and forwards coach William Servat has said selections will be made as a function of "what the team needs."
Most of the Toulousain's Six Nations contingent will play, with the exception of Yannick Nyanga and Yoann Huget.
Toulouse have been dismal on the road this season, picking up just three points out of a possible 40! Biarritz haven't been much better at home though, losing six out of eight games.
The Toulouse injury lost is growing with Patricio Albacete and Yann David absent this week.
Biarritz: 15 Paul Couet lannes, 14 Takudzwa Ngwenya, 13 Charles Gimenez, 12 Seremaia Burotu, 11Teddy Thomas, 10 Julien Peyrelongue, 9 Dimitri Yachvili, 8 Imanol Harinordoquy, 7 Tanguy Molcard, 6 Benoit Guyot, 5 Mathias Marie, 4 Erik Lund, 3 Benedict Broster, 2 Jean Philippe Genevois, 1 Fabien Barcella,
Replacements: 16 Arnaud Heguy, 17 Eugene Van staden, 18 Eric Dos santos madeira, 19 Joshua Furno, 20 Yann Lesgourgues, 21 Daniel Waenga, 22 Aled Brew, 23 Francisco Gomez Kodela
Toulouse: 15 Maxime Medard, 14 Vincent Clerc, 13 Gael Fickou, 12 Clement Poitrenaud, 11 Hosea Gear, 10 Sebastien Bezy, 9 Jean-Marc Doussain, 8 Gillian Galan, 7 Akapusi Qera, 6 Yacouba Camara, 5 Yoann Maestri, 4 Romain Millo Chlusky, 3 Census Johnston, 2 Chiliboy Ralepelle, 1 Gurthro Steenkamp,
Replacements: 16 Christopher Tolofua, 17 Cyril Baille, 18 Joe Tekori, 19 Louis Picamoles, 20 Jano Vermaak, 21 Arthur Bonneval, 22 Timoci Matanavou, 23 Yohan Montes.
Result in Round 6: Toulouse won 31-7
Kick-off: 18:30 (17.30 GMT)
Referee: Jérôme Garcès
---
Montpellier Hérault Rugby v USA Perpignan
Stade Yves Du Manoir, Montpellier
A week after winning in Toulouse for the first time, Montpellier will be in confident mood as they host a misfiring Perpignan outfit.
Indeed, if results go the wrong way elsewhere this weekend, the Catalans could find themselves in the relegation zone on Saturday night if they lose.
Perpignan have won just once in their last eight games, and will still be grumpy after conceding a draw on home soil to Racing last time out.
USAP have thus recalled their Six Nations internationals with Tommy Allan,Tommaso Benvenuti, James Hook and Sébastien Vahaamahina all set to feature.
François Trinh-Duc will start for Montpellier while prop Nicolas Masis also to set to feature off the bench, despite the request from the national staff for him to be rested.
Montpellier : 15 Anthony Floch, 14 Rene Ranger, 13 Anthony Tuitavake, 12 Robert Ebersohn, 11 Lucas Dupont, 10 Francois Trinh-Duc, 9 Benoit Paillaugue, 8 Alex Tulou, 7 Paul Grant, 6 Alexandre Bias, 5 Thibaut Privat, 4 Robins Tchale Watchou, 3 Maximiliano Bustos, 2 Charles Geli, 1 Mikheil Nariashvili,
Replacements: 16 Thomas Bianchin, 17 Yvan Watremez, 18 Sitaleki Timani, 19 Fred Quercy, 20 Eric Escande, 21 John Beattie, 22 Pierre Berard, 23 Nicolas Mas
Perpignan: 15 James Hook, 14 Richard Haughton, 13 Lifeimi Mafi, 12 Sione Piukala, 11 Watisoni Votu, 10 Tommaso Allan, 9 Dewaldt Duvenage, 8 Daniel Leo, 7 Alasdair Strokosch, 6 Jean Pierre Perez, 5 Romain Taofifenua, 4 Sebastien Vahaamahina, 3 Giorge Jgenti, 2 Guilhem Guirado, 1 Sebastien Taofifenua,
Replacements: 16 Romain Terrain, 17 Sona Taumalolo, 18 Guillaume Vilaceca, 19 Justin Purll, 20 Tom Ecochard, 21 David Marty, 22 Joffrey Michel, 23 Paulica Ion.
Result in Round 6: Perpignan won 28-16
Kick-off: 18:30 (17.30 GMT)
Referee: Cyril Lafon
---
US Oyonnax v Union Bordeaux-Bègles
Stade Charles-Mathon, Oyonnax
A must-win game for relegation-threatened Oyonnax, who welcome back Argentine playmaker and goal kicker Benjamin Urdapilleta with open arms after an untimely injury.
Bordeaux will travel with confidence having hammered Grenoble last week. But UBB have won just once on the road this year while Oyonnax have only lost once on home soil.
Oyonnax: 15 Florian Denos, 14 Silvere Tian, 13 Pierre Aguillon, 12 Roimata Pune, 11 Samuela Wara, 10 Regis Lespinas, 9 Agustin Figuerola, 8 Viliami Ma'afu, 7 Scott Newlands, 6 Joseph El abd, 5 Damian Browne, 4 Thibault Lassalle, 3 Marc Clerc, 2 Jody Jenneker, 1 Lukas Rapant,
Replacements: 16 Neil Clark, 17 Clement Baiocco, 18 Damien Lagrange, 19 Nemia Soqeta, 20 Fabien Cibray, 21 Benjamin Urdapilleta, 22 Guillaume Bousses, 23 Antoine Tichit
Bordeaux-Bègles: 15 Joaquin Tuculet, 14 Charles Brousse, 13 Felix Le bourhis, 12 Thibault Lacroix, 11 Blair Connor, 10 Pierre Bernard, 9 Heini Adams, 8 Matthew Clarkin, 7 Hugh Chalmers, 6 Louis Madaule, 5 Adam Jaulhac, 4 Alikisio Fakate, 3 Albert Toetu, 2 Benat Auzqui, 1 Jean-Batiste Poux,
Replacements: 16 Wayne Avei, 17 Laurent Delboulbes, 18 Cameron Treloar, 19 Matt Graham, 20 Poutasi Luafutu, 21 Emmanuel Saubusse, 22 Nicolas Sanchez, 23 Silviu Florea.
Result in Round 6: Bordeaux-Bègles won 35-10
Kick-off: 18:30 (17.30 GMT)
Referee: Alexandre Ruiz
---
Racing Métro 92 v Aviron Bayonnais
Stade Yves Du Manoir - Colombes (Paris)
Racing Métro have recovered somewhat from a poor start to the season but cannot afford to drop any points at home if they hope to sneak into the play-offs.
Bayonne welcome back wing Saïmoni Vaka, who has been missing since the start of the season as well as centre Manu Ahotaeiloa. They replace the injured Marvin O'Connor (wrist) and Sam Gerber, whose season is over due to a back injury.
Racing flank Bernard Le Roux will sit this weekend out after being concussed against Italy last week.
Racing Métro: 15 Benjamin Fall, 14 Adrien Plante, 13 Henry Chavancy, 12 Alexandre Dumoulin, 11 Marc Andreu, 10 Benjamin Dambielle, 9 Maxime Machenaud, 8 Jacques Cronje, 7 Antoine Battut, 6 Wenceslas Lauret, 5 Francois van der Merwe, 4 Juandre Kruger, 3 Luc Ducalcon, 2 Dimitri Szarzewski, 1 Julien Brugnaut,
Replacements: 16 Virgile Lacombe, 17 Davit Khinchagishvili, 18 Karim Ghezal, 19 Camille Gerondeau, 20 Mike Phillips, 21 Jonathan Sexton, 22 Fabrice Estebanez, 23 Brian Mujati
Bayonne: 15 Scott Spedding, 14 Saimoni Vaka, 13 Joe Rokocoko, 12 Gabiriele Lovobalavu, 11 Bastien Fuster, 10 Stephen Brett, 9 Mathieu Belie, 8 Opeti Fonua, 7 Julien Puricelli, 6 Mark Chisholm, 5 Lisiate Faaoso, 4 Abdellatif Boutaty, 3 Gert Muller, 2 David Roumieu, 1 JC Janse van Rensburg,
Replacements: 16 Gregory Arganese, 17 Aretz Iguiniz, 18 Dewald Senekal, 19 Jean Marmouyet, 20 Santiago Fernandez, 21 Guillaume Rouet, 22 Martin Bustos Moyano, 23 Nemiah Tialata.
Result in Round 6: Racing won 19-16
Kick-off: 18:30 (17.30 GMT)
Referee: Cédric Marchat
---
CA Brive-Corrèze v Stade Français Paris
Stade Amédée-Domenech, Brive-la-Gaillarde
Brive are another team flirting with the relegation zone and a visit from title contenders Stade Français presents a big challenge.
Brivce have a strong record at home this season, losing just once.
Stade Français are winless in their last five visits to Stade Amédée-Domenech but the Parisians have already won three games on the road this term.
Stade will rest French international Pascal Papé and Jules Plisson.
Brive: 15 Gaetan Germain, 14 Guillaume Namy, 13 Arnaud Mignardi, 12 Thomas Sanchou, 11 Elia Radikedike, 10 Romain Sola, 9 Jean Baptiste Pejoine, 8 Sisaro datu Koyamaibole, 7 Dominiko Waqaniburotu, 6 Petrus Hauman, 5 Arnaud Mela, 4 Julien Ledevedec, 3 Kevin Buys, 2 Francois da Ros, 1 Karlen Asieshvili,
Replacements: 16 Louis Acosta, 17 Goderzi Shvelidze, 18 Simon Pinet, 19 Said Hireche, 20 Damien Neveu, 21 Thomas Laranjeira, 22 Alfifeleti Mafi, 23 Patrick Barnard
Stade Français: 15 Hugo Bonneval, 14 Waisea Vuidravuwalu, 13 Paul Williams, 12 Meyer Bosman, 11 Digby Ioane, 10 Morne Steyn, 9 Julien Dupuy, 8 David Lyons, 7 Sylvain Nicolas, 6 Scott Lavalla, 5 Gerhard Mostert, 4 Alexandre Flanquart, 3 David Attoub, 2 Remi Bonfils, 1 Hendrik van der Merwe,
Replacements: 16 Michael van Vuuren, 17 Romain Frou, 18 Anton van Zyl, 19 Benjamin Macome, 20 Richard Kingi, 21 Julien Arias, 22 Nicolas Garrault, 23 Sakaria Taulafo.
Result in Round 6: Stade Français won 25-18
Kick-off: 20.35 (19.35 GMT)
Referee: Mathieu Raynal