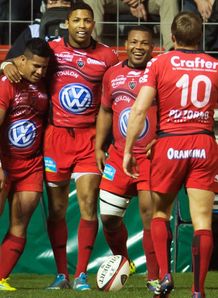 Montpellier ended Toulouse's unbeaten home run on Saturday with a try-less 15-12 victory that knocks Toulouse out of the top six.
Clermont moved backed to the summit of the Top 14 thanks to their win over title rivals Stade Français in Round 18.
Toulon survived a scare at home to bottom side Biarritz, while late scores resulted in a draw between Perpignan and Racing and a win for Bayonne over Brive.
Results:
Bordeaux-Bègles 38-17 Grenoble
Clermont 25-13 Stade Français
Bayonne 9-6 Brive
Castres 17-16 Oyonnax
Perpignan 19-19 Racing Métro
Toulon 33-20 Biarritz
Toulouse 12-15 Montpellier
---
Aviron Bayonnais 9-6 CA Brive-Corrèze
Stade Jean Dauger, Bayonne
Stephen Brett's timely penalty in the 71st minute secured a win at home over relegation rivals Brive to help the hosts in their fight for survival.
A low-scoring affair saw Argentinian wing Martin Bustos Moyano land two penalties for Bayonne, with Gaetan Germain doing the same for the hosts.
The win sees Bayonne move four points clear of the second relegation spot held by Oyonnax.
The scorers:
For Bayonne:
Pens: Bustos Moyano 2, Brett
Yellow Card: Tialata
For Brive:
Pens: Germain 2
Yellow Card: Asieshvili
Bayonne: 15 Scott Spedding, 14 Martin Bustos Moyano, 13 Joe Rokocoko, 12 Gabiriele Lovobalavu, 11 Marvin O'Connor, 10 Santiago Fernandez, 9 Guillaume Rouet, 8 Dwayne Haare, 7 Julien Puricelli, 6 Mark Chisholm, 5 Lisiate Faaoso, 4 Dewald Senekal, 3 Nemiah Tialata, 2 David Roumieu, 1 Aretz Iguiniz.
Replacements: 16 Anthony Etrillard, 17 JC Janse van rensburg, 18 Abdellatif Boutaty, 19 Jean Marmouyet, 20 Bastien Fuster, 21 Mathieu Belie, 22 Stephen Brett, 23 Gert Muller.
Bive: 15 Gaetan Germain, 14 Guillaume Namy, 13 Arnaud Mignardi, 12 Andrew Mailei, 11 Alfi Mafi, 10 Romain Sola, 9 Jean Baptiste Pejoine, 8 Petrus Hauman, 7 Dominiko Waqaniburotu, 6 Said Hireche, 5 Arnaud Mela, 4 Julien Ledevedec, 3 Kevin Buys, 2 Francois Da Ros, 1 Karlen Asieshvili,
Replacements: 16 Louis Acosta, 17 Goderzi Shvelidze, 18 Simon Pinet, 19 Hugues Briatte, 20 Damien Neveu, 21 Riaan Swanepoel, 22 Elia Radikedike, 23 Johannes Coetzee.
Referee: Romain Poite
---
Castres Olympique 17-16 US Oyonnax
Stade Pierre Antoine, Castres
Champions Castres were made to sweat as they saw off Oyonnax by only a single point.
A 76th-minute penalty from Regis Lespinas drew Oyonnax within reach of the win, but the 13th-placed club couldn't snatch the win.
Rory Kockott kicked four penalties for the hosts in comparison to three from Lespinas, with tries coming on either side from Geoffrey Palis and Thibault Lassalle.
Oyonnax are now four points adrift of safety, while Castres are secure in third.
The scorers:
For Castres :
Try: Palis
Pens: Kockott 4
Yellow Card: Wihongi
For Oyonnax:
Tries: Lasalle
Cons: Lespinas
Pens: Lespinas 2
Yellow Card: Clerc
Castres: 15 Geoffrey Palis, 14 Marcel Garvey, 13 Romain Cabannes, 12 Seremaia Bai, 11 Remy Grosso, 10 Daniel Kirkpatrick, 9 Julien Tomas, 8 Antonie Claassen, 7 Yannick Caballero, 6 Jan Bornman, 5 Piula Faasalele, 4 Christophe Samson, 3 Karena Wihongi, 2 Brice Mach, 1 Saimone Taumoepeau.
Replacements: 16 Marc antoine Rallier, 17 Florian Houerie, 18 Richard Gray, 19 Pedrie Wannenburg, 20 Rory Kockott, 21 Remi Lamerat, 22 Paul Bonnefond, 23 Michael Coetzee.
Oyonnax: 15 Lucas Gonzalez Amorosino, 14 Silvere Tian, 13 Guillaume Bousses, 12 Hemani Paea, 11 Samuela Wara, 10 Regis Lespinas, 9 Fabien Cibray, 8 Nemia ratu Soqeta, 7 Viliami Ma'afu, 6 Joseph El Abd, 5 Damian Browne, 4 Thibault Lassalle, 3 Marc Clerc, 2 Neil Clark, 1 Antoine Tichit,
Replacements: 16 Jody Jenneker, 17 Clement Baiocco, 18 Damien Lagrange, 19 Mahamadou Diaby, 20 Agustin Figuerola, 21 Pierre Aguillon, 22 Florian Denos, 23 Lukas Rapant.
Referee: Sébastien Minery
---
USA Perpignan 19-19 Racing Métro 92
Stade Aimé Giral, Perpignan
Alexandre Dumoulin's late try and the resulting conversion from Juan Martin Hernandez meant that the spoils were shared in Perpignan.
Racing looked set to miss out following Romain Taofifenua's try in the 65th-minute but the Parisian big-spenders rallied to take away two points.
Wandile Mjekevu has earlier scored for Perpignan, with Hernandez adding three penalties and a drop goal to his conversion.
Perpignan are only four points clear of safety, while Racing move up to 6th.
The scorers:
For Perpignan:
Tries: Mjekevu, Taofifenua
Pens: Descons 3
Yellow Cards: Taumalolo, Jgenti
For Racing Métro:
Pens: Hernandez
Drop Goal: Hernandez
Yellow Card: Ben Arous
Perpignan: 15 Joffrey Michel, 14 Richard Haughton, 13 David Marty, 12 Sione Piukala, 11 Wandile Mjekevu, 10 Sebastien Descons, 9 Tom Ecochard, 8 Luke Narraway, 7 Alasdair Strokosch, 6 Justin Purll, 5 Romain Taofifenua, 4 Daniel Leo, 3 Giorge Jgenti, 2 Guilhem Guirado, 1 Sona Taumalolo.
Replacements: 16 Romain Terrain, 17 Sebastien Taofifenua, 18 Guillaume Vilaceca, 19 Karl Chateau, 20 Nicolas Durand, 21 Dewaldt Duvenage, 22 Lifeimi Mafi, 23 Kisi Pulu.
Racing Métro: 15 Benjamin Lapeyre, 14 Adrien Plante, 13 Henry Chavancy, 12 Fabrice Estebanez, 11 Juan Imhoff, 10 Juan Martin Hernandez, 9 Laurent Magnaval, 8 Jacques Cronje, 7 Camille Gerondeau, 6 Antoine Battut, 5 Francois van der Merwe, 4 Juandre Kruger, 3 Luc Ducalcon, 2 Virgile Lacombe, 1 Soane Tonga uiha,
Replacements: 16 Jeremie Maurouard, 17 Eddy Ben Arous, 18 Karim Ghezal, 19 Masi Matadigo, 20 Xavier Chauveau, 21 Benjamin Dambielle, 22 Alexandre Dumoulin, 23 Brian Mujati.
Referee: Christophe Berdos
---
Rugby Club Toulonnais 33-20 Biarritz Olympique
Stade Felix Mayol, Toulon
Biarritz were left heartbroken after late tries for Toulon from Delon Armitage and Matt Giteau meant the bottom side left the Stade Felix Mayol with nothing.
The outcome is just the latest in a series of crushing blows landed on Biarritz this season, who seem destined for relegation.
Jonny Wilkinson kicked two conversions and three penalties for the hosts as they brought a tough losing run to an end.
Seremaia Burotu scored the visitors' only try to go with four penalties from Dimitri Yachvili and a drop goal from Paul Couet Lannes.
The scorers:
For Toulon:
Tries: Van Niekerk, D.Armitage 2, Giteau
Cons: Wilkinson 2
Pens: Wilkinson 3
Yellow Card: D.Armitage
For Biarritz:
Try: Burotu
Pens: Yachvili 4
Drop Goal: Couet-Lannes
Yellow Cards: Molcard, Synaeghel
Toulon: 15 Delon Armitage, 14 Drew Mitchell, 13 Maxime Mermoz, 12 Matt Giteau, 11 David Smith, 10 Jonny Wilkinson, 9 Michael Claassens, 8 Steffon Armitage, 7 Joe van Niekerk, 6 Juan Smith, 5 Ali Williams, 4 Jocelino Suta, 3 Carl Hayman, 2 Craig Burden, 1 Andrew Sheridan.
Replacements: 16 Benjamin Noirot, 17 Emmanuel Felsina, 18 Danie Rossouw, 19 Virgile Bruni, 20 Rudi Wulf, 21 Josua Tuisova, 22 Frederic Michalak, 23 Xavier Chiocci.
Biarritz: 15 Paul Couet Lannes, 14 Takudzwa Ngwenya, 13 Charles Gimenez, 12 Seremaia Burotu, 11 Teddy Thomas, 10 Julien Peyrelongue, 9 Dimitri Yachvili, 8 Imanol Harinordoquy, 7 Tanguy Molcard, 6 Benoit Guyot, 5 Mathias Marie, 4 Erik Lund, 3 Benedict Broster, 2 Jean Philippe Genevois, 1 Fabien Barcella,
Replacements: 16 Arnaud Heguy, 17 Thomas Synaeghel, 18 Addison Lockley, 19 Magnus Lund, 20 Yann Lesgourgues, 21 Daniel Waenga, 22 Joe Pietersen, 23 Francisco Gomez Kodela.
Referee: Attalah Salem
---
Stade Toulousain 12-15 Montpellier Hérault Rugby
Stade Ernest Wallon, Toulouse
An historic result as Montpellier claim their first-ever win in Toulouse and climb up to fourth in the standings.
The hosts made a number of last-minute enforced chances with ex-All Black Hosea Gear playing in midfield.
It was a battle of the boot with replacement scrum-half Benoît Paillaugue kicking the winning penalty deep into injury time.
Referee Mathieu Raynal was the 'star' of the show, blowing a whopping 24 penalties in a dire, error-riddle affair.
Toulouse led 6-3 at the break but it should have been much more after full-back Jean Pascal Barraque missed a handful of penalties.
It went down to the wire with a flurry of late penalties from both sides. Paillaugue kicked the winning penalty from long range after the Toulouse scrum was blown up for collapsing.
The scorers:
For Toulouse:
Pens: Barraque, Bezy 3
Yellow card: Poitrenaud
For Montpellier:
Pens: Escande 4, Paillaugue
Toulouse: 15 Jean Pascal Barraque, 14 Vincent Clerc, 13 Hosea Gear, 12 Clement Poitrenaud, 11 Maxime Medard, 10 Sebastien Bezy, 9 Jano Vermaak, 8 Gillian Galan, 7 Akapusi Qera, 6 Yacouba Camara, 5 Joe Tekori, 4 Romain Millo Chlusky, 3 Census Johnston, 2 Chiliboy Ralepelle, 1 Gurthro Steenkamp.
Replacements: 16 Christopher Tolofua, 17 Cyril Baille, 18 Schalk Ferreira, 19 Edwin Maka, 20 Yves Donguy, 21 Arthur Bonneval, 22 Timoci Matanavou, 23 Yohan Montes.
Montpellier: 15 Pierre Berard, 14 Rene Ranger, 13 Anthony Tuitavake, 12 Robert Ebersohn, 11 Lucas Dupont, 10 Ilian Perraux, 9 Eric Escande, 8 Alex Tulou, 7 Paul Grant, 6 Sitaleki Timani, 5 Bobins Tchale Watchou, 4 Mickael de Marco, 3 Maximiliano Bustos, 2 Charles Geli, 1 Yvan Watremez,
Replacements: 16 Thomas Bianchin, 17 Nahuel Lobo, 18 Thibaut Privat, 19 Fred Quercy, 20 Benoit Paillaugue, 21 Yoan Audrin, 22 Anthony Floch, 23 Paea i'okalani Faanunu.
Referee: Mathieu Raynal