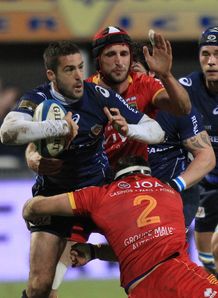 Related links
Also see
Castres and Clermont both secured late bonus point wins to secure the spots at the peak of the Top 14 on Saturday.
Clermont's success keeps them four points clear at the top after Toulon defeated Montpellier earlier in the day.
Meanwhile, Oyonnax picked up a crucial win against Bayonne to move out of the relegation zone.
Results:
Stade Français 21-6 Grenoble
Toulon 43-10 Montpellier
Brive 9-9 Racing-Métro
Castres 37-13 Perpignan
Clermont 35-6 Biarritz
Oyonnax 9-6 Bayonne
Toulouse 18-16 Bordeaux-Bègles
---
Brive 9-9 Racing-Métro
Stade Amédée Domenech
Ireland fly-half Jonathan Sexton snatched a late draw for Racing Métro in a low-scoring affair against Brive.
Sexton kicked three penalties with full-back Gaetan Germain kicking all the points for the home side.
Brive scrum-half Jean Baptiste Pejoine and Racing number eight Camille Gérondeau were both yellow carded.
The scorers:
For Brive:
Pens: Germain 3
Yellow Card: Pejoine
For Racing-Métro:
Pens: Sexton 3
Yellow Card: Gérondeau
Brive: 15 Gaetan Germain, 14 Guillaume Namy, 13 Arnaud Mignardi, 12 Andrew Mailei, 11 Elia Radikedike, 10 Riaan Swanepoel 9 Jean Baptiste Pejoine, 8 Petrus Hauman, 7 Dominiko Waqaniburotu, 6 Hugues Briatte, 5 Arnaud Mela, 4 Julien Ledevedec, 3 Patrick Barnard, 2 Guillaume Ribes, 1 Goderzi Shvelidze,
Replacements: 16 Francois da Ros, 17 Karlen Asieshvili, 18 Simon Pinet, 19 Said Hireche, 20 Damien Neveu, 21 Thomas Laranjeira, 22 Alfi Mafi, 23 Johannes Coetzee.
Racing-Métro: 15 Benjamin Lapeyre, 14 Adrien Plante, 13 Fabrice Estebanez, 12 Jamie Roberts, 11 Benjamin Fall, 10 Jonathan Wisniewski, 9 Maxime Machenaud, 8 Camille Gerondeau, 7 Dan Lydiate, 6 Wenceslas Lauret, 5 Francois van der Merwe, 4 Juandre Kruger, 3 Luc Ducalcon, 2 Dimitri Szarzewski, 1 Davit Khinchagishvili,
Replacements: 16 Virgile Lacombe, 17 Eddy Ben Arous, 18 Fabrice Metz, 19 Masi Matadigo, 20 Mike Phillips, 21 Jonathan Sexton, 22 Juan Martin Hernandez, 23 Walter Desmaison.
---
Castres 37-13 Perpignan
Stade Pierre Antoine
Seremaia Bai was on hand to score as champions Castres picked up maximum points against Perpignan.
The Fijian crossed in the 77th-minute to add to a brace of tries from number Antoine Claassen and fly-half Remi Talès.
USAP picked up a consolation try through Joffrey Michel as their misfortune continued following back-to-back losses to Munster in the Heineken Cup. Their efforts were compounded by losing three men to the sin bin.
The scorers:
For Castres:
Tries: Claassen 2, Talès, Bai
Cons: Palis 4
Pens: Palis 3
For Perpignan:
Try: Michel
Con: Allan
Pens: Hook 2
Yellow Cards: Durand, Strokosch, Pérez
Castres: 15 Brice Dulin, 14 Maxwell Evans, 13 Romain Cabannes, 12 Seremaia Bai, 11 Geoffrey Palis, 10 Remi Tales, 9 Julien Tomas, 8 Antonie Claassen, 7 Jan Bornman, 6 Ibrahim Diarra, 5 Rodrigo Capo Ortega, 4 Christophe Samson, 3 Anton Peikrishvili, 2 Marc Antoine Rallier, 1 Yannick Forestier,
Replacements: 16 Mihaita Lazar, 17 Saimone Taumoepeau, 18 Piula Faasalele, 19 Pedrie Wannenburg, 20 Rory Kockott, 21 Daniel Kirkpatrick, 22 Marcel Garvey, 23 Karena Wihongi.
Perpignan: 15 James Hook, 14 Sofiane Guitoune, 13 Lifeimi Mafi, 12 Watisoni Votu, 11 Joffrey Michel, 10 Tommaso Allan, 9 Nicolas Durand, 8 Justin Purll, 7 Jean Pierre Perez, 6 Alasdair Strokosch, 5 Luke Charteris, 4 Sebastien Vahaamahina, 3 Kisi Pulu, 2 Guilhem Guirado, 1 Sona Taumalolo,
Replacements: 16 Romain Terrain, 17 Sebastien Taofifenua, 18 Guillaume Vilaceca, 19 Daniel Leo, 20 Dewaldt Duvenage, 21 David Marty, 22 Tommaso Benvenuti, 23 Paulica Ion.
---
Clermont 35-6 Biarritz
Parc des Sports Marcel Michelin
Replacement scrum-half Thierry Lacrampe secured a bonus point win over Biarritz for Clermont.
The Basque visitors were woeful at times in the second half as their porous defence gave up against the invention of Brock James.
Julien Malzieu snatched the first try only in the 50th minute before Gerhard Vosloo capitalised on a miscued kick from Julien Peyrelongue to pounce on the loose ball and score.
Regan King crossed in the left corner as Biarritz's spirit appeared to evaporate, before Lacrampe rounded things off to keep Clermont top.
The scorers:
For Clermont:
Tries: Malzieu, Vosloo, King, Lacrampe
Cons: James 3
Pens: Delany 2, Radosavljevic
For Biarritz:
Pens: Baby 2
Yellow Card: Molcard
Clermont: 15 Jean Marcellin Buttin, 14 Sitiveni Sivivatu, 13 Regan King, 12 Noa Nakaitaci, 11 Julien Malzieu, 10 Michael Delany, 9 Ludovic Radosavljevic, 8 Fritz Lee, 7 Arthur Roulin, 6 Gerhard Vosloo, 5 Loic Jacquet, 4 Julien Pierre, 3 Clement Ric, 2 Ti'i Paulo, 1 Raphael Chaume,
Replacements: 16 Benoit Cabello, 17 Vincent Debaty, 18 Nathan Hines, 19 Julien Bardy, 20 Thierry Lacrampe, 21 Brock James, 22 Wesley Fofana, 23 Davit Zirakashvili.
Biarritz: 15 Damien Traille, 14 Takudzwa Ngwenya, 13 Charles Gimenez, 12 Benoit Baby, 11 Aled Brew, 10 Daniel Waenga, 9 Yann Lesgourgues, 8 Imanol Harinordoquy, 7 Tanguy Molcard, 6 Benoit Guyot, 5 Eric dos Santos, 4 Erik Lund, 3 Francisco Gomez Kodela, 2 Jean Philippe Genevois, 1 Thomas Synaeghel,
Replacements: 16 Romain Ruffenach, 17 Alexandre Menini, 18 Addison Lockley, 19 Ueleni Fono, 20 Dimitri Yachvili, 21 Julien Peyrelongue, 22 Teddy Thomas, 23 Eugene van Staden.
---
Oyonnax 9-6 Bayonne
Stade Charles Mathon
Benjamin Urdapilleta celebrated his contract extension with Oyonnax by scoring three penalties as they edged out Bayonne.
Both teams are down the bottom of the Top 14 so victory was essential for Oyonnax, whose record at home this season has been impressive.
Argentinian wing Martin Bustos Moyano scored two penalties but was outdone by his compatriot Urdapilleta, as Oyonnax move out of the bottom two with their seventh win of the season.
The scorers:
For Oyonnax:
Pens: Urdapilleta 3
For Bayonne:
Pens: Bustos Moyano 2
Oyonnax: 15 Lucas Gonzalez Amorosino, 14 Silvere Tian, 13 Guillaume Bousses, 12 Hemani Paea, 11 Samuela Wara, 10 Benjamin Urdapilleta, 9 Agustin Figuerola, 8 Christophe Andre, 7 Valentin Ursache, 6 Joseph El Abd, 5 Damian Browne, 4 Thibault Lassalle, 3 Marc Clerc, 2 Jody Jenneker, 1 Lukas Rapant,
Replacements: 16 Neil graham Clark, 17 Clement Baiocco, 18 Damien Lagrange, 19 Nemia Soqeta, 20 Fabien Cibray, 21 Regis Lespinas, 22 Roimata Hansell pune, 23 Antoine Tichit.
Bayonne: 15 Scott Spedding, 14 Martin Bustos Moyano, 13 Joe Rokocoko, 12 Gabiriele Lovobalavu, 11 Marvin O'Connor, 10 Santiago Fernandez, 9 Guillaume Rouet, 8 Dwayne Haare, 7 Julien Puricelli, 6 MarkChisholm, 5 Lisiate Faaoso, 4 Dewald Senekal, 3 Gert Muller, 2 David Roumieu, 1 JC Janse van Rensburg,
Replacements: 16 Anthony Etrillard, 17 Nemiah Tialata, 18 Abdellatif Boutaty, 19 Jean Monribot, 20 Mathieu Belie, 21 Stephen Brett, 22 Manu Ahotaeiloa, 23 Aretz Iguiniz.
---
Stade Toulousain 18-16 Union Bordeaux-Bègles
Stade Ernest Wallon
Toulouse responded from the Heineken Cup loss at home to Connacht by narrowly edging out Bordeaux-Bègles.
Departing fly-half Lionel Beauxis scored all the home side's points with five penalties and a drop goal.
The only try of the game came from Bordeaux-Bègles' openside Matthew Clarkin to put the visitors ahead in the eighth minute, with the lead chopping and changing throughout.
The decisive moment however came with Jefferson Poirot's yellow card for a high tackle on Louis Picamoles, with Beauxis converting the resulting penalty to ensure victory.
The scorers:
For Toulouse:
Pens: Beauxis 5
Drop Goal: Beauxis
For Bordeaux-Bègles:
Try: Clarkin
Con: Bernard
Pens: Bernard 2
Drop Goal: Bernard
Yellow Card: Poirot
Toulouse: 15 Maxime Medard, 14 Yoann Huget, 13 Florian Fritz, 12 Gael Fickou, 11 Hosea Gear, 10 Lionel Beauxis, 9 Jean Marc Doussain, 8 Gillian Galan, 7 Louis Picamoles, 6 Yannick Nyanga, 5 Joe Tekori, 4 Romain Millo Chlusky, 3 Yohan Montes, 2 Christopher Tolofua, 1 Gurthro Steenkamp,
Replacements: 16 Chiliboy Ralepelle, 17 Schalk Ferreira, 18 Yoann Maestri, 19 Thierry Dusautoir, 20 Jano Vermaak, 21 Clement Poitrenaud, 22 Jean Pascal Barraque, 23 Census Johnston.
Bordeaux-Bègles: 15 Darly Domvo, 14 Metuisela Talebula, 13 Felix le Bourhis, 12 Julien Rey, 11 Blair Connor, 10 Pierre Bernard, 9 Heini Adams, 8 Taiasina Tuifua, 7 Matthew Clarkin, 6 Louis Madaule, 5 Alikisio Fakate, 4 Jandre Marais, 3 Salemane Sa, 2 Wayne Avei, 1 Jean-Batiste Poux,
Replacements: 16 Clement Maynadier, 17 Jefferson Poirot, 18 Cameron Treloar, 19 Hugh Chalmers, 20 Thibault Lacroix, 21 Emmanuel Saubusse, 22 Nicolas Sanchez, 23 Albert Toetu.