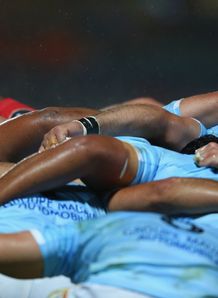 Related links
Teams
According to a report France, Perpignan's Fijian duo Watisoni Votu and Isikeli Davetawalu were recently involved in an altercation with doormen at a bar.
Rugbyrama say that the incident took place on the weekend of November 16-17, with police called to calm matters after the drunken night out.
It apparently took three policemen to control Fijian wing Davetawalu, who is 1.95 metres and weighs 111kg, and all three officers were 'slightly injured'.
"At USAP our players are watched and admired by the youth and should not indulge in inappropriate behaviour," said USAP president Francois Riviere.