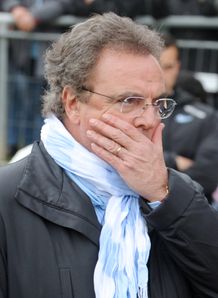 Related links
Teams
Also see
Bayonne chairman and principle sponsor Alain Afflelou has confirmed scrum-half Mike Phillips' sacking, saying "It was him or me."
The British and Irish Lions scrum-half was informed of his dismissal over the weekend following his latest off-field transgressions.
A club disciplinary hearing unanimously decided that the Welshman's contract would be terminated and Afflelou, who has personally invested millions into the Basque club, could see no other alternative.
"It was him or me," he told French daily Sud Ouest.
"If the decision was not taken, I could not have stayed with l'Aviron Bayonnais.
"[Head coach] Christian Lanta...was even angrier than me.
"From the moment he let us down, his friends, coaches and fans, it was not possible to keep him. However, I had great respect and affection for the boy, very respectful, and the player. I had already kept him on a year ago, against everyone's advice.
"This summer, I even invited to my house to offer him a contract extension of two years. I trusted him. This is treason."
"I hope he does not expect to receive an email of congratulations. Sh#t! ..with all the sporting problems at the moment, we did not need this type of behaviour. It could no longer be tolerated.
"What he did is inexcusable. And it's not the first time."
Reports have suggested that Phillips is considering legal action but Afflelou added that did not expect to have to pay compensation.
"We'll let the lawyers do their work but I don't think so," he said.
"He is a repeat offender and has been laid off for misconduct."