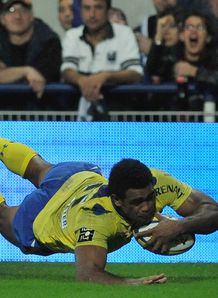 Clermont were made to sweat as they extended their exceptional unbeaten home record with a hard-fought 36-29 Top 14 win over Brive on Saturday.
Brive were leading with fifteen minutes left before thirteen points were amassed by Clermont in an epic game at Parc des Sports Marcel Michelin.
Meanwhile, Biarritz's woes went from bad to worse as they went down 39-0 away to Castres while Grenoble and Perpignan claimed respective wins against Oyonnax and Bordeaux-Bègles.
Earlier, Toulouse recovered to edge Toulon with Saturday's late game seeing Racing Métro edge Stade Français 16-12 in the big Paris derby.
Results:
Bayonne 24-19 Montpellier
Toulouse 13-12 Toulon
Castres 39-0 Biarritz
Clermont 36-29 Brive
Grenoble 23-10 Oyonnax
Perpignan 31-20 Bordeaux-Bègles
Racing Métro 16-12 Stade Français
---
Castres Olympique 39-0 Biarritz Olympique
Stade Pierre Antoine, Castres
Top 14 champions Castres gave their season a much-needed shot in the arm as they powered past basement side Biarritz in a five-try showing at Stade Pierre Antoine.
Biarritz could not even muster a point against their hosts as Geoffrey Palis, Romain Cabannes, Karena Wihongi, Brice Dulin and Daniel Kirkpatrick crossed for Castres.
The only consolation for Biarritz would be that second-bottom side Oyonnax were also left pointless in their weekend fixture, away to Grenoble, but the future looks bleak for BO.
The scorers:
For Castres:
Tries: Palis, Cabbanes, Wihongi, Dulin, Kirkpatrick
Cons: Palis 4
Pens: Palis 2
Castres: 15 Brice Dulin, 14 Geoffrey Palis, 13 Romain Cabannes, 12 Remi Lamerat, 11 Marcel Garvey, 10 Remi Tales, 9 Julien Tomas, 8 Antonie Claassen, 7 Ibrahim Diarra, 6 Jan Bornman, 5 Rodrigo Capo Ortega, 4 Christophe Samson, 3 Karena Wihongi, 2 Mathieu Bonello, 1 Saimone Taumoepeau.
Replacements: 16 Marc Rallier, 17 Yannick Forestier, 18 Benjamin Desroche, 19 Yannick Caballero, 20 Rory Kockott, 21 Daniel Kirkpatrick, 22 Remy Grosso, 23 Anton Peikrishvili.
Biarritz: 15 Joe Pietersen, 14 Takudzwa Ngwenya, 13 Charles Gimenez, 12 Damien Traille, 11 Aled Brew, 10 Daniel Waenga, 9 Dimitri Yachvili, 8 Imanol Harinordoquy, 7 Ueleni Fono, 6 Seremaia Burotu, 5 Addison Lockley, 4 Erik Lund, 3 Eugene van Staden, 2 Jean Philippe Genevois, 1 Alexandre Menini.
Replacements: 16 Jonnah Dabti, 17 Fabien Barcella, 18 Joshua Furno, 19 Tanguy Molcard, 20 Yann Lesgourgues, 21 Julien Peyrelongue, 22 Geoffrey Sella, 23 Francisco Gomez Kodela.
---
ASM Clermont Auvergne 36-29 CA Brive-Corrèze
Parc des Sports Marcel Michelin, Clermont Ferrand
Brive almost caused the shock of the weekend as they pushed the mighty Clermont all the way in a fantastic game of Top 14 rugby at Parc des Sports Marcel Michelin on Saturday.
Leading 26-23 with fifteen minutes remaining, the visitors were looking good to end Clermont's long-standing home record before a late surge saw the hosts recover.
Jean Marcellin Buttin had put Clermont in front with a seventeenth minute try before Andrew Malei responded. Napolioni Nalaga and Elia Radikedike then traded scores before Gaetan Germain's boot kept Brive ticking over, with talk loudening of a possible away win.
However, wing Nalaga's second try in the 70th minute propelled Clermont's recovery as replacement Brock James kicked the hosts to a win that pushes them closer to the top.
The scorers:
For Clermont:
Tries: Buttin, Nalaga 2
Cons: Delany 2, James
Pens: Delany 2, James 3
For Brive:
Tries: Malei, Radikedike
Cons: Germain 2
Pens: Germain 5
Clermont: 15 Jean Marcellin Buttin, 14 Noa Nakaitaci, 13 Aurelien Rougerie, 12 Regan King, 11 Naipolioni Nalaga, 10 Michael Delany, 9 Ludovic Radosavljevic, 8 Julien Bonnaire, 7 Julien Bardy, 6 Gerhard Vosloo, 5 Nathan Hines, 4 Jamie Cudmore, 3 Daniel Kotze, 2 Ti'i Paulo, 1 Vincent Debaty.
Replacements: 16 Benjamin Kayser, 17 Raphael Chaume, 18 Julien Pierre, 19 Damien Chouly, 20 Thierry Lacrampe, 21 Brock James, 22 Benson Stanley, 23 Clement Ric.
Brive: 15 Gaetan Germain, 14 Guillaume Namy, 13 Arnaud Mignardi, 12 Andrew Mailei, 11 Elia Radikedike, 10 Riaan Swanepoel, 9 Jean Baptiste Pejoine, 8 Sisaro Koyamaibole, 7 Dominiko Waqaniburotu, 6 Petrus Hauman, 5 Arnaud Mela, 4 Julien Ledevedec, 3 Patrick Barnard, 2 Guillaume Ribes, 1 Karlen Asieshvili.
Replacements: 16 Francois da Ros, 17 Johannes Coetzee, 18 Victor Lebas, 19 Said Hireche, 20 Damien Neveu, 21 Romain Sola, 22 Venione Voretamaya, 23 Kevin Buys.
---
FC Grenoble 23-10 US Oyonnax
Stade Lesdiguières, Grenoble
Grenoble got the better of a free-falling Oyonnax side as the hosts stayed well in touch with the Top 14 pace-setters, overcoming the Top 14 new boys 23-10 at Stade Lesdiguières.
A penalty try and Fabien Alexandre's five-pointer proved the difference between the sides while James Hart celebrated his new contract with a personal tally of thirteen points.
In reply, Dug Codjo crossed for Oyonnax while Benjamin Urdapilleta kicked five points.
The scorers:
For Grenoble:
Tries: Penalty, Alexandre
Cons: Hart 2
Pens: Hart 3
For Oyonnax:
Try: Codjo
Cons: Urdapilleta
Pens: Urdapilleta
Grenoble: 15 Fabien Gengenbacher, 14 Benjamin Thiery, 13 Rida Jaouher, 12 Nigel Hunt, 11 Julien Caminati, 10 Blair Stewart, 9 James Hart, 8 Florian Faure, 7 Fabien Alexandre, 6 Jonathan Best, 5 Andrew Farley, 4 Hendrik Roodt, 3 Dayna Edwards, 2 Vincent Castillo, 1 Albertus Buckle.
Replacements: 16 Romain David, 17 Anthony Hegarty, 18 Benjamin Hand, 19 Roland Bernard, 20 Matthieu Nicolas, 21 Rudolf Coetzee, 22 Valentin Courrent, 23 Richard Choirat.
Oyonnax: 15 Lucas Gonzalez Amorosino, 14 Dug Codjo, 13 Pierre Aguillon, 12 Hemani Paea, 11 Jonathan Bousquet, 10 Benjamin Urdapilleta, 9 Agustin Figuerola, 8 Fred Slade, 7 Valentin Ursache, 6 Joseph El Abd, 5 Damian Browne, 4 Miroslav Nemecek, 3 Ruaan du Preez, 2 Jody Jenneker, 1 Erwan Iapteff.
Replacements: 16 Neil Clark, 17 Marc Clerc, 18 Thibault Lassalle, 19 Scott Newlands, 20 Fabien Cibray, 21 Nicolas Vuillemin, 22 Jonathan Traini, 23 Lukas Rapant.
---
USA Perpignan 31-20 Union Bordeaux-Bègles
Stade Aimé Giral, Perpignan
Wales international James Hook was the hero for USAP as his 26-point haul off the kicking tee led the hosts to an impressive 31-20 win over Bordeaux-Bègles at Stade Aimé Giral.
Despite the visitors crossing three times - through Metuisela Talebulamaijaina (2) and Julien Rey - Hook's boot and a try from Sofiane Guitoune helped Perpignan secure victory.
The scorers:
For Perpignan:
Try: Guitoune
Cons: Hook
Pens: Hook 8
For Bordeaux-Bègles:
Tries: Talebulamaijaina 2, Rey
Cons: Bernard
Pens: Sanchez
Perpignan: 15 James Hook, 14 Sofiane Guitoune, 13 David Marty, 12 Sione Piukala, 11 Wandile Mjekevu, 10 Camille Lopez, 9 Nicolas Durand, 8 Justin Purll, 7 Jean Pierre Perez, 6 Alasdair Strokosch, 5 Romain Taofifenua, 4 Sebastien Vahaamahina, 3 Giorge Jgenti, 2 Romain Terrain, 1 Sona Taumalolo.
Replacements: 16 Maxime Delonca, 17 Sebastien Taofifenua, 18 Luke Charteris, 19 Luke Narraway, 20 Dewaldt Duvenage, 21 Tommaso Benvenuti, 22 Watisoni Votu, 23 Kisi Pulu.
Bordeaux-Bègles: 15 Darly Domvo, 14 Metuisela Talebulamaijaina, 13 Felix le Bourhis, 12 Julien Rey, 11 Blair Connor, 10 Pierre Bernard, 9 Heini Adams, 8 Matthew Clarkin, 7 Hugh Chalmers, 6 Louis Madaule, 5 Alikisio Fakate, 4 Jandre Marais, 3 Salemane Sa, 2 Wayne Avei, 1 Jean Batiste Poux.
Replacements: 16 Clement Maynadier, 17 Jefferson Poirot, 18 Cameron Treloar, 19 Taiasina Tuifua, 20 Emmanuel Saubusse, 21 Frederico Sanchez, 22 Charles Brousse, 23 Albert Toetu.
---
Racing Métro 92 16-12 Stade Français Paris
Stade de France, St. Denis (Paris)
Racing Métro took the local bragging rights at the Stade de France, sealing a 16-12 victory over Paris rivals Stade Français that lifts them into the mid-table traffic of the standings.
France international prop Luc Ducalcon was the lone try-scorer in the game as the boot of Ireland fly-half Jonathan Sexton added the remaining eleven points for Racing Métro.
Meanwhile, Stade Français could only trouble the scorers through four penalties, three of which coming from Julian Dupuy and the final one from replacement, Bok Morne Steyn.
The scorers:
For Racing Métro:
Try: Ducalcon
Con: Sexton
Pen: Sexton 3
For Stade Français:
Pen: Dupuy 3, Steyn
Racing Métro: 15 Benjamin Lapeyre, 14 Marc Andreu, 13 Fabrice Estebanez, 12 Juan Martin Hernandez, 11 Juan Imhoff, 10 Jonathan Sexton, 9 Laurent Magnaval, 8 Jacques Cronje, 7 Antoine Battut, 6 Wenceslas Lauret, 5 Francois van der Merwe, 4 Juandre Kruger, 3 Luc Ducalcon, 2 Dimitri Szarzewski, 1 Eddy Ben Arous.
Replacements: 16 Virgile Lacombe, 17 Soane Tonga uiha, 18 Karim Ghezal, 19 Camille Gerondeau, 20 Sebastien Descons, 21 Henry Chavancy, 22 Benjamin Dambielle, 23 Walter Desmaison.
Stade Français: 15 Hugo Bonneval, 14 Waisea Vuidravuwalu, 13 Geoffrey Doumayrou, 12 Jonathan Danty, 11 Julien Arias, 10 Jules Plisson, 9 Julien Dupuy, 8 Sergio Parisse, 7 Scott Lavalla, 6 Antoine Burban, 5 Pascal Pape, 4 Alexandre Flanquart, 3 Rabah Slimani, 2 Laurent Sempere, 1 Hendrik van der Merwe.
Replacements: 16 Aled De Malmanche, 17 Sakaria Taulafo, 18 Gerhard Mostert, 19 Pierre Rabadan, 20 Jerome Fillol, 21 Morne Steyn, 22 Herman Bosman, 23 David Attoub.