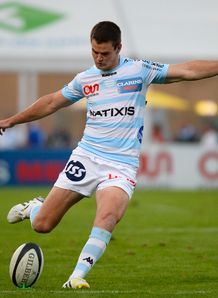 Related links
Also see
Biarritz lost their sixth match of the season on Saturday as they fell 27-21 at home to Grenoble while Jonathan Sexton was super-sub for Racing.
The result leaves BO rooted to the bottom of the standings while Sexton's Racing beat Bordeaux-Bègles 26-19, with the Irishman scoring a try.
Elsewhere and Toulon moved back to the top of the Top 14 table after edging out Bayonne 18-12 at home while Brive thumped Perpignan 31-6.
Saturday's late game saw Stade Français edge past Oyonnax 16-15 at Stade Charles-Mathon.
Results:
Montpellier 43-3 Clermont
Toulouse 26-9 Castres
Biarritz 21-27 Grenoble
Brive 31-6 Perpignan
Racing Métro 26-19 Bordeaux-Bègles
Toulon 18-12 Bayonne
Oyonnax 15-16 Stade Français
---
Biarritz Olympique 21-27 FC Grenoble
Parc des Sports d'Aguilera, Biarritz
If they weren't already, Biarritz are now very much in the midst of a relegation fight in 2013/14 as they fell to their sixth defeat in seven games, this time on home soil against Grenoble.
All of their points came from the boot of scrum-half Dimitri Yachvili, which sums up their lack of attacking threat these days. Grenoble meanwhile scored tries through Matthieu Nicolas, Dayna Edwards and Roland Bernard, which means they pick up the try bonus-point.
Biarritz are now five points adrift of Bayonne, who they face at Stade Jean Dauger next week.
The scorers:
For Biarritz:
Pens: Yachvili 7
For Grenoble:
Tries: Nicolas, Edwards, Bernard
Cons: Courrent 2, Hart
Pens: Courrent 2, Bernard
Biarritz: 15 Joe Pietersen, 14 Aled Brew, 13 Benoit Baby, 12 Damien Traille, 11 Teddy Thomas, 10 Daniel Waenga, 9 Dimitri Yachvili, 8 Ueleni Fono, 7 Tanguy Molcard, 6 Benoit Guyot, 5 Pelu Taele, 4 Erik Lund, 3 Francisco Gomez Kodela, 2 Jean Philippe Genevois, 1 Thomas Synaeghel.
Replacements: 16 Romain Ruffenach, 17 Alexandre Menini, 18 Addison Lockley, 19 Joshua Furno, 20 Yann Lesgourgues, 21 Julien Peyrelongue, 22 Seremaia Burotu, 23 Eugene Van Staden.
Grenoble: 15 Fabien Gengenbacher, 14 Benjamin Thiery, 13 Rudolf Coetzee, 12 Julien Caminati, 11 Matthieu Nicolas, 10 Blair Stewart, 9 Valentin Courrent, 8 Florian Faure, 7 Jonathan Best, 6 Cedric Beal, 5 Andrew Farley, 4 Naude Beukes, 3 Dayna Edwards, 2 Anthony Hegarty, 1 Albertus Buckle.
Replacements: 16 Kenan Mutapcic, 17 Vincent Campo Castillo, 18 Hendrik Roodt, 19 Roland Bernard, 20 Jordan Michallet, 21 Ratu Ratini, 22 James Hart, 23 Richard Choirat.
---
CA Brive-Corrèze 31-6 USA Perpignan
Stade Amédée-Domenech, Brive-la-Gaillarde
Brive put in an impressive showing to beat Perpignan with a bonus-point for good measure.
Fly-half Riaan Swanepoel crossed twice while former Sale number eight Sisa Koyamaibole scored the home side's third try, with Wales' James Hook kicking two penalties in reply.
Perpignan will undoubtedly rue the three yellow cards they picked up in the game - going to Watisoni Votu, Dewaldt Duvenage and Paulica Ion - as they look to rebuild ahead of hosting Toulouse in the penultimate weekend before the Heineken Cup begins in earnest.
The scorers:
For Brive:
Tries: Swanepoel 2, Koyamaibole
Cons: Germain 2
Pens: Germain 4
For Perpignan:
Pens: Hook 2
Brive: 15 Gaetan Germain, 14 Guillaume Namy, 13 Arnaud Mignardi, 12 Andrew Mailei, 11 Elia Radikedike, 10 Riaan Swanepoel, 9 Jean Baptiste Pejoine, 8 Sisa Koyamaibole, 7 Dominiko Waqaniburotu, 6 Petrus Hauman, 5 Arnaud Mela, 4 Julien Ledevedec, 3 Patrick Barnard, 2 Guillaume Ribes, 1 Karlen Asieshvili.
Replacements: 16 Francois Da Ros, 17 Johannes Coetzee, 18 Olivier Caisso, 19 Said Hireche, 20 Thomas Sanchou, 21 Thomas Laranjeira, 22 Laurent Ferreres, 23 Kevin Buys.
Perpignan: 15 James Hook, 14 Watisoni Votu, 13 Tommaso Benvenuti, 12 Sione Piukala, 11 Sofiane Guitoune, 10 Camille Lopez, 9 Dewaldt Duvenage, 8 Daniel Leo, 7 Jean Pierre Perez, 6 Justin Purll, 5 Romain Taofifenua, 4 Sebastien Vahaamahina, 3 Giorge Jgenti, 2 Guilhem Guirado, 1 Kisi Pulu.
Replacements: 16 Romain Terrain, 17 Sebastien Taofifenua, 18 Guillaume Vilaceca, 19 Luke Narraway, 20 Nicolas Durand, 21 David Marty, 22 Richard Haughton, 23 Paulica Ion.
---
Racing Métro 92 26-19 Union Bordeaux-Bègles
Stade Yves Du Manoir - Colombes (Paris)
Racing had new signing Jonathan Sexton to thank as his emergence from the bench saw him contribute eight points to the cause against a hugely spirited Bordeaux-Bègles side.
The hosts were 18-16 ahead before Sexton went over before a late penalty kept Pierre Bernard and Bordeaux, who pick up a losing bonus-point for their efforts, at bay.
Also scoring for Racing was left wing Marc Andreu, whose double set them on their way.
The scorers:
For Racing Métro:
Tries: Andreu 2, Sexton
Cons: Wisniewski
Pens: Wisniewski 2, Sexton
For Bordeaux-Bègles:
Try: Talebula
Con: Bernard
Pens: Bernard 4
Racing Métro: 15 Benjamin Fall, 14 Adrien Plante, 13 Henry Chavancy, 12 Fabrice Estebanez, 11 Marc Andreu, 10 Jonathan Wisniewski, 9 Maxime Machenaud, 8 Camille Gerondeau, 7 Bernard Le Roux, 6 Dan Lydiate, 5 Francois van der Merwe, 4 Karim Ghezal, 3 Brian Mujati, 2 Dimitri Szarzewski, 1 Davit Khinchagishvili.
Replacements: 16 Virgile Lacombe, 17 Luc Ducalcon, 18 Fabrice Metz, 19 Masinivanua Matadigo, 20 Laurent Magnaval, 21 Jonathan Sexton, 22 Benjamin Lapeyre, 23 Soane Tonga'uiha.
Bordeaux-Bègles: 15 Bruce Reihana, 14 Metuisela Talebulamaijaina, 13 Charles Brousse, 12 Julien Rey, 11 Blair Connor, 10 Pierre Bernard, 9 Emmanuel Saubusse, 8 Taiasina Tuifua, 7 Hugh Chalmers, 6 Louis Madaule, 5 Alikisio Fakate, 4 Jandre Marais, 3 Albert Toetu, 2 Clement Maynadier, 1 Jean Batiste Poux.
Replacements: 16 Benat Auzqui, 17 Jefferson Poirot, 18 Matt Graham, 19 Poutasi Luafutu, 20 Matthew Clarkin, 21 Rafael Carballo, 22 Darly Domvo, 23 Salemane Sa.
---
Rugby Club Toulonnais 18-12 Aviron Bayonnais
Stade Felix Mayol, Toulon
Many predicted one-way traffic at Stade Felix Mayol on Saturday but Toulon struggled to see off Bayonne, with this 18-12 defeat leaving the visitors languishing in thirteenth position.
Toulon crossed twice in the game, through wings Josua Tuisova and David Smith, but the boot of Bayonne's New Zealander, Stephen Brett, always kept the visitors in touch.
A 63rd minute penalty from Englishman Jonny Wilkinson kept Bayonne six points off the Heineken Cup champions and that was ultimately how things remained in a gritty game.
The scorers:
For Toulon:
Tries: Tuisova, Smith
Cons: Wilkinson
Pens: Wilkinson 2
For Bayonne:
Pens: Brett 4
Toulon: 15 Delon Armitage, 14 Josua Tuisova, 13 Rudi Wulf, 12 Maxime Mermoz, 11 David Smith, 10 Jonny Wilkinson, 9 Michael Claassens, 8 Danie Rossouw, 7 Steffon Armitage, 6 Virgile Bruni, 5 Ali Williams, 4 Bakkies Botha, 3 Martin Castrogiovanni, 2 Jean Charles Orioli, 1 Xavier Chiocci.
Replacements: 16 Benjamin Noirot, 17 Emmanuel Felsina, 18 Konstantine Mikautadze, 19 Joe van Niekerk, 20 Mathieu Bastareaud, 21 Vincent Martin, 22 Alexis Palisson, 23 Carl Hayman.
Bayonne: 15 Scott Spedding, 14 Sam Gerber, 13 Joe Rokocoko, 12 Manu Ahotaeiloa, 11 Bastien Fuster, 10 Stephen Brett, 9 Mike Phillips, 8 Dwayne Haare, 7 Julien Puricelli, 6 Guillaume Bernad, 5 Lisiate Faaoso, 4 Dewald Senekal, 3 Nemiah Tialata, 2 Gregory Arganese, 1 Aretz Iguiniz.
Replacements: 16 David Roumieu, 17 JC Janse van Rensburg, 18 Pierre Gayraud, 19 Marvin O'Connor, 20 Opeti Fonua, 21 Matthieu Ugalde, 22 Guillaume Rouet, 23 Vitolio Manukula.
---
US Oyonnax 15-16 Stade Français
Stade Charles-Mathon, Oyonnax
Oyonnax came mighty close to adding Stade Français to their impressive list of Top 14 scalps but ultimately fell to a late Hugo Bonneval try that saw the Parisians prevail.
In a poor game, the first-half saw Benjamin Urdapilleta and Julien Dupuy trade penalties, with the interval score being 9-9. One player to impress was Oyonnax wing Silvere Tian.
Unfortunately, the chess-like feel continued after the break before full-back Bonneval's 72nd minute try pushed Stade Français 16-12 in front. And despite a late Urdapilleta three-pointer, the visitors would hold on to move level on points with league leaders Toulon.
The scorers:
For Oyonnax:
Pen: Urdapilleta 5
For Stade Français:
Try: Bonneval
Con: Dupuy
Pen: Dupuy 3
Oyonnax: 15 Florian Denos, 14 Silvere Tian, 13 Pierre Aguillon, 12 Roimata Pune, 11 Jean Francois Coux, 10 Benjamin Urdapilleta, 9 Agustin Figuerola, 8 Fred Slade, 7 Viliami Maafu, 6 Scott Newlands, 5 Thibault Lassalle, 4 Miroslav Nemecek, 3 Clement Baiocco, 2 Jody Jenneker, 1 Antoine Tichit.
Replacements: 16 Lukas Rapant, 17 Marc Clerc, 18 Damien Lagrange, 19 Mahamadou Diaby, 20 Fabien Cibray, 21 Conrad Barnard, 22 Hemani Paea, 23 Erwan Iapteff.
Stade Français: 15 Hugo Bonneval, 14 Julien Arias, 13 Geoffrey Doumayrou, 12 Paul Williams, 11 Djibril Camara, 10 Jules Plisson, 9 Julien Dupuy, 8 Sergio Parisse, 7 Scott Lavalla, 6 Antoine Burban, 5 Pascal Pape, 4 Alexandre Flanquart, 3 Rabah Slimani, 2 Remi Bonfils, 1 Sakaria Taulafo.
Replacements: 16 Aled de Malmanche, 17 Heinke van der Merwe, 18 Gerhard Mostert, 19 Olivier Missoup, 20 Richard Kingi, 21 Meyer Bosman, 22 Jerome Porical, 23 David Attoub.