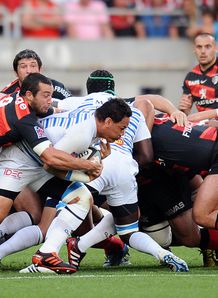 Toulouse coach Guy Novès has admitted he is not confident ahead of the visit of Top 14 champions Castres this weekend.
Toulouse, who sit fifth, one place below Castres but in a group of five teams level on 16 points, came under fire last week despite romping to a bonus point 31-7 victory over Biarritz.
What displeased their demanding fans was that having dominated the first period, and gone in at the break 26-0 ahead, they got bogged down in a tactical and turgid forwards battle after the restart, and actually 'lost' the second half 7-5.
Toulouse have been inconsistent this season, alternating between dominant home displays that reap attacking bonus points, and poor away showings that have left them with three defeats out of three, including a humbling 25-0 loss at Montpellier two weeks ago.
It is, therefore, an inopportune moment to be playing the French champions, fresh off the back of a 22-15 victory over European champions Toulon.
"It's THE test, the big match. Playing the champions who have just put in a performance in beating the European champions, and when you look at the team Toulon put out, we have reason to worry," said 59-year-old Novès.
In order to beat Castres, who just like their hosts have won all their home games and lost all three away, Novès says his team cannot afford to play like they did in the second period against Biarritz, although he said that match was now behind his team.
"We've deleted it, I don't want to talk about it," he said.
"(The crowd) took great pleasure during the first half. The crowd, which comes here (to the Stade Ernst-Wallon) and goes home with three victories and three attacking bonus points (for scoring at least three tries more than their opponents), has become harsh -- and they're right."
According to Castres back-rower and vice-captain Yannick Caballero, this is a good time to be playing Toulouse, the record four-time European champions who have lost some of their aura of old.
"A few years ago Toulouse were untouchable but for the last two or three years we've beaten them at home and been close at their place (Castres only lost 23-22 there last season)," said Caballero.
"There's no need hiding it, now is the time to take them."