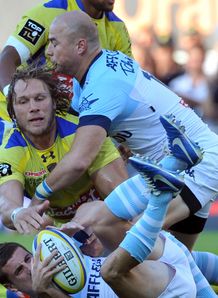 Related links
Also see
New-boys Oyonnax claimed another Top 14 scalp as they upset Biarritz on Wednesday while Clermont and Toulon cut loose with massive wins over Bayonne and Brive respectively.
With the midweek fixture programme meaning that most teams will play three matches in just eight days, many put out virtual second-string formations, as reflected by a handful of cricket scores.
Clermont replaced Stade Français at the summit as the Parisians suffered a second-half meltdown in their 38-10 defeat at reigning champions Castres.
Montpellier bagged valuable points on the road with a win at Bordeaux-Bègles while Perpignan were easy winners over Grenoble.
In the late game, Toulouse climbed into the top four after brushing Racing aside.
Results:
Castres 38-10 Stade Français
Bordeaux-Bègles 29-36 Montpellier
Clermont 55-0 Bayonne
Oyonnax 24-22 Biarritz
Perpignan 36-13 Grenoble
Toulon 62-12 Brive
Toulouse 30-6 Racing Métro
---
Union Bordeaux-Bègles 29-36 Montpellier
Stade André Moga
Probably the most influential result of Round Four, Montpellier were able to get the job done where Toulouse had failed ten days ago.
Fabien Galthié's team claimed their first win on the road this season thanks to three opportunistic tries.
Two tries on the counter-attack from wing Yoan Audrin helped Montpellier to a 23-16 lead at the interval before defending bravely in the second period to hold on for a crucial win.
The scorers:
For Bordeaux-Bègles:
Tries: Talebula, Connor, Maynadier
Cons: Bernard
Pens: Bernard 4
For Montpellier:
Tries: Audrin 2, Combezou
Cons: Paillaugue 3
Pens: Paillaugue 3, Pelissie
Yellow cards: Bias
Bordeaux-Bègles: 15 Darly Domvo, 14 Jean Baptiste Peyras Loustalet, 13 Metuisela Talebula, 12 Julien Rey, 11 Blair Connor, 10 Pierre Bernard, 9 Emmanuel Saubusse, 8 Taiasina Tuifua, 7 Hugh Chalmers, 6 Louis Benoit Madaule, 5 Alikisio Fakate, 4 Jandre Marais, 3 Albert Toetu, 2 Wayne Avei, 1 Laurent Delboulbes.
Replacements: 16 Clement Maynadier, 17 Jean-Batiste Poux, 18 Matt Graham, 19 Poutasi Luafutu, 20 Baptiste Serin, 21 Romain Lonca, 22 Rafael Carballo, 23 Salemane Sa.
Montpellier: 15 Benoit Sicart, 14 Yoan Audrin, 13 Thomas Combezou, 12 Hamish Gard, 11 Yohann Artru, 10 Enzo Selponi, 9 Benoit Paillaugue, 8 John Beattie, 7 Kelian Galletier, 6 Alexandre Bias, 5 Bobins Tchale Watchou, 4 Mickael de Marco, 3 Maximiliano Bustos, 2 Charles Geli, 1 Mikheil Nariashvili.
Replacements: 16 Mickael Ivaldi, 17 Yvan Watremez, 18 Thibaut Privat, 19 Fulgence Ouedraogo, 20 Jonathan Pelissie, 21 Anthony Tuitavake, 22 Timoci Nagusa, 23 Nicolas Mas.
---
ASM Clermont Auvergne 55-0 Aviron Bayonnais
Parc des Sports Marcel Michelin
Clermont resumed their customary position at the summit of the standings with a crushing victory that featured a hat-trick for South African flanker Gerhard Vosloo.
Bayonne sent a below-strength side and it proved a chastening experience at the Stade Marcel Michelin where Clermont had wrapped up a bonus point inside the first 24 minutes.
By then Vosloo, New Zealand winger Sitiveni Sivivatu and fellow Fiji-born flyer Noa Nakaitaci had gone over to push the hosts into a 24-0 lead.
France international Nakaitaci added a second score before the break while Australian fly-half Brock James was exemplary from the tee, kicking 14 points.
Things did not get any easier for Bayonne after the break as Vosloo scored twice more while Sivivatu crossed for his second, taking the score past the half-century mark.
"I'm obviously satisfied with this lovely win. We were especially good at the breakdown," said Clermont's New Zealander coach Vern Cotter.
"We managed to rotate our squad and so we're prepared for Sunday's trip to Paris (to face Stade Francais)."
The scorers:
For Clermont :
Tries: Vosloo 3, Sivivatu 2, Nakaitaci 2
Cons: James 5, Lacrampe 2
Pens: James 2
Yellow cards: Sivivatu, Nalaga
For Bayonne:
Yellow cards: Arganese, Elissalde
Clermont: 15 Jean-Marcellin Buttin, 14 Sitiveni Sivivatu, 13 Regan King, 12 Wesley Fofana, 11 Noa Nakaitaci, 10 Brock James, 9 Thierry Lacrampe, 8 Damien Chouly, 7 Alexandre Lapandry, 6 Gerhard Vosloo, 5 Loic Jacquet, 4 Julien Pierre, 3 Clement Ric, 2 Ti'i Paulo, 1 Raphael Chaume.
Replacements: 16 Benjamin Kayser, 17 Thomas Domingo, 18 Paul Jedrasiak, 19 Julien Bardy, 20 Ludovic Radosavljevic, 21 Gavin Hume, 22 Naipolioni Nalaga, 23 Daniel Kotze.
Bayonne: 15 Jon Elissalde, 14 Bastien Fuster, 13 Sam Gerber, 12 Manu Ahotaeiloa, 11 Marvin O'Connor, 10 Matthieu Ugalde 9 Guillaume Rouet, 8 Charles Ollivon, 7 Clement Ancely, 6 Guillaume Bernad, 5 Pierre Gayraud, 4 Abdellatif Boutaty, 3 Gert Muller, 2 Gregory Arganese, 1 JC Janse van Rensburg.
Replacements: 16 Anthony Etrillard, 17 Pierre Lafond, 18 Dewald Senekal, 19 Dwayne Haare, 20 Jean Monribot, 21 Martin Bustos Moyano, 22 Christophe Loustalot, 23 Vitolio Manukula.
---
Oyonnax 24-22 Biarritz Olympique
Stade Charles Mathon
Last season's second division champions Oyonnax continued their positive start to life in the Top 14 with a success over 2012 European Challenge Cup winners Biarritz, leaving the Basques bottom of the table.
Silvere Tian and Antoine Tichit crossed for Oyonnax while former France half-back Dimitri Yachvili scored 17 points for Biarritz, with American winger Takudzwa Ngwenya scoring their sole try.
The scorers:
For Oyonnax:
Tries: Tain, Tichit
Cons: Urdapilleta
Pens: Urdapilleta 4
For Biarritz:
Try: Ngwenya
Cons: Yachvili
Pens: Yachvili 5
Oyonnax: 15 Florian Denos, 14 Silvere Tian, 13 Guillaume Bousses, 12 Roimata Hansell, 11 Jean francois Coux, 10 Benjamin Urdapilleta, 9 Agustin Figuerola, 8 Viliami Maafu, 7 Valentin Ursache, 6 Scott Newlands, 5 Damien Lagrange, 4 Thibault Lassalle, 3 Clement Baiocco, 2 Jody Jenneker, 1 Antoine Tichit.
Replacements: 16 Neil graham Clark, 17 Marc Clerc, 18 Miroslav Nemecek, 19 Christophe Andre, 20 Fabien Cibray, 21 Conrad Barnard, 22 Pierre Aguillon, 23 Lukas Rapant.
Biarritz: 15 Paul Couet Lannes, 14 Takudzwa Ngwenya, 13 Benoit Baby, 12 Damien Traille, 11 Joe Pietersen, 10 Daniel Waenga, 9 Dimitri Yachvili, 8 Ueleni Fono, 7 Benoit Guyot, 6 Joshua Furno, 5 Pelu Taele, 4 Erik Lund, 3 Benedict Broster, 2 Arnaud Heguy, 1 Alexandre Menini.
Replacements: 16 Jean Philippe Genevois, 17 Eugene van Staden, 18 Addison Lockley, 19 Raphael Lakafia, 20 Luix Roussarie, 21 Julien Peyrelongue, 22 Kevin Haget, 23 Francisco Gomez Kodela.
---
USA Perpignan 36-13 FC Grenoble
Stade Aime Giral
A morale-boosting win for USAP, which takes them into the top half of the standings.
Grenoble were unable to repeat the heroics of last weekend and were thoroughly outplayed as the Catalan hosts claimed the bonus point with five well-taken tries.
Perpignan were 24-7 ahead at the break as they led from start to finish.
The scorers:
For Perpignan:
Tries: Mafi, Duvenage, Guitoune 2, Mjekevu
Cons: Hook 4
Pen: Hook
Yellow card: Terrain
For Grenoble:
Try: Ninard
Con: Michallet
Pens: Barkley, Bezy
Yellow card: BealPerpignan: 15 James Hook, 14 Sofiane Guitoune, 13 Lifeimi Mafi, 12 Sione Piukala, 11 Joffrey Michel, 10 Camille Lopez, 9 Dewaldt Duvenage, 8 Justin Purll, 7 Alasdair Strokosch, 6 Jean-Pierre Perez, 5 Romain Taofifenua, 4 Sebastien Vahaamahina, 3 Giorge Jgenti, 2 Romain Terrain, 1 Kisi Pulu.
Replacements: 16 Guilhem Guirado, 17 Paulica Ion, 18 Daniel Leo, 19 Karl Chateau, 20 Nicolas Durand, 21 Tommaso Benvenuti, 22 Wandile Mjekevu, 23 Sebastien Taofifenua.
Grenoble: 15 Robinson Caire, 14 Daniel Kilioni, 13 Louis Marrou, 12 Olly Barkley, 11 Florian Ninard, 10 Jordan Michallet, 9 Mathieu Loree, 8 Flavien Nouhaillaguet, 7 Geoffrey Nouhaillaguet, 6 Cedric Beal, 5 Andrew Farley, 4 Hendrik Roodt, 3 Kevin Goze, 2 Anthony Hegarty, 1 Romain David.
Replacements: 16 Alexandre Dardet, 17 Florian Lescadieu, 18 Thibaud Rey, 19 Florian Chabaud, 20 Thibault Gery, 21 Nicolas Bezy, 22 James Hart, 23 Richard Choirat.
---
RC Toulon 62-12 CA Brive
Stade Mayol
Australian centre Matt Giteau scored twice as the European champions went second, a point behind Clermont, with a bonus-point victory over newly-promoted Brive, who had two players sin-binned.
France internationals Mathieu Bastareaud, Maxime Mermoz, Sebastien Tillous-Borde and Alexis Pallison all crossed, as well as New Zealand's Rudi Wulf as the hosts' backs ran riot.
Giteau notched seven conversions and a penalty to finish with a personal haul of 27 points.
However, Toulon coach Bernard Laporte was far from happy, accusing his players of over-indulgence.
"The first half was everything but a rugby match. Up against a courageous team, who we have to pay tribute to, what displeased me was our ungratefulness, the complacency," said Laporte.
"Everyone wanted to enjoy themselves rather than hurt themselves. That annoyed me profoundly."
The scorers:
For Toulon:
Tries: Bastareaud, Wulf, Giteau 2, Rossouw, Mermoz, Penalty try, Tillous-Borde, Palisson
Cons: Giteau 7
Pen: Giteau
For Brive:
Pens: Neisen 4
Yellow cards: Leupolu, Asieshvili
Toulon: 15 Vincent Martin, 14 Josua Tuisova, 13 Mathieu Bastareaud, 12 Maxime Mermoz, 11 Rudi Wulf, 10 Matt Giteau, 9 Sebastien Tillous-Borde, 8 Chris Masoe, 7 Steffon Armitage, 6 Virgile Bruni, 5 Jocelino Suta, 4 Danie Rossouw, 3 Levan Chilachava, 2 Jean Charles Orioli, 1 Xavier Chiocci.
Replacements: 16 Sebastien Bruno, 17 Andrew Sheridan, 18 Konstantine Mikautadze, 19 Pierrick Gunther, 20 Alexis Palisson, 21 Jonny Wilkinson, 22 Michael Claassens, 23 Carl Hayman.
Brive: 15 Alfifeleti Mafi, 14 Venione Voretamaya, 13 Baptiste Delage, 12 Thomas Laranjeira, 11 Sevanaia Galala, 10 Anderson Neisen, 9 Romain Kusiolek, 8 Kieran Murphy, 7 Said Hireche, 6 Fabien Laurent, 5 Olivier Caisso, 4 Victor Lebas, 3 Tamato Leupolu, 2 Louis Acosta, 1 Damien Lavergne.
Replacements: 16 Paul Emile Henry, 17 Karlen Asieshvili, 18 Simon Pinet, 19 Lucas Lyons, 20 Tjiuee Uanivi, 21 Thomas Sanchou, 22 Laurent Ferreres, 23 Sadio Traore.